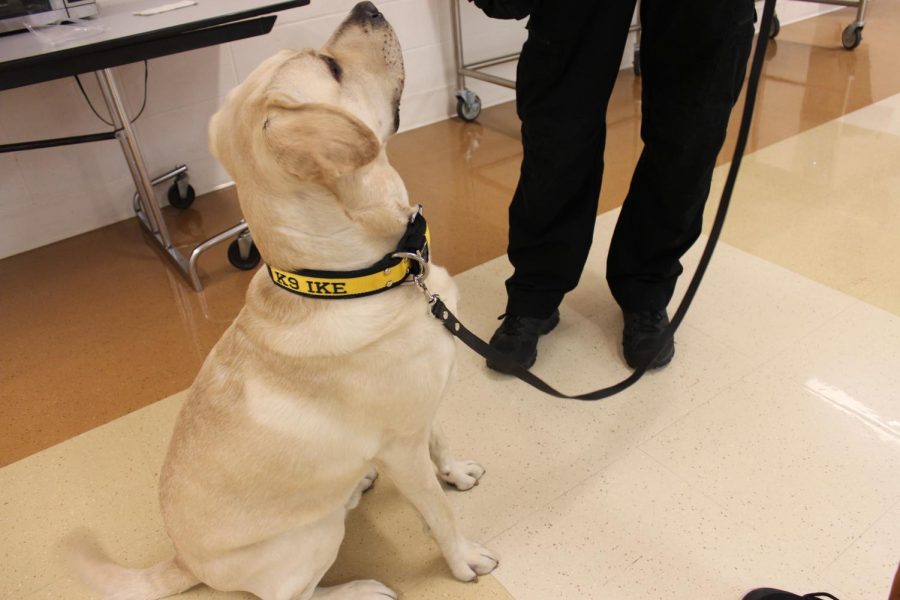 Puppies are always welcome in Kickapoo, but Mr. Neeman's Cyber Security class had a special kind of pup. Ike is one of eighteen dogs in the United States and twenty in the world who can smell a certain chemical: triphenylphosphine oxide or TPPO. 
   TPPO is an anti-corrosive that every flash drive, SD/microSD card and other small electronic that holds data. 
   Similar to how a drug dog can sniff out marijuana or cocaine, Ike can sniff out this specific chemical, which is virtually undetectable to humans. 
   Once police have a warrant to search a location that they suspect might have illegal digital content, like child pornography, Ike is brought to the site. Upon finding something, he is trained to sit and look to his owner. 
   Ike has been on 55 cases since February and had some pretty impressive finds. During training, he located six out of seven phones, found two that had been blown up, and has even found a MicroSD card that was hidden in a nickel while out in the field.
   Despite his natural talent, this was not Ike's first career choice. Originally, this fluffy golden retriever was bred to be a seeing-eye dog, but he was too mild mannered.
  When Ike isn't out in the field with the Digital Forensics Department, he has a girlfriend back home in Jefferson City. Her name is Bonnie and is one of the other 19 dogs that can sniff TPPO.