Nationally Recognized
National Honors Society (NHS) is a nationwide organization that only select students get to be apart of.
The sponsor of NHS is Mrs. Fink and Mr. Wilbur is also an co-sponsor.

NHS has many different focuses but here on campus, they focus more on volunteering.
"The students that are in NHS focus on service projects which are pretty much volunteering here at Kickapoo," Sponsor and Teacher Jill Fink said.
In order to be part of NHS, you must meet the qualifications that are set in place.
"The qualifications are that you have to have a cumulative 4.0 GPA or above, you have to be a sophomore or older and you have to apply," Mrs. Fink said.
NHS has many goals and they do their best to try to include all their members.
"The goal of our club is to mostly we've already got really good scholars and students our push is to try to get them to understand the importance of volunteering and giving back to the community," Mrs. Fink said.
Test Your Kickapoo Knowledge!
Cheering For The Squad
   Cheer tryout applications are available in the main office but just signing a paper isn't all that goes into the cheer applications. Cheer tryout forms are due March 11th and tryouts are on March 23rd through the 26th for Freshman through Juniors.  Tryouts consist of four consecutive days where each day is a new challenge.
   On day one of tryouts, they go over a mixture of different types of stunts. 
    "On the first day they learn a cheer a chant and a dance and then we go over motions jumps tumbling things like that, Cheer coach Audrey Larson said. 
   On the second day of tryouts, they demonstrate there jumping ability.
    "They show us their jumps and there graded on there technique of there jumps and they demonstrate the level of tumbling they have so the harder the skill the more points you get, Coach Larson said. 
   The final two days they wrap the tryouts up with group stunts. 
   "Wednesday and Thursday they do group stunts and that's when they practice learning the lifts, Coach Larson said. 
   Cheer does not need a set number of people to form a cheer team. It is based on a point system. They don't always look for the skill they also look for personality. 
    "We really look for the potential we look for really good attitudes and if your willing to work you don't have to be the best of the best you just have to want to be," Coach Larson said.
Furry Final Therapy
Pet Therapy of the Ozarks is a program that offers certified service animals to come to schools, nursing homes, hospitals, and other facilities.
They started doing this in the library as a way to try and relieve students of stress that they may feel at the end of a semester.
"We had seen some articles about colleges doing it and we know how stressful the end of the year can be for students," librarian Melody Netzer said.
This is the third year in a row they have visited. They came Thursday, December 12th during lunch hours. Last year they implemented tickets to try to not overwhelm the dogs.
"It is free and the only reason we do that is so we don't overwhelm the puppies," Netzer said.
Pet therapy is a great opportunity for anyone who wants to get out some stress or who just loves petting cute dogs.
Exploring The Medical Field
Medical Explorers is an opportunity to test if a career in medicine is the right fit for a student. The program is open to students between the ages of 15 and 20 years old. It is an opportunity to understand what being in the medical field is really like. The opportunity is open to anyone who meets the age requirements. You don't have to be interested in going into a medical field to be apart of this program. It is also available if you just want a new experience.
"Medical Explorers would be great for any students that are thinking about a career in a medical field," Counselor Shawn Wallace said.
According to Pat Long, a volunteer coordinator, open house is January 8th from 9 to 12 am in meeting room 2 at Cox South. Attendance is not required and it is a come and go event. More information and applications for the program are in the counseling center.
Keeping The Peace
Peer mediation was organized to help students solve conflicts. The idea is to try and keep a peaceful environment here on campus. Anything said in the room will not get you into trouble. They are there in the hope students will come to them and solve conflicts with the peer mediators and that it will help fewer kids get in trouble with administration.
"We want everybody to be united and we want to spread more kindness among people," senior Delaney Hutchins said.
Peer mediation is run by Diana Bernhard. The next meeting is on October 13th. During the meeting, it will be a practice on how the peer mediators can help solve conflicts people may have.
In order to join Peer Mediation, students must go see Ms. Bernhard. She will give you a form and based on your answers they will invite students to tryouts.
They do tryouts at the end of the year so if students go to tryouts their freshman year and they qualify they won't become a peer mediator until their sophomore year.
"It's a lot of getting to know you games and you train and they come and watch to see how you work through a conflict," Hutchins said.
Smarter Than The Book
Scholar bowl is a club where students compete against other schools and try to answer trivia questions as fast as they can. It is a very competitive club. They meet every PLT in room 230 with Ms. Odom to practice for upcoming competitions. Members quiz each other from a binder of questions that may be asked at the competition. They never know what questions will be asked it is different each competition. The students must attempt to memorize as much as they can.
They won their most recent competition against Carl Junction.
"The first game Scholar Bowl won by 420 to 390 and the second game we won by 430 to 290," junior Robson Dasilva said.
On friday, May 3rd they are going to Columbia to compete against Parkway South and other schools. Scholar Bowl hopes to win and the members will leave school at 1:20 and spend the weekend in Columbia. The competition is going to be held on the Mizzou campus.
The members that are going to state are Dylan Morris, Katie Lynch, Anna Weiner, Taylor Cobb, Josh Lawson, Chase Sponenberg, Roman Taylor, CJ Wears, and Mike Owsley.
Although, all these members are going only four members will be competing. These include Taylor Cobb, Josh Lawson, Chase Sponenberg, and Mike Owsley.
Feel The Vibrations
Drumline: one of the most underrated and mentally tasking sports at school.  The season goes from November to April but competition season doesn't start until February. Their most recent competition was Saturday at Nixa high school.   The main, intense practices are from November through January but practice never stops even during competition season. Rehearsals are every Tuesday, Thursday, and sometimes on Friday. Practice can go from five to nine or six to nine. At the LPA assembly on February 21st, it was mentioned that drumline was ranked 4th in the United States but this changes constantly due to competitions always happening around the world. Big groups from California and Flordia compete which can knock drumline down a rank. Chase Sullins a member of drumline has been apart of drumline for 5 seasons. This includes Marching band and Winter drumline season each year. Judging in the percussion world is very intense. Last year drumline made prelims and semifinals. "Everything is seen from your feet and the way you play the music. They see super small things and add every decimal point it's very very hard to make finals," junior Chase Sullins said. Drumline works very hard on what they do and their schedules can be hectic. It takes a lot of time and energy. "It is a lot of time. It's a huge time commitment and it cost a lot of money be prepared for the time dedication and money. It's very hard for me on my schedule. I'm pretty much never home. That's how it is for all of us," Sullins said. Although it is a lot of work and a huge commitment, there are the experiences and the adrenaline of being on the floor doing what drumline knows best giving all they can when they hit the competition floor. "My favorite part is probably just my experiences. The experiences are really good like going to competitions and stuff. I've had a lot of troubles and a lot of good. It gives you a lot of discipline. The intense drumming is kind of like the military it's like doing military drills it's tough," Sullins said.  Drumline doesn't get the attention they desire at school. Few people go to their competitions other than band kids. Drumline's hard work seems to be overlooked when compared to other sports. "I would really like to have more kids come out and support drumline. We usually don't see a lot of kids other than band kids, we usually just see parents. It would be very inspiring to see more kids out there. There's always a lot of support for football but not for drumline. That would make us really happy," Sullins said.
Cry Pretty
Photo Courtesy of Tribune News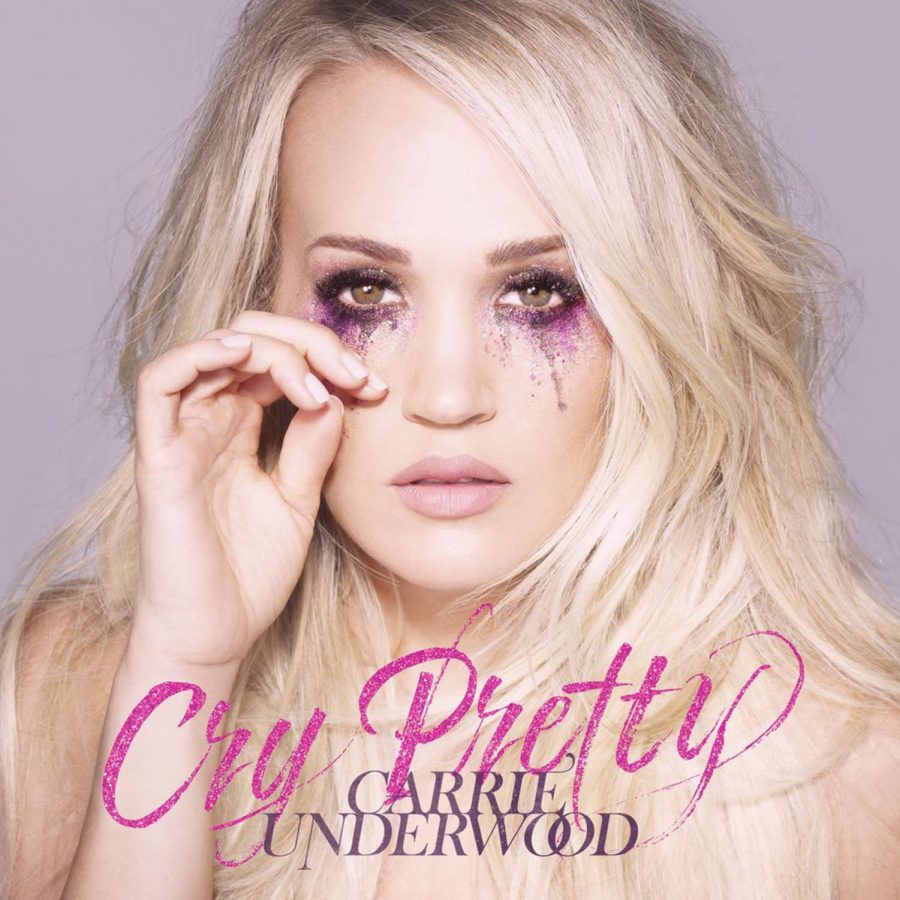 A country singer, Carrie Underwood, released her sixth studio album, Cry Pretty, on September 14, 2018. The album consist of 13 songs. They are soulful and full of meaning. The songs show another part of Carrie that most fans are not use to seeing. Not all of the songs have music videos, but you still feel the meaning in each word she sings. The songs Bullet and Love Wins are definitely the most inspirational, and the words convey messages still talked about today. These topics consist of gay rights and gun violence. In today's climate talking about these issues is important because it helps
open the minds of people in society, and brings light to some major issues. The album has taken some political risk, but nonetheless the songs aren't just about the country, roads and drinking that most stereotypical country music holds, they're about love and convey real meaning, but Carrie keeps her country style and full throat voice. I'm not a big fan of country music. I've never listen to it, but I decided to try something different. And I was pleasantly surprised. If you're a fan of country music and songs with what, I believe, are meaningful and full of life, I highly recommend the album Cry Pretty.