Mission to Adoption
 The summer of 2015 opened up a whole new world of possibilities for the Barron family.
   Senior Madi Barron's family has been very involved in Ridgecrest Baptist Church for years. Back in 2015, her dad, Wayne, was offered a last minute opportunity to take a mission trip to Ukraine, a large country in Europe.
   "He went and worked with a few different orphanages, but two kids specifically had stuck out to him," Barron said.
   One of the kids was a 15 year old girl named Anna.
   "Anna was about to be out of the system and left to fend for herself on the streets," Barron said.
  Anna had told the missionaries that whenever she was asked what she prayed for, she had always said she only wanted for a family to adopt her.
   "This stuck in my dad's head as he traveled back to the states, he contemplated what this would mean for our family," Barron said.
   After only a few family discussions, the Barron's decided to adopt Anna. Anna officially became a part of the Barron family on December 7th, 2018.
    With the family being so close to the 2 year 'Gotcha Day' of their new addition, they are also in pursuit of another  kid from the Ukrainain orphanages, a six year old boy named Dima.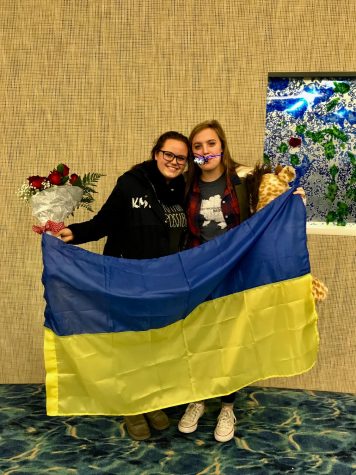 Varsity Track & Field
The Varsity Track and Field team has attended two major upper-level meets in the month of April. At the Kansas Relays, an invite only meet held at KU, three athletes placed high enough to earn medals. Senior Ethan Bowers placed 3rd in the 400 Meter Dash. Junior Tayte Kozlowski places 6th in the Triple Jump and 7th in Long Jump, and Senior Kennedy Aurentz placed 2nd in Shot Put. At the SBU Class 4 and 5 meet, held at Southwest Baptist University the girls team placed 2nd overall.
Senior Kennedy Aurentz placed 1st in Shot Put and Discus. Senior Katelyn Clark placed 4th in Javelin with a 13 ft personal record. Juniors Tayte Kozlowski, Mia Thompson, Sophomores Chloe Merced and Imani Robinson placed 1st overall in the 4×200 relay. The boys team did not place overall but many placed individually. Senior Cy Warlick placed 2nd in Discus. Senior Ethan Bowers received 2nd in the 400 Meter Dash. Junior Brady Bauder placed 2nd in the 3,200 Meter Dash. Varsity Track and Field Conference is Wednesday, May 1st.
Senior Superlatives!
Please take this survey for senior superlatives for the fourth issue of the magazine.
https://forms.gle/9toSewf5EanSsUgM8
Sierra Burgess Really Is A Loser
The Netflix original movie Sierra Burgess Is a Loser was supposed to be a homage to every self conscious girl who feels like they have no purpose or have no idea who they are. Instead, the movie portrayed its main character, Sierra Burgess as a vindictive and manipulative loner whose only purpose in life is to win the heart of a boy. Sierra is the basic stereotype for this sort of character. She has good grades, is in band, has one friend, who is just as nerdy as her, and she is bullied for every step she takes. She is even played by a plus sized actress, which is a step up for the teen film industry. When we first meet Sierra, she is going through what most high school seniors go through, college stress. Her counselor asks her the question of "What is Sierra Burgess?" but Sierra has no answer, causing her to stress. Her counselor suggests she takes up tutoring, so that her applications stand out. That's when she decided to put her number around the school. When the head mean girl of the school, Veronica, decides to give Sierra's number to a cute guy as a joke because he has "loser friends," things start to take off. Sierra gets a mystery text, It happens to be Jamey, the cute boy. Sierra has no idea why or how this boy has her number but she plays along, hoping that it isn't all too good to be true.
When Jamey calls her Veronica it is all clear and Sierra is crushed. She decides to play along anyway. The movie tries to justify Veronica's horrific bullying with the fact that her mom is plus sized and her dad left. The mom is just a coverup for trying to be a 'diverse' movie and giving a mean spirited girl a scapegoat. The main problem I have with this movie is that it glorifies the act of catfishing. Catfishing is pretending to be someone else, and engaging in a fantasy that could eventually lead to emotional harm for both involved. Sierra is catfishing Jamey into believing that she is Veronica, when in fact she is not. Jamey eventually asks "Veronica" to FaceTime and (Sierra being an idiot) says yes. Coincidentally, the real Veronica ends up needing a tutor and Sierra offers to help her in exchange for a favor. Her plan is to FaceTime Jamey with Veronica's face, but with Sierra's voice in the background. When Sierra says something, Veronica acts like it is lagging. The FaceTime ends up being a success, and the catfishing continues. Overall, this movie was trying to send a major message to teenagers that you don't have to be the most beautiful, skinny, or the most popular to win the favor of people, but it ended up being like every other Netflix original, with the same cast, bad acting, and the glorification of nasty internet ways.