Parking Lot Changes
After years of complaints about the parking lot being a chaotic mess,it will be sealed and striped over the 2019 summer, and for the first time, assigned parking will be implemented. Chief Mentors will get first pick on spots, following with seniors and their tribe they were assigned in May, just like scheduling.
Juniors and sophomores will follow. Sophomore will be unable to pick a spot until their license has been obtained. "I think this is an efficient way because it will hold the people more accountable for following the rules," sophomore Harley Zimmerman said.
Student Section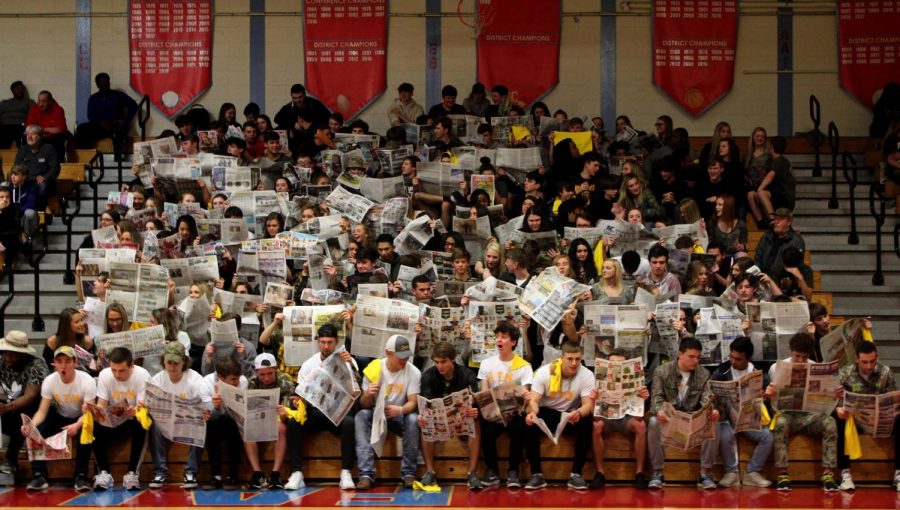 Student Section
Entrepreneur of Kickapoo
Kickapoo student learns how to make profit as a young entrepreneur.
Many students desire a way to make quick cash. Senior Andrew Sweet found a way to do just that. Sweet is a self-proclaimed businessman.
Sweet has a personal shoe resale business that runs on a small scale. He started his business off with just selling in-style shoes he no longer wore on various social media platforms to friends. Once he saw that this could be a business opportunity for himself, he looked into buying more products.
He now buys name brand shoes, specifically Ultra Boosts and NMD's-types of Adidas shoes through various sources at a discounted rate. He then sells them at a marked up price allowing a 30 to 35 profit percentage, depending on purchase price from the seller.
"Being able to make purchases and sales is something that interests me greatly. I like being my own boss and making the executive decisions that determine my profits on a daily basis," Sweet said.
Sweet has always had an entrepreneurial mindset, with that mindset he is always seeking new opportunities to pursue business that other have not looked into.
"Since I was younger, I always wanted to make money. I did that by washing cars and mowing," Sweet said.
As an entrepreneur, Sweet loves selling shoes and getting people exactly what they want at a discounted price, while still profiting.
While Sweet is selling shoes, he is also gaining other business experience.
"Along with this job, I also have my own mowing business in the spring and summer months, and a personal snow blowing business that I operate in the winter," Sweet said.
In the future, Sweet plans to continue his career by attending Missouri State to study business and marketing. After completing college, he plans to open a larger resale business or start a shoe line of his own that will continue to make him successful.
"Essentially I just want to be my own boss and control when I work and don't," Sweet said.