Kickapoo Boys Tennis Aces Their Way to State
Kickapoo boys tennis team has been on a hot streak thus far. They took the court by storm and beat Central High School to take the district championship. Our boys tennis team beat Central 5-1 and it wasn't even a contest, after playing them in conference and losing 4-5 in dramatic fashion. Our boys team came through when it really mattered. Cayden Danzer and Patrick Terry qualified for individual state. Danzer and Terry will be competing in the state tournament as a doubles team.
Boys Tennis
Boys tennis has been on a role this season. They had their conference match up here at cooper tennis complex earlier this week and placed 2nd overall and are now preparing for District's next week may 10th. We are looking forward to seeing how each individual does next week. "I'm pretty happy with how our season has gone so far and it'll be good to see just how good we do next week at district's." Senior Caden Hillman said.
Boys Tennis
They are currently preparing for their first match at Lebanon on March 29th. They are still trying to figure out their lineup but are blessed to have a great top 6 players as of right now. "I'm very excited to be able to put my craft on display in our first match" Cayden Danzer said.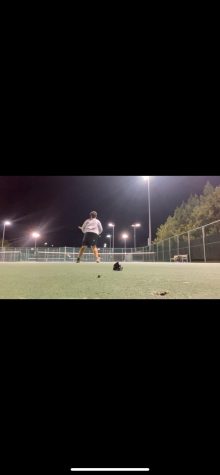 Boys Wrestling
Boys wrestling has been great this season. The team had five athletes qualify for sectionals and out of those five have one athlete qualify for state. Tai Koyama is the only one to qualify for the state wrestling tournament, having placed 3rd at sectionals. He is very excited to get to compete with some of the top athletes in the state. "I'm very excited to compete and very blessed with this special opportunity." The state wrestling tournament will take place at Independence Missouri next Saturday. Make sure to show your support for this great and gifted young man.
Drum Line
Drum line is currently preparing for their online indoor season. This year due to covid-19 they are not allowed to travel to shows so they are doing video recordings of their performances and sending them in for competition. They are preparing for WGI and MCCGA. MCCGA is the local circuit for drum line and color guard and WGI is national. They will be competing against about 40 groups at MCCGA, and about 250-300 groups at WGI. We are wishing them good luck as they compete this year.
Online story- Volleyball
Kickapoo Volleyball has been phenomenal thus far. They are undefeated in their conference so far. They faced Hillcrest and swept them 3-0 this past week. They have swept most of the teams they have faced so far this season. The chiefs will take on any team left in the conference and will try to keep up this winning streak of theirs. They are 17-4 so far, and districts are in two weeks and they plan on winning the district and the state title along with it.
National Art Honors Society
The last time that we talked to the sponsor, which is coach BlackBurn, he was not even sure that they would have this club this year. They were very unsure as to why they were not gonna do it this year. They were also very unsure who the sponsor was gonna be because Ms. Dunn left the Kickapoo Staff at the end of last year. They are offering Advanced Placement for the art classes and would even know if there was even a need for this club. There will probably be no club this year according to Coach.
The Writing Center
 The writing center is pretty much a group of people that help with any sort of writing that they need help with, such as papers and other things. They have been helping my class a lot with papers that we have been writing lately. They help make edits and tell the student that is working on it basically how to improve grammar, quotations, and much more. They helped me with my paper that I wrote in English III a couple of weeks ago. They are there for any special help that we all need.
Running For Gold
   The Cross Country season has come to an end, but it was something to be proud of. Off season and the grind has started for those that are not seniors. One of the girls Ms. Brown finished 6th out of the whole state as a freshman and she ran really well and she ran the 3rd best time in Kickapoo history. But overall the team finished 15 out of 16 teams. Coach Goddard expressed that he is proud of the team as a whole and stated 
   "I am very proud, even though in the end we wanted to place higher on the ranks but we have room to improve and do better." Goddard said. 
   The team is on now on off season and ready to get straight to work and work to place better for next year.
FCCLA update
    FCCLA is a club that does a lot not only to benefit the students that are in the club, but they reach outside of the school to kids in the community.   
   They went on a field trip close to the beginning of the school year to help students find a career path they were interested in. They went to Silver Dollar City,  it was a fun time for the students to go have fun and learn about their job of choice.
   FCCLA is hosting a little chief chef camp on December 6th. Where they are teaching little kids that choose to be there how to cook different kinds of food. Mrs. Cox will be the supervisor at camp, and help little ones learn how to cook.