Q&A With Dr. Powers
What's the biggest difference between high school and middle school from what you've seen?
"For me it feels like the pace is a lot faster. I'm learning something new everyday."
Is the pay different?
"Yes. It all based on the years of experience and education."
What made you want to become a chief?
"I'd been at cherokee for 9 years and loved it. After I'd gotten my doctorate I started to think about it a little more. I thought about it for two weeks and I'm happy it worked out and glad that I am here."
Do you have a favorite thing about Kickapoo?
"The traditions Kickapoo has with sports, academics, and extracurricular activities."
Do you feel as connected with the student body since Kickapoo has more students than Cherokee?
"Yes and no, that has been the easiest part of the transition."
Do you have any different tasks?
"The biggest difference is credits and looking at students being on track to graduate. We want to see every student graduate."
Where did you begin your career in education?
"Tampa Florida, I taught there for five years. Assistant principal for 2 years, then 9 years as the principal at Cherokee."
When did you decide to move into admin? Why?
"My first year of teaching in Florida I was encouraged to look into it and get leadership experience."

Student Council
Student Council has just wrapped up work on How Night and are now beginning to prepare for Homecoming. The dance will be held on October 19th after a football game and will be held in the Kickapoo Commons.
"It's a tradition, its a great way for kids to dress up and enjoy themselves," Student Body President Kennedy Shanklin said.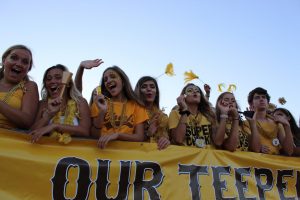 The student council will spend much of the next few weeks working on decorations for homecoming. While they meant to announce the theme for homecoming at How Night, the student council never did, leaving the students of Kickapoo in the dark until they finally unveil their plan.

Student Art Featured at Springfield Art Museum
AMBER BURNETT (12)
"BOWL OF DOUBT"
CERAMIC BOWL
"This is the best thing I've ever thrown.  In fact, when I went to glaze it, Mr. Blackburn thought it was his bowl that he used for demonstrations, and it didn't help that I didn't have my name on it.  When I heard it was going to be featured at the art museum, I wanted to name it 'The Bowl That My Teacher Thought Was Too Good to be Mine.' We decided that name was too long, so we just went with 'The Bowl of Doubt'.  Mr. Blackburn is still skeptical that I made it."
MAKAYLA MAXHEIMER (11)

"INTO THE UNKNOWN"
DIGITAL PRINT
"For this piece, I really wanted to do something that meant a lot to me.  At the time, I was really into this show called Over the Garden Wall.  The show helped me bond with my friends.  The show is very light and fluffy, and I wanted to be able to show that as well as how I was feeling at the time, with dark shadowy figures and the lantern."
NATALIE GATES (9)
"ENVY"
MIXED MEDIA
"Hateful desire and envy are themes in this piece.  The outstretched hand represents a longing or desire for something more.  Snakes have always represented envy in my own mind, so I shaded them to show the dangerous side of that emotion.  And the old authors in the top right are covered in string to represent them being caged in."
SCOTLYN BELEW (11)
"DUALITY"
INK ON PAPER
"When I was in middle school, I did lots of landscape drawings.  In my art foundations class, we had an assignment to create a line weaving.  I was inspired by my previous work, and I wanted to continue with what I always do."
LAUREN PERRIMAN (10)
"VINTAGE SERIES"
PHOTOGRAPHY
"We had to do a theme in Photography One, and I picked vintage as my theme.  It's interesting to see the items that were used in the past because we often lose sight of them because of technology.  Since Mr. DeClue teaches and knows a lot about photography, it feels good to hear that he likes my theme and the way I shot it."
DALLIN FORSYTH (12)

"INSPIRATION"
PHOTOGRAPHY
"I definitely played around with this picture so that you could see the milky way.  My friend TJ Cirillo is looking off into the distance so you can kind of interpret the picture for yourself.  This was a really good shoot."
OLIVIA HALL (11)
"LA MESA STUDY"
CERAMIC SET
"This was the first wheel-throwing project for my ceramics 2 class. The project was based on "La Mesa," an art show for professional artists to make sets for display as a place setting all on one super long table. I'm proud of the set, and it turned out better than I thought. I'm good at throwing, but you never know how the glaze will turn out.  I could eat off of it if I want, but I'm not sure what I'll to with it yet."
LAUREN SPILMAN (12)
"TIMELESS"
PHOTOGRAPHY
"This was for a portfolio project, and the prompt was "community."  It's supposed to be a commentary on older generations using technology in a good way with curiosity and not just 'oh, you young people with your technology! Back in my day, all we had was sticks!'  It was really fun to shoot and my model, Ana, had a lot of fun, too."

Best Friend Quarterly
HOW DID YOU GUYS MEET? 
Alex: 4th grade class
Annabelle: Mr. Flynn's 4th grade class
WHAT IS ALEX'S BIGGEST FEAR?
Annabelle: Toes
Alex: Toes
WHAT IS ANNABELLES  MOMS MAIDEN NAME?
Alex: Summers
Annabelle: Summers
WHAT IS ALEX'S FAVORITE FOOD?
Annabelle: Apple Sauce
Alex: Apple Sauce
IF ANNABELLE COULD BE ANY ANIMAL WHAT WOULD SHE BE? 
Alex: Giraffe
Annabelle: Giraffe
WHAT IS ALEX'S FAVORITE KIND OF POPTART?
Annabelle: Wildberry
Alex: The purple and blue kind
WHAT DOES THE OTHER PERSON DO THAT ANNOYS YOU THE MOST?
Annabelle: Alex doesn't speak English half the time
Alex: Annabelle is book smarter than me

Kelli's Cars of the Quarter
Jake Young, Ryan Hunter, Nathan Hardison, and Brenden Goodman
Make, Model, Year
2002 Mercury Sable 
Nickname
Frankie 
Where did you get it?
"Ryan found the car on Facebook Marketplace for $450. It was in pretty bad shape: the passenger side mirror was dangling, the windshield was cracked, the passenger side window was glued in place because it didn't work, and we had to replace a tail light. The backseats were really torn up and we didn't want to put more backseats there so we put a mattress in it instead. We spray painted the roof, trunk and doors. The car was originally all white."
Favorite thing about car?
"Probably the exhaust. We took it to a shop, had the exhaust taken off, and we had it side pipped. Which is when the pipe is going out the side of the car instead of the back. 
Another thing is the stickers. There's probably 1500 stickers. They came in bulk of about 200 from Amazon. It took a long time to put all the stickers on it."
Best memory
"The first night we actually worked on it, we had like six of our friends over to Jake's house, and we cut off the muffler. It sat in Jake's garage until like January because we didn't want to work on it while it was cold."

Veganism is Life
I wouldn't be who I am today without it."
Senior Sarah Crooke went fully vegan almost three years ago and hasn't looked back.
   "It gives me a sense of purpose in my life. It's something I want to do for the rest of my life and incorporate into my career," she said.
   Veganism is defined as a way of living which seeks to exclude all forms of exploitation of, and cruelty to, animals for food, clothing or anything other purpose as much as possible, according to the Vegan Society. It means that people who choose to live a vegan lifestyle do not eat meat, dairy, or anything that has come from an animal. They also avoid non-cruelty free makeup brands, clothing, etc. 
   Although for Crooke, it is more than just a plant-based diet. 
"It not just about not eating certain foods. It makes you a healthier person," she said. "It makes you think about the products you use everyday. It makes you think about the environment, and how everything we choose to do, whether is taking the bus or walking, effects the planet in either a negative or positive way."
   Before making the choice to go vegan, Crooke did her research.
"I watched documentaries and saw the mistreatment of animals. I knew animals weren't treated properly, but I didn't know the extent of it," she explained.
   She, like most of America, grew up eating processed foods. After choosing to go vegan, she had to learn how to adjust her food choices to benefit her.
   "When I first started I didn't really like eating whole foods. I didn't really like fruits or vegetables," Crooke said. "I had grown up eating so many processed foods and fast food, so the first month was hard to find things to cook, but now I'm a professional."
   Using alternatives to meat and dairy products allows vegans to still eat their favorite foods, like pizza and mac 'n cheese. 
   "I'll keep pasta, a store bought sauce, lettuce, tomato, onion, rice, fake chicken, frozen fruit and vegetables. You can literally make anything with that," Crooke said. 
   YouTube is her favorite resource, especially for learning how to good and getting ideas of what to make. 
   "All I do in my spare time is go on YouTube and watch other people's videos, get an idea, and experiment a bunch," she said. "I failed a lot, but I also made a lot of delicious things. You take things from other people and adapt it to fit your lifestyle." 
   Some of Crooke's favorite things to make are pasta, pizza, and smoothies.
   "Pasta is really easy to customize. You can literally put anything together with noodles, and it tastes delicious," she said.
 Her choice to become vegan has been a journey that extends beyond just food choices.
   "I've learned a lot about myself and my ability to change things about myself and my lifestyle. I learned how to be more compassionate when speaking about veganism," she explained. "People can come off as angry when they talk about something they're passionate about, so I've turned it into an educational thing."
   She also discovered a lot of unruly information about the food industry.
   "I've learned a lot about the food industry and America and how the government uses propaganda to sell certain foods that aren't healthy. Big companies are paid by the government to endorse certain foods and meats that are linked to cancer," Crooke explained. 
   Going vegan also has a majority of health benefits along with the benefits to the environment and animals. 
   "Whenever you eat meat and dairy products you feel way down. By becoming vegan, you feel better physically. You also do mentally because you know you're not harming anyone in the process," she explained. 
When you go vegan, there is a glow up throughout the process: mentally, emotionally, and physically. 
  Senior Lauren Melton was vegan for over year before she shifted her focus to being vegetarian. 
   "When I would go out to eat with my friends it would be really hard to find vegan options, espeically in Springfield," she said. 
   Vegetarians do not consume any meat from animals according to the Vegan Society. Melton rarely eats dairy, but by changing her diet to allow the option of dairy, it gives her more freedom when she goes out to eat. 
   "I still wanted to make sure I wasn't eating meat, butI felt like I could be a little less restrictive until I can live my own life with my morals about eating dairy. I choose the lesser evil by becoming vegetarian. I don't believe in eating meat," Melton said. 
   She learned about the dairy and egg industry from documentaries, and the knowledge of what those animals go through conflicted her morally. 
   "The dairy and egg industry is still exploitive. In order to produce milk, cows have to constantly be inpregnated, and their calves are killed for veal," Melton explained. "In the egg industry, they will just kill the male chickens in mass quantities because they don't have anything to do with them."
   She feels like it is selfish for her to eat meat and consume dairy after knowing what happens to the animals in the farming industry. 
   "The factory farming industry really takes advantage of the animals. I feel like I'm doing the minimum by being vegetarian. I'd like to get to the point where I don't eat dairy at all," Melton said.

The Reality of Starting a Family in High School
"My boyfriend was the first to say not to get an abortion," senior Peyton Steele said.
  Steele's daughter, Mallory, is now almost a year old.
  "The day I had her was the best day of my life. I was in so much pain but it was perfect," she said.
  After being nauseous for three days, Steele's boyfriend, Grayson Hodges, suggested she take a pregnancy test.
  "We went to the Pregnancy Care Center because they give free pregnancy tests. After the result was positive, they gave us counseling and informed us of our options," she said.
  They discussed their options and decided that keeping the baby was what was best for them.
  "It was a personal decision not to have an abortion. Also, I couldn't carry my baby and then give her up. I already felt connected," Steele explained.
  Steele and Hodges' families were supportive when they told them about the pregnancy.
  "I came home literally right after the appointment and told my mom. We told Grayson's parents a couple weeks after. Grayson took it well when I told him, but it wasn't until we told his parents that he got emotional," Steele said.
  Steele's pregnancy was filled with emotions, sonograms, and ice cream.
"Sonograms were my favorite. It was so cool to see how she grew. One time she was jumping in my stomach. She was only 14 weeks, so I couldn't feel it. We didn't even know if she was a boy or girl. Grayson was like, 'it's hip hop dancing,'" Steele said.
  She also noted how her diet changed during her pregnancy.
"It's crazy how cautious you have to be when you're pregnant. You can't have fish with high mercury like sushi or deli meats," she explained. "I tried to eat really healthy. I ate a lot of fruits. I tried to eat vegetables, but I don't like them. I did eat ice cream though – like every night. Our freezer was constantly stocked with Ben 'n Jerry's."
  Steele changed in multiple ways throughout her pregnancy and after giving birth.
"It made me a lot more emotional. I would cry over the stupidest things. Even after having her I'm way more emotional," she said.
  Being pregnant got harder after her bump had become noticeable though.
"I felt so self conscious. It was annoying because I could see people looking at my stomach. No one actually ever said anything though. I think it was more just me, like knowing that people are thinking things," she said. "I honestly loved being pregnant besides the looks and being so young. I loved feeling her kick. Anytime she would kick I would take a video. She would get her little fists in my ribs."
  Now, what other people think doesn't bother Steele.
  "Sometimes I wish I would've told people that I was pregnant sooner, but I was scared that I might miscarry because I'm so young. I was also scared of what people would say. I don't care now," she said.
  The night before Steele went into labor, she and her boyfriend had gone out to eat with his family.
  "I was having contractions for two days before, like constantly. The rule for my doctors office was don't come in unless your contractions are like five minutes apart and lasting a least a minute. They weren't that bad but I could see my stomach hardening," she recalled.
  Hodges had broken his phone during this time, so when Steele went into labor she had to text his dad early in the morning to tell Hodges.
  "I woke up at four in the morning, and I was really hurting so I called my mom. We ended up getting to the hospital around six am. I was texting Grayson's dad's phone telling them I'm going to the hospital," Steele said.
  She had packed her bags for the hospital three weeks before to be prepared for that night.
  "They take you back to these triage rooms to make sure you're in labor. They took forever to take me back to a room because they were super busy that night. By the time they got me back to the room I was throwing up from the pain," she explained.
  When she was taken back to a the triage room Steele was only dilated to a three. The doctor checked an hour later and she was dilated enough to be taken back to a birthing room.
  "Grayson had gotten there when I got taken back to the triage room. By the time I got my epidural I was dilated to an eight. After I got the epidural I was good to go; I couldn't feel anything," Steele said.
  Mallory Ann Hodges was born at 2:35pm on June 14th.
  "I cried when I saw her for the first time. I was like how is this real. Grayson was like, 'holy cow' when she came out, and the doctor was like, 'holy cow is right,'" she said.
  Grayson Hodges graduated from Kickapoo in 2017. He recalled feeling scared and excited when he found out that Steele was pregnant.
   "It was really cool to know that she was carrying our baby," he said. "It was always really fun and interesting to see how Mallory was forming inside of Peyton and to see how much she had changed."
  He wanted to wait as long as possible before telling his family about the pregnancy.
  "I waited as long as I could before I told my parents because I was honestly very scared, but they actually took it very well and were extremely supportive," Hodges said.
  The night Steele went into labor he hurried to meet her at the hospital.
  "I remember waking up to the text at 6 am and rushing to the hospital. It was really cool to see how good Peyton was doing and how well she was taking it. She was so brave," he explained.
   Steele was the first to hold Mallory, and Hodges saw a glimpse into life as a parent.
  "My first thought when Mallory was born was that she was beautiful. There was just an instant feeling that she was my child and that this was all so real, I really felt like a parent in that moment," he said.
  Since Mallory was born, he and Steele have grown closer.
  "We actually do not struggle very much while parenting together. We are able to agree on most things," Hodges said. "It's so awesome to watch Mallory grow up and learn and do different things and to have somebody that looks up to you so much."
  Now his days are filled with smiles and laughter from her.
  "My favorite thing is her smile. It can bring happiness to anybody, and her laugh is awesome. There is nothing to not like about her. My favorite memory would be her taking her first steps to me," he said.
  Steele mentioned how it was difficult how Hodges didn't understand throughout her pregnancy.
  "During my pregnancy it was really hard because he didn't understand. It was hard for a while to watch him not understand. After I had Mallory, he's done really well. He loves her so much," she said.
  Both Hodges and Steele began school in the fall following Mallory's birth. With help from their families, Hodges has been able to go to school and work full time, and Steele was able to graduate early.
  "I'm breastfeeding so that would get in the way during the school day. I'd have to leave class early to pump after first and second block," she explained. "It's hard because if I want to go out I have to pump and make sure there's enough for Mallory. Before everything was on my time. I could go out when I wanted or watch Netflix whenever."
  One of Steele's favorite memories of Mallory was after she got home from the first week of tennis practice.
  "After I got home from tennis practice I was really upset. It was the fourth day and I was stressed because it was hard to be away from her. I was crying and telling her I loved her and she started laughing for the first time," she said.
  There are many stigmas around having a baby in high school or being so young. This is one account of the reality of it: all the good and all the difficult.

Tattoos Of Kickapoo
– Got her tattoo November of 2017
-No real meaning. "It looked really nice to me," Atnip said.
-Pain scale : 7 or 8 out of 10
-Future tattoos: "I want to get the constellation of my zodiac on my arm," Atnip said.
Zachary Pearson (12)
-Got his tattoo July 20, 2017
-Meaning: "The meaning of the tattoo is I came, I saw, I conquered in latin," Pearson said.
-Pain scale: 2 out of 10
-Future tattoos: "I'm gonna be getting covered. Sleeves, chest piece, legs, back and ribs," Pearson said
Jasmine Padron (12) 
-Got her tattoo a few days after her 18th birthday.
-Meaning: "It means love yourself in Spanish. I think that self love is incredibly important,"  Padron said.
Pain scale: 1 out of 10 "It was just a weird sensation" Padron said. 
Future tattoos: None.
-Got her tattoo August of 2017
– Meaning: "I got it with my mom and it has a religious meaning," Cole said.
Pain scale: 7 out of 10
Future tattoos: "I want to get a tiny rose on my hip. I also want roman numerals of the day i got baptized," Cole said.
-Got his tattoo when he was nine years old.
-Meaning: The rose was for his aunt Kelly who passed away.
-Pain scale: 1 out of 10
-Future tattoos: "I want a tattoo on my chest that says family first," Weatherspoon said.
-Got her tattoo October 13, 2017.
-Meaning: "It was my grandpa's favorite flower, and mine as well." Padron said. 
-Pain scale: 4 out of 10
Future tattoos: "I'm gonna add onto the rose and have it going down my leg," Padron said.

Cars of the Quarter: Issue Three
Wyatt Bowler
Make, Model, Year
2000 Jeep Wrangler Sport
Nickname
Yoda
Where did you get it? 
I got it from this guy in Branson. I spent the whole day car searching with my dad, and we were so close to giving up on finding a good deal on a Jeep.
Favorite thing about car?
It's a total chick magnet.
Best memory
In the short time I've had it, the best memory I have with it is that everytime I pass a Jeep, someone waves. I'm not very social.
Maria Anderson
Make, Model, Year
2004 Jeep Grand Cherokee
Nickname
Eggroll
Where did you get it?
It was a dealership in Ozark. My last car was stolen out of the school parking lot during the school day.
Favorite thing about car?
It can drift really well in the snow. My friend taught me how.
Best memory 
My best memory is probably going drifting. That was really fun. I haven't had it for very long, so I havent been able to take it on a roadtrip yet or anything.

HOW DID YOU GUYS MEET?
Jeb: First day of school in 5th grade
Chase: On the bus in 5th grade
WHAT IS JEB SCARED OF?
Chase: Clowns
Jeb: A clown in a corn maze
WHAT WOULD CHASE BUY IF HE HAD $1,000,000?
Jeb: Food
Chase: A mansion with a chef
WHO IS JEB'S CELEBRITY CRUSH?
Chase: Hunter Blackwell
Jeb: Hunter Blackwell
WHAT IS CHASE'S BIGGEST PET PEEVE?
Jeb: When I punch him
Chase: When Jeb is better then me at anything
WHAT IS CHASE'S FAVORITE KIND OF POPTART?
Jeb: S'mores
Chase: S'mores
WHAT DOES THE OTHER PERSON DO THAT ANNOYS YOU THE MOST?
Jeb: When he punches me
Chase: When he is a wimp   

Students Share Backpack Contents
73.5% of us have a computer or phone charger.
75.6% of students have a water bottle on them.  Hydration is important!
23% of students have mints and 53% have gum.
60.5% of students reported having chap stick in their bags and 17.2% have makeup.
32% of kids have lotion stored in their bag.
26.4% of students carry an SD card or flash drive.
45.3% of students keep deodorant with them.  Gotta smell good!
67% of students have food with them for snack time and lunch.
15% of students have a hairbrush for when they're having a bad day.
39.9% of us have our keys with us.
Only 11.3% of students are prepared with a dongle  (iPhone earbud adapter).
66.8% of us have money in our bags.   I  wonder how many thousands of dollars enter and exit the building every day.
24.3% of students reported having hand sanitizer, which is important, especially in flu season.
75.2% of kids have books in their backpacks.  How studious!

Touchy Subjects
Kate Buckley
"I know that you're supposed to respect everyone's political views, but I find that very difficult to do when everyone around me is wrong."
Bryce Cole
"I'm tired of people catergorizing others based on their political affiliation. This creates a disconnect between making progessive change and pointless arguing. People should form their opinions and beliefs independent of where it places them on the political spectrum."
Andrew Iram
"I believe that it is our civil liberties to arm ourselves not only for our protection in our everyday lives but protect our other rights such as freedom of speech and that they will not be taken away and uphold liberty at all times."
Garren Shelley
"Nothing's gonna change until we can access the problem and that takes effort from both sides. Racial inequality, acts of prejudice, and systematic injustices have always been prevalent. Unless you're willing to talk about it and have those awkward conversations, you're gonna have another 12 year old that gets hung from a tree. Racism isn't just an issue of what you think in your mind, but what you believe in your heart."
Jacob Holman
"I don't believe that President Trump's Twitter should be his stance on political views. It's immature and makes him seem less credible."
Ana Torres
"People from other countries should come with a visa because there are other people who come and are doing it the right way. If everyone wants the same opportunities then they should do it legally. Those who are illegal should be deported and should not have the same opportunities, the ones who have worked hard deserve those benefits. It shouldn't be fair for illegals to have their way so easily."
Quin McCurry
"I feel like teachers should be allowed to have guns. It would have been able to stop the Sandy Hook shooting, a lot less people would have died."
Teddi Riddle
"There are 33,000 deaths from firearms but 600,000 from abortions. People are complaing about gun control when guns really aren't as big of an issue as abortion."

Les Miserables: Behind the Scenes
Les Miserables is one of the theater's biggest performances of the year. The matinee was on Wednesday, November 15th, during first and second block and cost five dollars per person. The department will also be holding performances Thursday – Saturday at night on November 16th-18th. This costed six dollars a student and ten dollars for adults. The students have put a lot of effort into this production and look to show off their hard work and talent on the stage.
One of the students fully embraced her role in the play. Senior Mckenzie Paquin  was cast as  the role of a younger boy, so she cut her hair to more realistically play this role.
"I actually think playing as a boy is helping me grow a lot as an actress because it's really making me conscious of all my body movements and how I act with my fellow actors on stage during production," Paquin said.
The theater department is hoping to see many students show up and support all of their hard work. "We put a lot of time and effort into the show and hope to see as many people as possible show up."  Senior Wesley Brian said.
This is the departments the first production of the year, so if you went to support they really appreciate it. They also will have a junior musical and a spring play. They had a good amount of support of their first musical and would appreciate it if they could receive the same type of support in upcoming plays.

Best Friends Quarterly
Matt Whalen and Tyler Baremore
HOW DID YOU GUYS MEET?
Matt:  1st grade soccer
Tyler: 1st grade soccer
WHAT SIZE SHOE DOES MATT WEAR?
Tyler: 8 1/2
Matt:  10
WHAT IS YOUR MOST COMMON SHARED INTEREST?
Matt: Bowling
Tyler: 2k
WHAT DOES TYLER DO THAT ANNOYS YOU?
Matt: He thinks he knows everything
Tyler: I do know everything
Mrs. Highfill and Mrs. Harris
HOW DID YOU GUYS MEET?
Highfill: At Kickapoo, everyone always got us mixed up.
Harris: Here at Kickapoo, the kids always thought I was Mrs. Highfill
WHAT IS MRS. HARRIS' MAIDEN NAME? Highfill: Robbins
Harris: Robbins
WHAT DOES MRS. HIGHFILL DO THAT ANNOYS YOU?
Harris: She is always late
Highfill: I'm late a lot
WHAT IS MRS. HARRIS' FAVORITE OUTFIT?
Highfill: Free LuLaRoe clothes
Harris: Free LuLaRoe clothes

New Year's Resolutions

What Do Students Think of ALEKS?
  The implementation of chromebooks into the learning curriculum has led to a heavier reliance on the learning system called ALEKS in math classes, and the student body is vehemently against it.
  ALEKS (Assessment and Learning in Knowledge Faces), "Is a Web-based, artificially intelligent assessment and learning system that uses adaptive questioning to quickly and accurately determine exactly what a student knows and doesn't know in a course," according to their website.
  There are numerous things wrong with the entire process, however that makes the website frustrating and tedious to use.
  When you first begin to use the program, you are forced to complete a "knowledge check" that is supposed to measure a students' knowledge on the intended subject, and then you are given topics to work on based off of how well you do on the knowledge check. However, this means every student is beginning at a different starting point, and everyone is working on something different.
  So if a student does too well on the initial knowledge check, you will soon run into topics that are becoming too advanced. If a student does poorly on it, they are working on easier topics that might be behind the level at which they should be learning at.
  For senior Matthew Garnier, one of the most frustrating parts about using ALEKS is how it difficult it can be to move forward at some points.
  "If you get stuck on one topic it's impossible to move forward because you can't skip them. Sometimes you have to get past a topic to unlock the other topics we need to do, so if you get stuck on that topic, you can't keep going," Garnier said.
  Another one of the most frustrating part of using ALEKS is how you have to complete a topic, which Garnier says can be a nuisance.
  "You have to get three question right to advance past a topic, so it's annoying when you get one wrong and it takes away one of your right answers," Garnier said.
  Junior Grace Oneal also uses ALEKS on a weekly basis, and has her issues with it as well.
  "I dislike using the program because I feel like I'm just doing busy work. None of the topics we are given help me learn the material," Oneal said.
  Oneal also feels that the increased use in ALEKS has led to her struggling more in her Trigonometry class.
  "I feel like I'm behind in the class. I liked it much better when I didn't have to do ALEKS every week and I feel like my grade was better too," Oneal said.
  A survey was conducted to see what the entire school thought of ALEKS, and the results showed that the majority of the school doesn't like using ALEKS either.
  Out of 200 students surveyed, 89% of students said they had previously used ALEKS. However, almost the same number of people, 88% of people surveyed, said that the use of ALEKS did not benefit their learning experience.
  If so many students agree that ALEKS isn't helping them learn math, why should it be a part of the curriculum? Something needs to be done, whether that is reducing the use of ALEKS in math classes or removing it altogether, to help alleviate the problems it is causing students in the classroom.

Interesting Hobbies
Skateboarding is a rather difficult hobby but can be lots of fun if you get the hang of it. Even going for a ride with friends can be a great bonding experience.
Riding a bike is a great way to go outside get some fresh air and enjoy a beautiful day and get a little bit of an exercise also.