Keeping Up With Scholar Bowl
Scholar Bowl is a club where students answer questions faster and more accurately than the opposing team. Scholar Bowl is very busy right now.
"We have the Trivia Night, Wednesday (February 28th) we have Reed Springs, we have History Bowl on Tuesday (March 5th), after spring break we have two big competitions, and then after that, we start districts," sponsor Mrs. Odom said.
This isn't all the club is doing. Scholar Bowl is intent on helping both themselves and others with some of their events.
"We have Trivia Night on Friday (March 1st). It's our big fundraiser where we're raising money for our trips and travel but we're also raising money for Mrs. Moran in the counseling center because she's in heart failure," Odom said.
The members of Scholar Bowl are enthusiastic to be helping out while participating in a club they love.

Feel The Vibrations
Drumline: one of the most underrated and mentally tasking sports at school.  The season goes from November to April but competition season doesn't start until February. Their most recent competition was Saturday at Nixa high school.   The main, intense practices are from November through January but practice never stops even during competition season. Rehearsals are every Tuesday, Thursday, and sometimes on Friday. Practice can go from five to nine or six to nine. At the LPA assembly on February 21st, it was mentioned that drumline was ranked 4th in the United States but this changes constantly due to competitions always happening around the world. Big groups from California and Flordia compete which can knock drumline down a rank. Chase Sullins a member of drumline has been apart of drumline for 5 seasons. This includes Marching band and Winter drumline season each year. Judging in the percussion world is very intense. Last year drumline made prelims and semifinals. "Everything is seen from your feet and the way you play the music. They see super small things and add every decimal point it's very very hard to make finals," junior Chase Sullins said. Drumline works very hard on what they do and their schedules can be hectic. It takes a lot of time and energy. "It is a lot of time. It's a huge time commitment and it cost a lot of money be prepared for the time dedication and money. It's very hard for me on my schedule. I'm pretty much never home. That's how it is for all of us," Sullins said. Although it is a lot of work and a huge commitment, there are the experiences and the adrenaline of being on the floor doing what drumline knows best giving all they can when they hit the competition floor. "My favorite part is probably just my experiences. The experiences are really good like going to competitions and stuff. I've had a lot of troubles and a lot of good. It gives you a lot of discipline. The intense drumming is kind of like the military it's like doing military drills it's tough," Sullins said.  Drumline doesn't get the attention they desire at school. Few people go to their competitions other than band kids. Drumline's hard work seems to be overlooked when compared to other sports. "I would really like to have more kids come out and support drumline. We usually don't see a lot of kids other than band kids, we usually just see parents. It would be very inspiring to see more kids out there. There's always a lot of support for football but not for drumline. That would make us really happy," Sullins said.

Are We Safe?
ABC News states that fifty school shootings have taken place since the Columbine shooting in 1999.
School systems take shootings very seriously. A new procedure called ALICE (Alert, Lockdown, Inform, Counter, and Evacuate) is a plan of action that tries to keep students safer than they previously were under the old system of lockdown drills.
"ALICE is thinking about the situation and what you can do and what you feel comfortable doing if put in that situation," Assistant Principal Chris Hunsaker said.
ALICE training for teachers started this school year. Later in the year students will be learning about the revamped crisis drills from teachers and be seeing them in action during intruder drills.
"We will have one intruder drill every quarter, I don't know a specific date," Hunsaker said.
The way schools and law enforcement respond to shootings
have changed dramatically since Columbine.
When the old lockdown system was designed to protect students from drive by shootings, gang violence, or random shootings outside the building.
"Even police officers were taught it would be a hostage situation. And most school shootings are no longer hostage situations," Hunsaker said.
The first step of the new procedure would be to try to get the student body safely out of the building.
"If you knew you needed to get out of the building and you could get to it safely then you're going to run," Hunsaker said.
The next step, if it isn't safe to get out of the building, is to block the intruder from getting into the room.
"If you knew that the person was right outside your door you're going to barricade it and make it as
hard as possible for them to get in," Hunsaker said.
And if neither of those options can be put into action and the intruder is already in the room, students and teachers are asked to contain the threat.
"If you knew that person was coming in the door, you're going to do everything in your power to prevent the situation from getting any worse than it already is," Hunsaker said. "You're going to make things as difficult as possible for them to do the act that they're wanting to do."
Many teachers have strong opinions on the new procedures.
"I was skeptical. I'd heard through word of mouth a lot of different things about ALICE training, but I hadn't received any of the training yet," Hostetler said.
ALICE gives teachers and students a plan to rely on if an event like a school shooting was ever to take place.
"You cannot plan for a tragic event like a school shooting. They're not all the same, they're not carried out in the same way. So you really can't be prepared for that, but what you can be prepared for is what to do in the moment," he added.
School shootings are unique situations and should be treated as such.
"You don't know until that day comes if they're going to be in your classroom or the hallway outside of the classroom or the other end of the school," Hostetler said.
ALICE could help teachers and students react in a high-stress situation outside of the school environment.
"It's good thought process to have no matter where you go. Whether it be a movie theatre or some other public place," Hunsaker said.
This will be new to a lot of students, but in the end, it could save lives and prepare them for situations later that may occur further down the road.
Trying to take out the intruder is the last step in ALICE, and it can save lives.
"The resource officer talked to us about training that he had been to. He talked about what happens if you just stay in your room versus if you just try to get out and what happens if you fight against a shooter coming into your room," Hostetler said.
All the information about ALICE, such as a full history and tips on implementation is available at www.alicetraining.com.
"If we are running this efficiently, within seconds of a shot being fired people are getting out of the building or they're blocking the room so an intruder cannot get into the room. That person is going to be left with empty halls and rooms they can't get into," Hostetler said.
ALICE is nothing for students, parents, or staff members to worry about. If a tragic event like a shooting was to ever happen, having a set procedure like ALICE is more likely to keep people safe.
"I think the training and their ideals are good, but the situation is something that I hate," Hostetler said.

Go Caps
`   In order to graduate high school, there are many requirements to receive a diploma. The classes and skills are taught to prepare students for higher education, and the work field. One component high school classes do not acknowledge is; soft skills. These skills are personal attributes that enable someone to interact effectively and harmoniously with other people.
  With the absence of this teaching, Go Caps has made its way to the Ozarks to fix the issue.
  Greater Ozark Centers for Advanced Professional Studies (GO CAPS), is a year long education program that specializes in career paths for juniors and seniors. With a morning (8-10:30 a.m.) or afternoon (Noon-2:30 p.m.) session, Students will spend half of their day at their home school, and the other half in the subject area of their choice. In the 2018-19 school year, Kickapoo had  six students in the morning session and 11 students in the afternoon session.
"It has been available to all 5 high schools here since it began.  GO CAPS is in the middle of recruiting for 2019-2020 school year, which will be its fifth year," A+ Coordinator Kim Harris said.
  The program offers five different strands including Medicine and Health Care, Business and Entrepreneurship, IT and Software Solutions, Engineering and Manufacturing, and teacher education.
  Depending on what field is chosen, the location of the Go Caps setting can range from area hospitals, the Efactory, Elementary schools, to Springfields Remanufacturing Corporation.
  A drawback to the program is transportation. Although some of the classrooms may be far from home, or homesite school, Go Caps provides options for juniors and Seniors without means of transportation.
" If an SPS student does not have a car, the Go Caps team will arrange with our transportation department to bus the student from home site to the Go Caps classroom and back," Education Director Dana Hubbard said.
  Along with bussing, students can apply for transportation scholarships if they qualify for free or reduced lunch rates. The scholarship could include a gas card to help out with the costs.
  The learning experience is  hands on. With a class size ranging from 11-25, Go Caps is able to put students in real life situations.
 "At the beginning of the year, you have to learn a lot of procedures, and terms, but once you are past that you get to do job shadows, and watch surgeries. We were able to visit acute care unit, the  ER, laproscopic surgeries," junior Alyson Thomas said.
  Classes such as the Project Lead the Way are just a gateway to some of the experiences in the medical strand.  
  The program drives students to polish their professionalism skills by; learning project management, collaborating with businesses, making connections with future employers, and most of all explore individual interests.
  A frequent misunderstanding is the ability to receive credits. The program is a full year, and taking up half of the school day, it may seem difficult to fit it in your schedule.
  "Go Caps counts as three elective credits. There are also dual credit opportunities (with MSU) in each of our five strands," Hubbard said.
  If the credits  hinder the decision to enroll, there are more benefits to consider. The program's goal is to pair students with local businesses, and better a resume.
  " Students interact directly with high level industry professionals, and have many opportunities to network and seek out industry mentors. Recommendations from industry professionals  have the power to add depth and breadth to a college application and/or to a resume," Hubbard said
  Many upcoming juniors and seniors are uniformed or have overlooked the program.
  "Each year, we always have vacant seats in nearly every strand and each year we know there are students out there that are missing out on what can potentially be a life changing experience. We want to fill every seat available" Hubbard said.
 The experience can show students a closer look at different career paths, along with narrowing down college majors.
  "What a better way to explore than in HS when you are not having to pay for college courses?," Harris said. 
In the next five years, Go Caps hopes to expand the Teacher Education program, as they currently only offer a morning session. Along with a possible addition to the five current strands.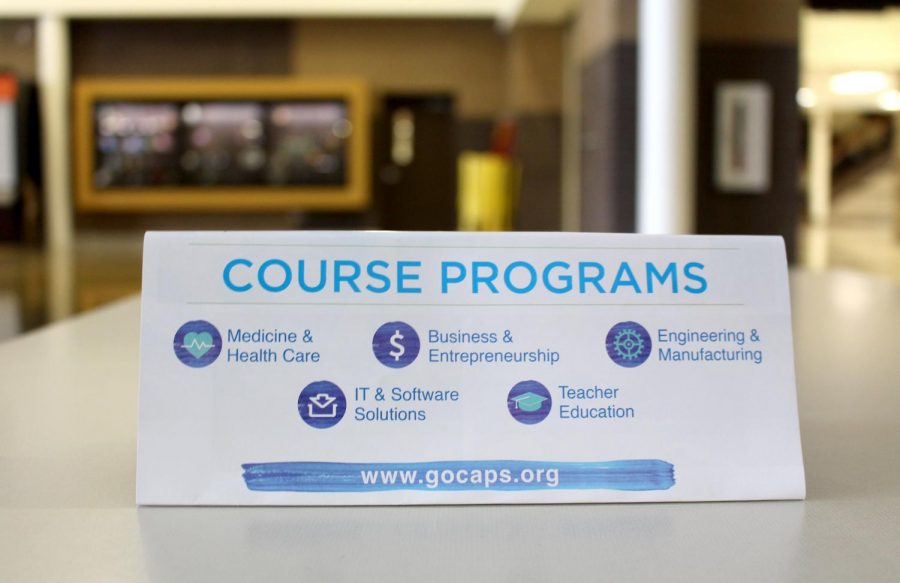 Dresses From KARE Team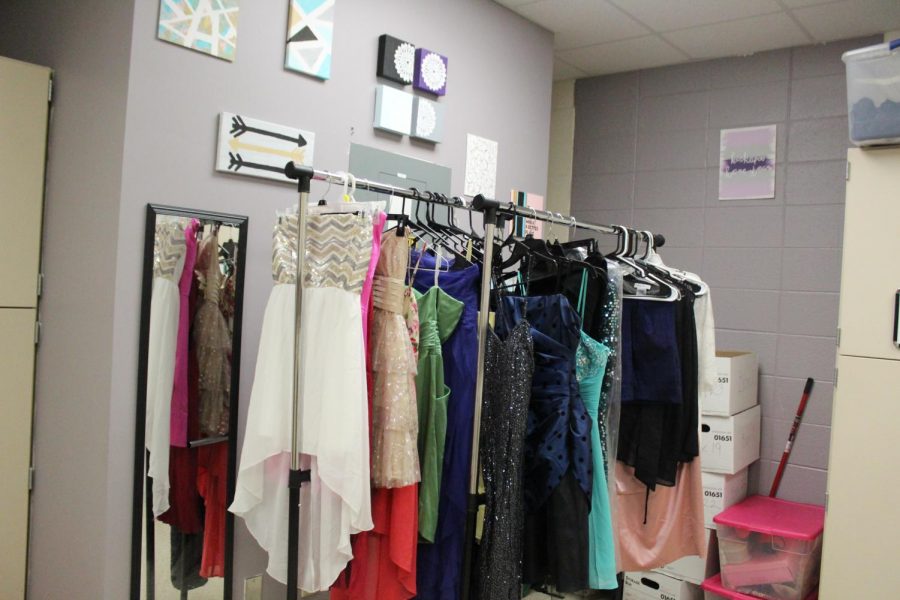 The food pantry, or Kickapoo Korner market, is overseen by Counselor Mrs.Moran and the KARE Team. For many years the pantry has helped students with personal needs, and offers dress donations to any student looking for a homecoming, or prom dresses. "It's a part of the food pantry, and the Kickapoo corner. That's what we call it."counselor, Amy Moran said. The main use of the food pantry is to supply students with any supplemental foods, clothing, and most of all hygiene products. All items within the food pantry are available for student use, and are used to help any student in need. With this being said, the food pantry offers these dresses and many other products to make the students feel welcome and included within the school system. The program first started with spirit tee shirts. "We do like Kickapoo gear, like shirts, tee shirts, and sweatshirts. When people graduate, they donate those in case kids don't have money to buy kickapoo gear, so when we started that we thought what else can we offer?" Moran said. KARE Team went on to host a dress drive to gather prom dresses. After shorter dresses were donated, they added Homecoming dresses to the market.
"So we started in the spring to get prom dresses, and we had a big donation of those several years ago and we still have a lot of those," Moran said. As of right now the KARE Team has plenty of dresses, but will always accept any dress donations. With the dress donations the KARE Team and Moran just ask that the dresses are moderately new or lightly worn and are within current styles. Dresses that are too worn and are out of style will be donated to other second hand thrift stores. "We have fifty dresses back there at all times,"Moran said. If any student is in need of a homecoming or prom dress, they should talk to their counselor and from then all will be directed down to the pantry. Once entering the room a line of dresses are hanging up, and range in sizes. As the KARE Team has plenty of smaller sized dresses, the KARE Team is always in need of some plus size dresses. Donations within non perishable foods, hygiene products, School Spirit gear, and dresses are always needed to help kickapoo students in any way. To donate anything to the KARE Team contact Moran, as her email is located on the counselor's webpage. Click below to be directed there.

Never Again
187,000 students, more than 100 times the student population of Kickapoo High School, have experienced a school shooting in the last 19 years, according to a March analysis by the Washington Post. Since then, over 130 students from teachers and children at Sandy Hook Elementary School, to young adults and faculty members at Virginia Tech, have been killed as a result of these shootings.
In February, 17 students and staff members at Marjorie Stoneman Douglas High School were shot and killed by accused gunman Nikolas Cruz, a former student of the Parkland, Florida high school. Cruz executed the attack with an AR-15-style rifle. He purchased the firearm legally nearly a year before the massacre, USA Today reports.
Federal law states that it is unlawful to "sell or otherwise dispose of any firearm or ammunition" to those who have been committed to a mental institution or are believed to
be mentally defective. NBC News reported in February that Cruz was examined by professionals Henderson Behavioral Health, and the Florida Department of Children and Families when his mental state was called into question in 2016. Cruz's own attorney also described him as a "broken child" who suffered from brain development issues and depression in February. Still, he was able to legally purchase the firearm used to kill 15 students and two staff members at Douglas High.
But for the survivors, the usual social media circulation of "thoughts and prayers" was not enough. Instead, Douglas students stepped into the limelight to demand change in an unprecedented student movement.
These demands went on to incite demonstrations like the Walkout for Our Lives: a student protest pleading for stricter gun control laws, especially those regarding AR-15 and other assault-style rifles. The Washington Post reports that tens of thousands of students walked out of their schools in protest, including students of Central, Glendale and Kickapoo High Schools.
Douglas High survivors also organized a nationwide protest dubbed the March for Our Lives, which drew hundreds of thousands to march for gun control in Washington, D.C. The Post compared the size and scope of the march to that of student protests during the Vietnam War.
   In March, juniors Grace Laflen and Zoë Sweaney organized Kickapoo's participation in the Springfield Walkout for Our Lives: a peaceful protest to push for stricter gun control laws, especially those regarding assault weapons.
   According to Sweaney, more than 300 students walked out of their classes to the football field on March 23, chanting "no more silence, end gun violence." Organizers of the walkout spoke to the crowd of protestors for approximately 45 minutes before returning to class. According to a News-Leader report from the week of the walkout, students at Central and Glendale High Schools also walked out.
   "I do think that we made a profound impact," Sweaney said. "I think that in their minds -at the state level of our government, and even the federal level of our government- they know that we are here. And I think they'll keep that in mind from now on."
   Sweaney was pleased to report that the walkout was executed well, with support from administration and nearly three times as many participants than expected.
   Sweaney told KHQ that more restricted access to AR-15 and other assault-style weapons and more intensive background and mental health checks in both the private and public sectors of firearm sales are the two main priorities on their agenda for the #NeverAgain movement. While  she does not advocate for a repeal of the second amendment, she says  that no amendment is immune to regulation.
   "Although our right to vote is constitutionally protected, everyone still must register and voter ID laws exist," Sweaney said. "I think it's important they know that although we recognize their rights, we also recognize the importance of regulating access to dangerous weapons." She also added that people who "stay hidden" behind the second amendment are the greatest barrier to change.
   Sweaney told KHQ that in all, this bipartisan movement has one goal: to keep children safe at school at all costs. She says she often becomes concerned when politics become too involved with this goal.
   "…even if they aren't agreeable on every single platform we have, if in all they just want to make America and specifically schools safer, then we're on the same side as them," Sweaney said.
   Not all students agree with Sweaney's views, however. A group of approximately 80 students wore tee shirts with various facts and statistics in response to the Walkout for Our Lives to stand up for their second amendment rights and honor those who routinely save lives with firearms.
   "…there is a different point of view that is sometimes not seen or heard," junior Carson Fink said. "Wearing the shirt gave me a voice without being disrespectful."
   Approximately 30 students bearing these shirts walked out of the west side of the building to the flag pole in a counter-protest. One student reportedly mounted an American flag on his truck and parked in front of the protest. He was asked to move the truck, and later faced disciplinary action. Fink was not one of these students. Multiple participants in this counter-protest declined request for interview.
   Fink told KHQ that he does not believe that gun control legislation will stop school shootings or any other type of mass murders. He says the root of the problem lies within moral decrepitude in American society.
   "We have lost the value of the human life and our spirituality, and that is what I think we need to bring back," Fink said. "We have lost our moral absolutes, and the lines of right and wrong are blurred…law-breakers do not respect the law."
   Fink added that arming officers and officials inside schools could prevent school shootings more effectively than more restrictive gun control legislation.
   "Armed professionals, who have been trained to be proficient, are the best defense against harm. This includes resource officers and police officers," Fink said. "Law-breakers are not stopped by more laws but by professionals with arms."
   Sweaney, however, is troubled by the idea of more firearms in schools.
   "…armed SRO's do not deter shooters from entering the school… the problem was that they were able to get the gun into the school in the first place," Sweaney said. "…we need to look at a solution that stops them from getting the gun in the first place, rather than confronting them during the face-off." She added that the presence of more armed professionals could make schools feel like "prisons."
   In all, both Fink and Sweaney hope to see change in order to make schools in America safer for everyone. For Fink, this means bringing back common morality and "absolute truths," while maintaining second amendment rights and increasing individual gun responsibility. For Sweaney, it means preventing firearms from falling into the wrong hands while avoiding the infringement of anyone's constitutionally guaranteed right.
   "We just want to see change," Sweaney said. "I feel like anyone who is against that is advocating for the status quo. And so many people are dying in the status quo."

Graduation Speakers
As graduation approaches, the question arises… who will be speaking at our graduation? After a long process of practice and auditions in front of administrators, the two speakers have been selected. Seniors Heather Chaffin and Destinee King will be doing the commencement speeches this year at the class of 2018's graduation. These two will have to speak in front of thousands of people on Friday night, but Chaffin doesn't seem to be worried. I'm really comfortable speaking in front of a bunch of people," Chaffin said. Graduation is May 11 at 5:30 at John Q. Hammons event center.

Tobacco Tax Fails Proposed Rise, Outcome Disappoints Schools
Missouri's lowest tobacco tax in the nation can have adverse effects, especially in a high school setting.
Lawmakers are proposing tax increases, which, they believe, may could help discourage young people from purchasing tobacco products.
   According to the Congressional Budget Office, a 10% increase in the per-pack cigarette tax would decrease smoking among citizens under the age of 18 by from 20% to 15%. It would also decrease the smoking among adults by from 11% to 8%.
   Missouri voters rejected the proposed tobacco tax increase in November of 2016.  Currently, 4 ½ mills (a mill is one tenth of  cent) for each cigarette goes to a Schools Money Fund, according to the Missouri Department of Revenue.
   That's 17 cents for a pack of 20 cigarettes.  Other, smaller portions of the tax go to the Fair Share Fund and the Health Initiatives fund.
   Other tobacco products like cigars, smokeless tobacco and tobacco-free alternatives that still contain nicotine get taxed similarly.    10% of the manufacturer's invoice price goes to the same state funds.
   According to Ozarks First, the Amendment 3 was a 2016  proposal which would increase tobacco taxes in Missouri from $0.17 to $0.60.  $0.60 is still only about a third of the national average.
   Funds from the proposed increases would have gone into an Early Childhood Health and Education Trust Fund; the Amendment failed with 59% of people voting against it.
   Comparison to nationwide prices Missouri has the lowest excise tax per pack of cigarettes in the country, coming in at $0.17 per pack. Compared to New York's $4.35 tax per pack and the national average of $1.72 cents per pack, the difference is quite notable.  Currently, Missouri's tobacco excise tax is a little more than a tenth of the national average.
   So what does raising the tax even by ten cents hurt? Maybe in a year, you get to buy 10 fewer packs of cigarettes, but public health would actually benefit from an increased tax.
   The current tax is on tobacco products excludes E-cigs, and many believe that a more updated version of the tax would not only bring in more money for state funds, but they could also discouage the use of vapes.
   E-cigarettes, such as Juuls, Suorins or any other smoking alternative, are not included in the state tobacco tax. According to Tax Foundation, only seven states have an actual tax on e-cigarettes, including California, Minnesota, Kansas, Louisiana, Pennsylvania, West Virginia and North Carolina.
Science News For Students explains that within the past few years, the vaping and smoking have switched places.  In 2013, the number of students who smoked was nearly three times that as those who vaped.  But by 2015, nearly twice the number of teenagers vape as those who smoke.
   Knowing that the number of people vaping is on the rise, the government should take action in response.
   An additional tax on E-cigs and their accessories would discourage young people from purchasing them, says senior Christian Casertano, who knows a lot about vaping.
   "It's already an expensive hobby,"  Casertano said.  "And I definitely don't want to spend more money on it than I already do."

Legalizing Recreational Marijuana
For centuries marijuana has been a large problem in the world causing a lot of crime and leading to drug trafficking across the world resulting in people being arrested. Marijuana, also known as many other street names including cannabis, pot, mary jane, weed, THC, and many others is found in all 50 states across the country whether legally or not. This drug has been recently legalized in a handful of states including Colorado, California, Washington, Oregon, Nevada, Alaska, Maine, and Massachusetts.
   This has caused the black market to almost shut down which is an illegal way to order drugs on the "Dark Web". Legalized states are also not arresting the marijuana drug dealers now which helps the crime rate go down for it causes lots of disagreements which in some cases leads to death.
  One of the biggest pros and the most drastically improved area in the business is the tax revenue. This money can be used to fix roads, fund public projects, improve schools, hire more police and firefighters, and many other things. Another pro is its use for cancer treatment to help with radiation.
  A big reason a lot of these states decided to make cannabis legal was that of the many medical conditions that are "untreatable" is now being treated with marijuana. These conditions include Crohn's disease, epilepsy, multiple sclerosis, migraines, post-traumatic stress disorder, (also known as PTSD)  cancer, problems due to chemotherapy, and the list goes on. Having access to these medical cannabis products means improved public health. This results in more public funds to better our community.
   The legalization makes our police and courts focus on the more violent crimes taking place in our country. Police and the court system were very overwhelmed with bringing in individuals for just possessing marijuana. These individuals were treated as they were carrying meth, heroin, or cocaine. This was causing a major problem of an overcrowded prison system.. which leads to either funding more prisons or letting out people who shouldn't be.  With all the pros that come along with the legalization of marijuana also come many cons too.
   Marijuana can be addictive, many users can become very depended on it over time just like alcohol users. Even though it is not as addictive as the harder drugs like crack and meth cannabis can still be very addictive and depended on
some users. Stopping the use of the substance cold turkey can cause withdrawal symptoms like irritability and anxiety, but the same could be said about cigarette smokers. More studies will need to be done to determine if marijuana is really as addictive as the opponents of cannabis legalization claim.
   Another downfall of the use is that users have decreased mental health. Users suffer from restricted blood flow to the brain, memory loss, and increased likeliness of depression. Cannabis alters your perception; like alcohol, this could lead to impaired driving. Opponents also claim that this could lead to an increase in harder crimes like robbery and violence because of your altered judgment. This drug is also considered a gateway drug, once a person tries marijuana they are more likely to want to try another drug to get that "better high".
This issue will only be a more prominent
discussion in the world and will lead to more bills being passed and more meetings.

Me Too: How two words revolutionized the conversation on sexual misconduct, and what it looks like in high school.
Me Too.
In mid-October, all corners of the internet saw this rallying cry from sexual assault and harassment victims of all classes, colors and creeds. The phrase was popularized by Brooklyn activist Tarana Burke and actress Alyssa Milano, who urged the public to come forward with their stories of sexual assault, harassment and rape.
"…it's a statement from survivor to survivor that says 'I see you, I hear you, I understand you and I'm here for you or I get it,' " Burke said to CNN.
Twitter reports that the hashtag "#MeToo" has been tweeted over 1.7 million times. According to Facebook, 12 million people shared their "me too" stories in just 24 hours.
These "silence breakers" were honored in TIME's Person of the Year issue in December. Women and men, actors and food service workers, executives and activists, politicians and artists alike all came forward to discuss their stories of sexual assault and harassment, and the impact it left on their lives.
This cultural phenomenon, in which the conversation on sexual misconduct has become less taboo and more public, comes shortly after scores of public figures were accused of sexual misconduct.
Most notable of these is Hollywood producer Harvey Weinstein, who was accused of raping three women, and sexually harassing or assaulting dozens of others, according to The New York Times. Former Today Host Matt Lauer, comedian Louis C.K., House of Cards star Kevin Spacey and talk radio host Garrison Keillor are just a few of the over 120 people on TIME's list of public figures accused of sexual misconduct.
According to a KHQ poll with over 300 responses, more than half of the participants are or have been victims of sexual assault, harassment or rape. Some were inspired by the "Me Too" movement to share their stories with the Kickapoo community.
"I think [the movement] is really important…it happens all the time," senior Sarah Crooke said. "It allows people to have a platform to talk about issues."
Crooke was sexually assaulted by two male classmates in a science class when she was in eighth grade at Carver Middle School. While a substitute teacher supervised the class, the boys repeatedly groped her, even after she told them to stop. In the class of nearly thirty students, only one of Crooke's classmates quietly spoke up against what everyone could see was happening.
"It was just so disgusting because they wouldn't stop," Crooke said.
After Crooke reported the assault and the two male classmates were served with a brief out of school suspension, Crooke and her family pressed charges. In court, only one of the boys confessed to the assault, and was not punished, according to Crooke. The other classmate, she says, denied the accusations, but was still found guilty. Crooke says that this classmate served probation. She then filed and was granted a restraining order against him.
Crooke and her family were not pleased with how the assault was handled by authorities at Carver Middle School. Despite being granted a restraining order against the student who denied assaulting her, he continued to attend the same school as Crooke. She had to rearrange her own class schedule so that she did not share any more classes with the boy who assaulted her. She was also told by an assistant principal to walk into the nearest classroom to hide from this student if she ever saw him in the hallway. Crooke recalls feeling that she wasn't taken seriously, and that she felt like an inconvenience for the school.
"I felt really bad about myself. Like I could've prevented it even though I know I couldn't. I did push both of them off of me. I said no and everything," Crooke said. "They just acted like I was a problem for the school because it raised an issue. They just didn't really help me out."
Carver Middle School principal Dr. Dana Powers, who was not the principal at the time of Crooke's assault, says that school board policies are followed in any concern or discipline issue. Powers directed KHQ to the Springfield Public Schools Handbook for reference, but did not comment on whether there is a specific protocol for students who have restraining orders against other students. Neither the SPS School Handbook nor the SPS Board of Education policy prohibiting discrimination, harassment and retaliation make any reference to policies regarding restraining orders.
   Crooke's problems did not stop there. Shortly after she reported her assault, one of the students who assaulted Crooke confronted her and threatened her with retaliation, stating that "snitches get stitches," and "bitches end up in ditches."
   "I felt really bad about myself when he threatened me and it made me question my own personality and actions, wondering if I did anything wrong," Crooke said.
   Crooke immediately reported the threat, and expected the student to be reprimanded; section 3.H.I of the SPS middle school Discipline Guidelines in the SPS school handbook states that after a student's first threat of violence toward another person, they will receive 10 days of out of school suspension. Crooke was disappointed to see that the student who threatened her was never suspended, and he was allowed to continue playing sports.
   "After he didn't get in trouble for threatening me it made me feel worthless. Like nobody at the school cared about me or my safety," Crooke said.
   Crooke warns other students that sexual misconduct in high school does not always have to involve physical harassment. She says that boys will often become aggressive when sexual advances are turned down- specifically those involving sexting.
   "[Boys] get aggressive…they'll bully you just because you don't like them or you're not interested," Crooke said. "They don't care about your feelings. They don't care if you justify your explanation or your reasoning. They'll still just try to get what they want."
   This often puts pressure on young girls to send nude images of themselves, Crooke says.
   "…if you say no, they're just going to keep trying. And even if you don't reply, they'll keep texting you, keep Snapchatting you, trying to get in contact with you," Crooke said.
   Another student who asked to remain anonymous felt betrayed by an older male friend when he sexually harassed her over social media direct message. According to the anonymous student, she originally felt comfortable around this friend, despite his occasional personal questions. The harassment began when this friend described to multiple people that she wanted to have sex with him, how her virginity was a "huge turn on," and discussed the sexual injuries he may accidentally inflict upon her.
  "I felt kind of betrayed a little bit. Because I had told him things about myself," she said. "I just felt so uncomfortable…I don't think I've ever had anyone talk about me in that way."
   The student, like Crooke, said her situation was not handled well by school officials. When she reported the harassment to her counselor, she spent a total of four class periods in the counseling center in one week to talk about it.
   The anonymous student says that counselors advised her to engage once more with the student who harassed her, then block him from her social media accounts. The male student was then told by school officials to leave the girl alone.
   Counselor Amy Moran says that when a student reports that they have been sexually harassed, it would be reported to administration.
   "…that would be dealt with through discipline…'first offense: high school says 2 days ISS to 3 days OSS,'" Moran said, quoting  the SPS School Handbook.
   But to the anonymous student's dismay, she says that no other disciplinary actions were taken against this male student.
   "I felt like he just got a slap on the hand, and I feel like I wasted my time," the student said …he doesn't get reported. He doesn't get ISS even."
   This student feels that her situation was not taken seriously by school officials, and she does not have faith that it will be taken seriously by the student body, either.
   "Somebody would be like, 'that's not even that bad,' or like 'I hear people say that in the hallway,'" she said. "It doesn't make it right."
   Crooke says that despite all she went through in middle school, she fears her story won't be taken seriously either.
   "…it doesn't seem like a big deal to a lot of people. It's not as serious as rape or anything like that, but it's still important and needs to be talked about," Crooke said. "It happens all the time to people you know."
   Spanish teacher Krista Wyrick is thankful that her story was taken seriously by her superiors when she was sexually harassed by a male coworker in 2004.
   What began as a collegial relationship between Wyrick and her male coworker quickly went downhill, she says. One day, he began leaving lewd messages and links to pornographic websites on Wyrick's desk for her to find in the morning. She recalls feeling uncomfortable and found herself hurrying to leave in the afternoons.
   "I felt uncomfortable and I didn't want to be in there…for the first week I just made sure I would leave by 3:00…I was really stressed because then I had no time to plan," Wyrick said. "I didn't feel safe to be in my room alone."
   Shortly after the first week of feeling uncomfortable and unsafe at school, Wyrick reported the harassment and the coworker was terminated almost immediately. Still, Wyrick felt uncomfortable. She felt that she had done something to welcome the harassment.
   "I felt like I invited that behavior just because I was being friendly and saying hello…I felt like it was my fault in some way," Wyrick said.   
   Wyrick urges people not to normalize any case of sexual harassment, especially in which someone makes a comment on physical appearance.
   "If you know that there's been an injustice or if you feel uncomfortable you have to report that. You have to tell someone," Wyrick said. "I think we just accept a lot of what people say just to get through the day."
   Moran also says that victims of harassment should always report sexual misconduct. She says that students must be reprimanded  for these offenses before they go on to become destructive citizens in society.
   "Usually if they're doing it to one person, they're doing it to more than one person," Moran said. "Every kid should feel safe in this building."
   Crooke, Wyrick and the anonymous student also urge all victims and survivors of sexual assault, harassment and rape to come forward with their stories.
    "Be strong," Crooke said. "Don't back down."

Epsilon Beta's Teen Tech Week Set to Begin After the Break
The big initiative for the last several years among librarians is to offer activities that aren't oriented around school in order to give students a brain break and make the library a more appealing environment.  This initiative is coming to Kickapoo with the help of Epsilon Beta (formerly book club) and librarians Melody Netzer and Shannon McDonald and will take place from March 18-30.
  "The focus of the event is to use have activities that we already have that not a whole lot of people know we offer, highlight it and make it more fun," Ms. Netzer said.
Epsilon Beta president Lauryn Kisting is optimistic that students will have fun participating in the event.  
  "It's something to take your mind off the daily monotony of school," she said.
  Kisting explains that the idea behind teen tech week is to help teens start creating more.
  "There's different activities that kids can do throughout the week to get placed in a drawing.  Most of the activities include creating bookmarks, take a shelfie, reading more, and using technology to get teens more involved in the library and books," Kisting said.
  Kisting believes the event will bring about real benefit because technology has become a more integral part of life, and being involved in it is the way to succeed.
  "It's Important to get involved in technology because it's the future. It's becoming more prevalent in our generation, and it'll be a staple for future generations," she said.
  Netzer explains that, while this tech week is the first of its kind in our school, she anticipates a lot of participation.  She's set up the event to be rewarding for anyone who participates.
  Completing one of the seven activities will get you candy.  But completing at least five will put you in a drawing for a prize, a grab-bag including various library-related prizes like coupons to use the vinyl printer, earbuds and coupons for the 3D printer.
  "It'll be fun.  It's nice to hot have to focus on school all the time, ad the prizes are going to be really cool," Kisting said.
  This tech week will hopefully pave the way for similar future events.  Netzer explains that she wants to begin monthly events for the library with Epsilon Beta starting in the next year.
  "We want all the students to feel like the library is a space to be utilized.  It's supposed to be the living room for everyone to gather," Netzer said.

Neosho Youth Baseball Selling Raffle Tickets for AR-15
A youth baseball team in Neosho is raffling off a AR-15 to raise money throughout the year just weeks after a 19 year old kid went into a Florida High School and killed 17 people with an AR-15. The coach of the team, Levi Patterson told the Kansas City Star they planned the fundraiser before the shooting occured.
The gun was offered by a players dad who owned a local gun shop. No player is required to sell tickets.

Birch Pointe Rehabilitation Center Opens
As of January 24, 2018, Kickapoos' new neighbor, Birch Pointe Rehabilitation Center, has announced their grand opening to the public. This 17 million-dollar project has been in motion since late June of 2017 and is now open for business seven months later.
     Reliance Health Care collaborated with Miller Commerce to build Birch Pointe as an addition to the Medical Mile.
     Birch Pointe is a seniors' rehabilitation center. The three different communities at Birch Pointe are Long Term Care, which cares for patients who plan to stay at the facility for a longer time; Short Term Care, for those who are just coming out of the hospital and need physical therapy before they are able to return home; and Dementia Care for patients who have been diagnosed with some form of memory loss.
  Each community has their own dining and recreational areas along with singular and conjoined bedrooms.
  Administrator at Birch Pointe, Gene Vestal says that he doesn't foresee any traffic problems in the future regarding the after school and before school rush.
  "You guys just can't park in our lot due to the transportation of our patients coming in and out,"  Vestal said.
  Receptionist Rachel Mertz has high hopes for Birch Pointe and its long term effects on the community.
  "I hope our facility brings a new standard of care in the community," Mertz said.
  Birch Pointe is open 24/7 for residents transferring in and out of the facility. There are set times where the residents' family members can visit them.
"We want to ultimately be a place where the community can come together for their families and loved ones," Vestal said.

Prom Committee Begins Preparations for the Big Night
"It's a little hard to host at White River again because there's animal prints on the carpet and a nature theme already exists, but it'll be fun and interesting at the same time.  We're going to make sure our theme compliments what's already there, and our theme will stand out more than the existing theme."
ARABELLA MASCHINO
"I'm excited to be on prom committee because I can't wait to see how the setup looks, and we've got a really great group this year.  With Mrs. Fraser's help, we'll be able to set up something really special.  I can't tell you what the theme is, mostly because it's top secret (as of late January) but also because we don't have a final theme decided yet."
HEATHER CHAFFIN
"We help set the dance up.  Mrs. Fraser is in charge, but we get to give input and give our ideas for what we think everyone will enjoy.  We also get to plan the design for the merchandise for students to take home to remember the dance."
QUIN REASONER
"There are between 20 and 25 people on prom committee.  We are picked individually based on what we do in the school and our creativity regarding the theme.  I'm super excited for prom this year because I'll be with friends, and it's extra special that I'm involved because the dance will have our personal touch."
KAYLA HERRON
"The day of the dance, we go to the White River Conference Center and set up with Mrs. Fraser and Mrs. Moran.  It's a great way to take it easy and relax on the day of prom.  For couples going to prom, my advice would be to not get too uptight and to make it fun."
COLE MCCARVILLE

The End of Net Neutrality
In mid-December 2017, the Federal Communications Commission (FCC) and its chairman, Ajit Pai, made a decision that could change the way the internet is used forever.
The FCC made the decision to repeal the "open internet", or what is referred to as net neutrality.
Net neutrality, for those who may not know, "is the principle that Internet Service Providers (ISPs) treat all content equally and not give preference to any digital content providers. That means the consumer can load every website, app or video equally, regardless of where the content is hosted," according to ABC News.
In layman's terms, that means the consumer has complete open access to the internet, and everything loads at the speed your connection allows. It doesn't matter whether the content is found on the largest, most visited web page on the internet or on the site of the smallest business, it can be accessed all the same.
The FCC first voted in 2015 and classified the broadband providers that give the people the ability to get on the internet as public utilities. This classification, which was based on Title II of the Communications Act of 1934, means that ISPs like AT&T or Verizon cannot interfere with web traffic.
What the 2017 vote did is repeal that decision, and remove the public utility classification from ISPs. This means that the internet providers can charge money for access to some websites or slow down the content of their competitors.
Now, the result of this decision doesn't mean that this ruling is final: the vote still has to go through Congress first. And under the Congressional Review Act (CRA), Congress can reverse a change in a federal regulation by a simple majority vote within 60 days after that regulation is published in the official record. 
Numerous interest groups, like Free Press or Public Knowledge, and members of Congress are ready to go to court against the FCC. The state general attorney of over 20 states have already filed lawsuits to stop the repeal, with Montana Governor Steve Bullock signing an executive order saying that, "any internet service provider with a state government contract cannot block or charge more for faster delivery of websites to any customer in the state," according to the New York Times.
Large businesses like Netflix that could be seriously affected by the repeal of net neutrality have also criticized the repeal, and have said that this could be the beginning of a "longer legal battle" with the FCC.
Kickapoo senior Joseph Choi is against the repeal of net neutrality rules.
"I don't like the idea of the repeal. I like the freedom the internet gives me to do what I want and search for what I want," Choi said.
Choi also thinks that the rules in place should be left alone because they are getting the job done.
"I don't think they should repeal the protections. It has upset most of the people in the country and a lot of its big companies. I don't think there's anything wrong with it and it's better just to not mess with it," Choi said.
Supporters of the FCC's decision to repeal the 2015 vote state that it could save consumers money on their data plans. For example, Verizon allows its customers to stream NFL games without data charges. And T-Mobile lets some of its subscribers stream Netflix, HBO and Hulu without counting against their data limits as part of its Binge On service.
Opposers of the repeal argue that the "little guys" on the internet (websites of small businesses for example) will die without net neutrality. Without these open internet rules, consumer groups and smaller internet companies fear broadband providers could offer faster internet speeds to companies that can pay them and slow down access to websites and companies that can't afford to do so.
Charter Communications, an ISP that provides for about 22.3 million U.S. homes, sent out a statement in an article from USA Today that they do not plan on "blocking" or "throttling" their customers' internet access because it would be bad for business.
The statement explains that, "We don't slow down, block, or discriminate against lawful content. Simply put, we don't interfere with the lawful online practices of our customers and we have no plans to change our practices."
Right, wrong or indifferent, some big changes to the way the Internet is regulated could be fast approaching. Whether or not the FCC gets what it wants, their vote certainly has divided the country.
83% of the over 1,000 registered voters  opposed the FCC's decision to repeal the current net neutrality rules, according to a poll conducted by The Hill.

Prom Dresses Continue to be a Staple of High School Culture
KARE team typically has between 20 and  30 dresses available to anybody who needs one this prom season.
   Amy Moran, KARE Team sponsor, said that the team relies on donations from former and current students to keep the dress drive stocked.  The gowns are cleaned, prepared and arranged in room 103 for students.
   "Just talk to your counselor, and we'll let you try the dresses on," Moran said.
   During the rest of the year, KARE team manages the food pantry, a collection of food for any Kickapoo student and their family should they need it.
   Moran and KARE team members wash and prepare the dresses for their future wearers.
   "They're really pretty dresses," Moran said, even though she explained that the dress drive does not contain the most fashion-forward dresses.
   Senior member JaMya Dean has been a member of  KARE Team for three years and has always been a part of the dress drive.
   "What KARE team is doing is really good because we're able to provide for somebody who wouldn't be able to pay for it out-of-pocket, especially since prom dresses are really expensive.  The fact that we do this is very special because girls are able to dress up and have opportunities that they normally wouldn't have without KARE Team," Dean said.
______________________________________________________________________________
This year's dresses, like every year's dresses, promise to make their wearers beautiful, confident and the belle of the ball.  Mothers across town will tear up at the sight of their darlings on their big night.
   The biggest trends for dresses this year, KARE Team sponsor Amy Moran says, includes floral print and two-piece dresses.  Floral dresses have been a staple for fashion for more than a thousand years, especially in ancient Japan, China and India.  The modern resurgence of florals made their way into American fashion in the 20s and 30s.  From there on out, flowers and floral gowns have  been a welcome part of everybody's closet for the last century.

Academies Pilot Program Set to Launch in New School Year
The Springfield Public Schools (SPS) district released an  official statement in late December regarding the academy pilot program.  Plans for the program's launch are at Hillcrest and Glendale in the  2018-19 school year.
  The main goal of the release  was to explain the new pilot course as well as to dispel any rumors surrounding the academies program.
   "The pilot seminar course will introduce . . . students to a variety of college and career paths identified in collaboration with the local business community and Chamber of Commerce," the news release stated.
   The pilot program is modeled off of a school district in Nashville, according to principal Kelly Allison's November 3 newsletter. 
   In the statement, Allison explains that the academies program plans to break down schools so that they are "schools within a school."  The program hopes to achieve "sustained instructional improvement which . . .  [enhances] student learning."
   The official statement from the district promotes its academy program by listing the system's ability "to ensure relevance in Springfield and Southwest Missouri." 
   Many students find concern with the Springfield-centric plan because it limits them.  If a student wants to study marine biology, they won't have the opportunity to study in their area of interest because there'll be no marine biology academy on the account of there being no ocean in Missouri.   Should the district turn to an academies program, any students with a career interest outside of southwest Missouri will only be able to join an academy similar to their section of study.
   The district's statement reassures its readers that "jobs are not in jeopardy and teachers will not be required to teach courses outside their area of expertise.  In fact, the teachers participating in the pilot course . . . volunteered for this opportunity."
   An anonymous Kickapoo teacher isn't convinced.  They are in favor of site-based academy programs like Kickapoo U, where students who opt in to the program have a more personalized education and teacher involvement.  They find skepticism when it comes to a magnet school program where the city's high schools are split up.
   "There is no evidence that this type of academy program benefits schools that already have as high of a graduation rate as Kickapoo," they explained.
   They are sure that magnet schools are always going to limit electives because there is no room for upper-level electives in the schedule.
   "Will we need four art teachers [at Kickapoo] when all we'll have is art foundations?" they asked.
   This teacher wants their students to understand that they shouldn't be geographically handicapped.  They think that, instead of the academies program being dedicated to  creating jobs in the local economy, the district should remain true to Kickapoo's mission statement, which aims to "prepare all students for their futures in the global society."
   "This is a public school," they said.  "You should have the right to a comprehensive education."
   Allison explained that fine arts programs being in jeopardy is just a rumor. 
    "I think a lot of that was just rumors and misinformation about what some other models are.  Just because you visit something . . . and it works for another district doesn't mean it's going to work here," he explained.
          Despite such reassurances, senior Noelle Batchelder is convinced that  nobody, students and higher-ups alike, know what is going on.  Batchelder attended a mid-December meeting where she voiced her concerns in front of the school board members as well as superintendent John Jungmann.
   "As it stands, we do not know whether to believe these new changes to be positive or negative, and currently they can only be determined to be negative due to the lack of information that has been provided and the amount of information that has been withheld," she explained during the school board meeting.
   Batchelder reminds students that they need to stay informed about all upcoming changes that SPS  plans to make.
   "Even if you won't be directly affected, you should be informed because these changes will affect the economy, your younger siblings as well as Springfield jobs," she said.
   Batchelder wonders why the district would want to switch to such a program.
"Something like this isn't practical for Kickapoo," Batchelder said.
      Glendale and Hillcrest will begin their pilot course for next year's incoming freshmen, and Dr. Natalie Cauldwell, Glendale's principal, is sure that the class will be helpful for getting students prepared for the high school experience.
  "It can be overwhelming for freshmen when considering their plan for high school.  Students will learn the ins and outs of scheduling, what's available at GHS and how to plan for post high school. In order to help students develop meaningful plans for their high school experience, we will expose students to college and career opportunities.  This will help students have a better understanding of the course load they should take in high school," Cauldwell said. 
     She explains that the fundamental problem that Glendale plans to solve is student engagement, and she is confident that the new course and its setup for small learning groups will take steps in the right direction.
  "We believe that the small learning community component is very powerful. Regardless of the future of academies in SPS, GHS will work toward creating a small learning community for all students," she said.

Return Of The Free ACT
Juniors in Springfield Public Schools will continue to be offered the free ACT
By ZACH ARNOLD
Juniors in Springfield Public Schools have always had the option of taking a free ACT  through the school in the spring up until this past spring. in the past have always been offered a free ACT in in the spring up until 2016. The state decided to take away the fund the schools needed for the ACT.
  With having students in the school that don't have a way to pay for this test and other students that just won't take it because they don't want to pay for it the Springfield Public Schools has stepped in to provide every junior student with the option to take the act sometime in April between the 3rd and the 5th.
  The test will be taken on the chrome books this year just like students took them last year. Having the test on the chrome books means that there will be no writing. Ways to study and fully prepare yourself consist of Getting books to study, taking the ACT prep class Kickapoo offers, buying tutorials, going to the library center in Kickapoo, and getting a personal tutor. You can sign yourself up for the ACT online for free if you are a junior. After the first free test any additional tests you want to take will cost forty six for no writing and sixty two with writing. "The option of taking the free test is completely up to you, we hope most students will make the right decision and use this free ACT to their benefit" Mr. Coffey said.

The Opioid Crisis: How is it affecting our community and what strides are we taking against it?
It was early in the morning of Sunday, September 3 when Julie Oziah-Gideon found her daughter, Samantha Huntley, dead in her bedroom after an overdose. Huntley's legs were crossed and her head hung down in the vomit on the bed just near the needle that was sitting in her lap.
"I just knew as a mom that something was very, very wrong before I even got close to her," Oziah-Gideon said.
Despite extensive efforts to resuscitate Huntley, it was obvious that she had been dead long before she was discovered. Oziah-Gideon says that it was also too late for Narcan, a drug known for its ability to reverse the effects of overdoses, to do the job, as it must be administered within a certain time frame. Emergency Medical Technicians eventually broke the news to Huntley's mother: there was nothing they could do.
"…I took a blanket and put it under her head and I sat with her for a couple hours…I kissed her face and her hand," she said.
Huntley had struggled with opioid addiction since her sophomore year at Kickapoo, when she suffered a broken back after a car accident. She was prescribed the common painkiller hydrocodone after the accident, and became addicted. In the following years, Huntley's addiction led her to turn to harder drugs like heroin.
"…that's where it all started," Oziah-Gideon said.
Huntley, who graduated in 2015, fell victim to what is now commonly referred to as the opioid crisis: the result of the rapid increase in United States opioid use, dependency, addiction and subsequent overdose deaths that began in the 1990s. CNN reports that 91 people in the United States die each day from opioid overdoses. Huntley was one of these on September 3 of this year.
The National Institute on Drug Abuse (NIDA) defines "opioids," or "opiates," as a class of drugs derived from the opium plant that is known for its pain-relieving properties. These drugs include, but are not limited to, street heroin, morphine, hydrocodone, oxycodone and codeine. While these drugs interact with the brain's opioid receptors to disrupt the body's pain signals, they also tend to induce a state of euphoria, which commonly leads to misuse. This has lead to opioid addiction and dependency for over 2 million Americans, the CDC reports.
The same CNN report says that, 63.1% of the 52,000 U.S. overdose deaths in 2015 involved the misuse of opioid drugs. This resulted in the staggering average of 91 opioid overdose deaths each day in the United States. The CDC also reports that more than 1000 people are treated in emergency rooms in the U.S. each day as a result of opioid overdose. A TIME Magazine report says that researchers at the CDC have discovered that opioids also contributed to a recent decline in life expectancy in the United States from 2002 to 2015.
TIME also reports that the U.S. saw the number of overdose deaths increase more than six times its original number from 2002 to 2015. This is presumably related to rising popularity in fentanyl, a synthetic pain reliever similar to morphine, but often 50 to 100 times more potent, NIDA says.
A recent CDC report warns emergency responders about the dangers of fentanyl, as in some cases, the drug can be so potent that accidentally inhaling or even touching the drug can be deadly. A NIDA report says that fentanyl becomes most dangerous when it is mixed with heroin and/or cocaine, or when it replaces these drugs altogether.
Oziah-Gideon says that when the needle found in Huntley's lap after her overdose was field-tested for methamphetamines and heroin, it tested negative for both. It is currently presumed that Huntley injected fentanyl or carfentanil (a derivative of fentanyl) when she overdosed. As of mid-November, the family is still awaiting lab results.
The same TIME report explains what exactly happens in the brain during addiction, with some help from Dr. Sarah Wakeman, director of the substance-use disorder initiative at Massachusetts General Hospital. Addiction is described as a "hijacking," as the impulsive part of the brain driven by rewards goes into "overdrive," Wakeman says. She also says that the dopamine released by these drugs can overpower the positive sensations from activities like eating. Oziah-Gideon says she noticed traits like these in her daughter during her struggles with addiction, as well as changes in her personality.
"She hardly ate…She got really skinny," Oziah-Gideon said. "She had a really hard time making decisions, remembering things." She also explained that Huntley would often fall asleep during family functions, sometimes even mid-sentence.
In October, President Trump officially declared the opioid epidemic a public health emergency. The New York Times reported that his statement did not, however, speak of the allocation of federal funds to address the crisis.
"No part of our society — not young or old, rich or poor, urban or rural — has been spared this plague of drug addiction and this horrible, horrible situation that's taken place with opioids," Mr. Trump said.
Taking a stand against the "public health crisis," Walgreens Pharmacies announced a new policy on the overdose- reversing drug Narcan. Beginning in October, the pharmacy began selling the drug over-the-counter in 45 states and the District of Columbia.
"By stocking Narcan in all our pharmacies, we are making it easier for families and caregivers to help their loved ones by having it on hand in case it is needed," president Rick Gates said. "As a pharmacy we are committed to making Narcan more accessible in the communities we serve."
In an effort to combat the opioid crisis at Springfield Public Schools, counselors have been booking assemblies to inform the student body of the dangers and consequences of opioid misuse, and more specifically, the dangers of heroin.
"We just noticed in our community an increase of drug use…and we've had former students that we've lost to drug misuse," counselor Amy Moran said. "We just want to try to make sure our kids know the consequences of [drug] abuse."
In late October, Greene County Deputy Jeff Saylor, who also worked as a task force officer for the DEA, came to speak to the sophomore class about dangers of the opioid epidemic that he has encountered in his career.
"If I get up here and I tell you guys the truth…most of you will make the right decision when the time comes," Saylor said to a group of sophomores about opioid drugs.
Saylor spoke to the sophomore class on a number of different topics concerning the epidemic. The first concerned the basic economic principle of supply and demand. He says that eradicating the supply of these drugs isn't the difficult part of the "battle;" it's eradicating the demand for them.
"I wish I had an answer," Saylor said to Kickapoo High Quarterly. Saylor discussed though, how stopping the overprescription of opioid drugs in the U.S. may be a step toward stopping the crisis. According to NIDA, 86% of heroin users first misused opioid painkillers prior to using heroin. Huntley was among those who first became addicted to opioid
painkillers to manage the pain after her car accident.
Saylor ended the assembly with a familiar piece of advice for the
sophomore class: just say "no." He says that heroin and other related opioid drugs aren't like marijuana, because there will never be a coherent argument in their favor.
Moran says that while the Saylor assembly with the sophomore class was certainly beneficial, a larger assembly for the entire student body is being planned for December 15 of this year.
Famed former NBA player for the Boston Celtics Chris Herren, who struggled with opioid addiction for most of his basketball career, will speak to the student body about his trials and tribulations as an addict.
Despite the stigma that is often attached to drug addicts, Oziah-Gideon says that she is proud of her daughter. She'll always remember Huntley by how hard she fought her addiction like in her time at rehabilitation centers, her will to help others, the way she said "I love you, mama," and her everlasting persistence.
"She fought…she never gave up. She never just gave in and said 'I can't do this.' She knew what she was going through. She knew it was going to be hard," she said.
In order to avoid situations like her daughter's, Oziah-Gideon wants students to be more aware of what can happen in the face of addiction.
"I just think that more needs to be done…Samantha never knew anything about heroin. She never learned anything about heroin at school," she said.
Oziah-Gideon went on to say that the issue will not be resolved in schools unless administration and staff actively look out for these drugs and "crack down" on those found with them. She says that in the severity of Huntley's battle with addiction, there had to have been at least one teacher, administrator, staff member or peer who could see that something was wrong.
"…it seems like nobody polices the kids in the schools like they should. Administration has to crack down on the kids at school," Oziah-Gideon said. "These drugs are killing people. And my daughter is a prime example. I think that kids need to know that this is real."

Pilot Program Slackens "Securly" Wifi Filters
 Bruce Douglas, director of Information Technology at Springfield Public Schools, and Nicole Lemmon, director of Blended Learning met with select students in late November to explain the changes that they will make to the wifi filters in the coming weeks for the high schools.
  To begin the meeting, Lemmon passed out sticky notes  and asked students to list three grievances that they have with the current wifi filter system.  The following list includes some of the blocked content that students put on their sticky notes.
Drug use

Reproductive content

Forums content

The whole website is blocked if the site has gaming advertisements

Medical and anatomy searches

Sex cells

Pictures and Google images

YouTube

Chemistry research

Drugs

Health-related topics

Slow wi-fi in certain rooms

Controversial topics

Everybody but one person in a class can access a YouTube video
 Douglas explained that while the district recognizes that they need to make changes, they cannot completely remove the filters because they must comply with federal regulation.  
  The Children's Internet Protection Act (FIPA), Douglas said, requires schools to censor pornography as well as "inappropriate material," which is up to the administrators' discretion.
  According to the Federal Communications Commission's website, FIPA requires institutions that get discounts for Internet access to comply with certain regulations.
  The website also mentions that these  schools and libraries that receive a discount for wifi must enforce a safety policy that addresses  "access by minors to inappropriate matter on the Internet . . . and dissemination of personal information regarding minors"
Essentially FIPA's goal is to restrict "minors' access to materials harmful to them."  
  The only question left unanswered is: What material is "harmful" to students?  Because this is up to administration to decide what is and is not harmful, the blocks on the wifi have been inconvenient at best for many students enrolled in Springfield Public Schools.
  The wifi filter issue came to Douglas's and Lemmon's attention when students presented a group persuasive speech to Principal Kelly Allison for their Introduction to Speech class in October.  The students, seniors Coleman Chevy, Yatsi Mak, Jamila Makhloufi and Emma Swenson, presented their argument that wifi filter regulations should be changed.
  "The presentation was very informative.  It was great to get student perspective and to be able to hear their frustrations . . . I didn't realize that students were having so many problems with the filters," Allison said.
  The first thing that he did was get a copy of the presentation and send it to the district, and that's how Douglas and Lemmon came to start the pilot group at Kickapoo.
  The software, Securly, that censors websites on the Internet has three ways of filtering.  The first way is that it places websites in one of fourteen categories.  If the website falls into one of the prohibited categories, like "friendship content" or "forums content," then the program will block it.
  Second, the program censors based on keywords.  If a student's Google search contains certain words, then Securly blocks it.
  The third way in which the software filters is based on domain.  Entire websites can be blocked or unblocked based on set parameters.
  This third way that Securly filters content, based on domain, will be soon lifted, Douglas explains.
  Streaming websites like Pandora, Spotify and SoundCloud have been removed from the blacklist for high schools as of December 4, Douglas said, because he recognizes that streaming websites are not inappropriate or harmful to students.