Apex vs Fortnite
As most already know, Fortnite was easily the most popular game of 2018. Just recently a battle royal game by the name Apex Legends that is also free to download and play became available to the public on .Battle royale games are games that you fight till only a winner stands so there is only one winner compared to other shooter games like call of duty or halo that you can play free for all, team deathmatch, and etc. As 2019 started fortnite was still roaring with users but Apexs launch has stolen quite a few Fortnite users. When it comes to Apex, the main question the users have is will it also go cross platform like Fortnite? This means will they make it able for xbox users to play with pc and ps4 friends and vise versa. In an interview with euorogamer, A website focused on video game journalism the lead producer Drew McCoy confirmed that cross play for Apex Legends is in the works and will be coming during the games lifespan. This is great news to its fans and will continue to make this game more popular and compete with Fortnite better. In my opinion Fortnite is the better game because of getting new seasons and new characters to unlock makes the game more exciting for me. I also play with a lot of friends that have xbox and apex is not yet compatible so i will continue to play fortnite till apex goes cross platform. I know what to expect in fortnite considering I have seen playing it for close to a year now.
While apex is a whole new game to learn and get the hang of i am going to continue bettering my fortnite skills. One major difference between the two is in Fortnite you can drop in to the map by yourself, with a partner or in a squad, Meaning when the game starts you are flying in a plane and have to parachute out to start the game, landing wherever you would like. In Apex your only option is to drop in as a team of three. Another huge difference in fortnite you have the ability to build walls, ramps and roofs to protect yourself when someone is shooting at you. At first i did not like this but grew to like it as I learned that it will protect and keep me alive. When landing to load up in fortnite you then search houses for chests, guns, ammo, wood, brick, and metal, you can get these materials by using you sword to chop down the trees, walls, rocks etc. In apex the only way to get your supplies is by opening supply bins and picking stuff up of the ground in houses. I like playing both of the games but at the end of the day i would rather play fortnite because I have more fun and am better at Fortnite than Apex.

thank u, next
When the weight of the world gets too heavy what do you do? For Ariana Grande, you pick yourself up and run to the studio. To kick off the new year, Grande released her fifth studio album Thank U, Next. Released just six months after her fourth album Sweetener, Thank U, Next sets the tone with pop songs filled with wants, needs, and emotional relief. The albums lead single "Thank U, Next" was the fastest song in history to reach 100 million streams and spent most weeks at No.1 by a female artist (4 weeks). Tracks go from wanting desire without commitment (bloodline), missing someone you've lost (ghostin'), making someone out to be better than they really are (In my head),
to interrupting relationships out of pure boredom (break up with your girlfriend, i'm bored). Songs like ghostin' will have you reminiscing on your past lovers with lyrics like "He just comes to visit me/when I'm dreaming every now and then,". More upbeat songs like NASA will have you dancing to the thought of needing space. Imagine is track No.1 on the album that illustrates the world revolving around a couple, as if they are the only two around. Overall, this album will have you celebrating your self worth and journey. When I think of this album the word that comes to mind is karma. No specific karma, good nor bad. I would recommend listening to this album on the days you need to pick yourself up and move on.

"Emergency?"
     The US government was shut down December 22, 2018 to January 25, 2019. No government employees were paid during the shutdown  all because of one man, Donald Trump. This shutdown was because Trump wanted his wall to be built on the southern border with Mexico, and Democrats did not want this wall, and still don't.
     There have been 58 national emergencies since 1979, most deal with foreign affairs and wars. None have dealt with immigration to this level. Also this is not Trump's  first national emergency, it is his fourth.
     The National Emergency Act of 1975 it says that the president must outline the specific emergency powers he is using under existing statutes.
     But what is the emergency?
     Over 90% of the illegal drug Heroin that is seized comes through legal ports of entry, not gaping holes in the already existing wall according to the Washington Post. So all of this $5.7 billion dollar plan to build a "Bigger and better wall," is unnecessary. This wall will not be effective.
     This wall has been emphasized ever since President Trump's 2016 campaign in which he promised a wall would be built. This is a mere political stunt in order to fulfill a promise that should not have been made in the first place. The President shut the government down for a month in order to prove a point, that he holds power.
     The government approved $21.5 billion dollars in border security and that is not enough? Why couldn't the President have spent the money then? Or when the government gave the President an additional $1.6 billion dollars for the wall? The money seemingly was spent but not on the wall. Then President Trump came in with the $5.7 Billion dollars for the wall, and when both houses refused the President shut the government down.
     Government workers were not paid during the holiday season and people on welfare were in fear of not having money for food stamps because one man wanted his point to be proven.
     Also an actual national emergency that is not even being talked about is in Flint, Michigan. Their water is still brown and contaminated from the rusted lead pipes. Five years later the pipes are not fixed and  over 100,000 people are exposed to the undrinkable water.
     Yet because Trump promised a wall that is $5.7 billion dollars, in order to tackle an unrealistic goal to stop drugs and illegal immigration and for what?
     So to the people who believe that this is an actual National Emergency realize there are people suffering within our borders, and not just outside of our

Springfield Food Leader
Takeout food is a large part of our everyday lives. Being on the move for most of us means either McDonald's , Wendy's, or another large fast food chain. With a simple call ahead most restaurants will put together a carry out, or to go order, which could be a much healthier option other than the fast food restaurants on every corner. The Springfield Food Leader reviewed Yum Yum Bowl, Hinode, City Butcher, and Houlihan's. We ordered two meals from each of the restaurants. The majority of these restaurants prioritize sit down customers, but we ordered all our food for carry out, but made sure to take note of freshness, taste, and customer service. Yum Yum Bowl was the first restaurant we reviewed, they are located at 4808, 706 Battlefield Rd, Springfield, MO 65807, or you can reach them at 417-882-3644. We ordered Yum Yum bowl over the phone and then went to pick it up. When we showed up at the restaurant about 15 minutes later, the food was almost ready for us. The girl who was working at the front counter was very nice and treated us with kindness and professionalisim. The two meals we ordered from Yum Yum Bowl were the orange chicken with fried rice and the bourbon chicken with steamed rice. The so called "bourbon" chicken had good texture and was not dry at all, but the flavor was not there. The bourbon flavor that was supposed to be infused in the meat was basically non existent. Everyone who sampled the chicken said that it was very bland, and the chicken almost tasted like it had the aroma of carrots and other assorted vegetables with it. The steamed rice that came with the bourbon chicken was actually pretty decent, a tad over cooked, but as a side dish it did its job. The orange chicken was cooked similar to the bourbon, very moist and tender. The orange chicken was very flavorful unlike the bourbon, which in our opinion wasn't a good thing. The chicken was drowned in a processed orange flavored sauce which almost gave a similar flavor of orange fruit snacks. The sauce; very candy tasting, really did not have much of a bite to it, as orange chicken generally does. Fried rice was the side that came with the the orange chicken. The fried rice really lacked the typical fried rice flavor, it tasted more like the steamed rice they serve, but doused in soy sauce. Fried rice traditionally is served with vegetables and egg mixed in which really is what gives it the distinct flavor, the fried rice at Yum Yum bowl on the other hand did not. Hinode The second restaurant we reviewed was Hinode which is located at 4301 S National Ave, Springfield, MO 65810 and can be reached at 417-877-1777. The two meals ordered at Hinode where the Chicken and the Sirloin steak lunch specials. When we showed up at Hinode, we had already called in and we ended up waiting for a while. We walked in and we talked to the hostess who barely smiled at us. We thought she was a little rude, and did not want to take care of us. Once we paid and we were waiting she did not say anything else to us, and then we got our food and left. The chicken in the chicken special was somewhat dry. The sauce that it was in was a very good teriyaki, so it leveled out the score for the dry chicken. The chicken portion was also very small, so there was not as much food given compared to Yum Yum Bowl. The sirloin steak in the other special we ordered was cooked to a perfect medium. Whatever sauce the steak was marinated in was phenomenal, we practically drank the juice to figure out what was in it, we could only detect garlic and teriyaki. The sirloin steak well exceeded expectations. The food at Hinode did come with more sides, both the chicken and the steak came with real fried rice, noodles, and vegetables. The fried rice was delicious and was completely a breath of fresh air compared to Yum Yum Bowl. The noodles were also delicious, they were cooked with butter, garlic, salt, and pepper. They were a great side for this dish. The vegetables were crunchy and were in the same sauce as the chicken which tied the whole meal together. When comparing these two meals which are in the same category of food, Hinode definitely won the prize. The food was great and even though the service did not match the food quality, the food made up for it. We've been to Asia with hinode and Yum Yum bowl, now we are headed over to Italy by visiting Bambinos Cafe located at 2810 Battlefield Rd Suite D, Springfield, MO 65804, or reachable at 417-881-4442. Bambinos At Bambinos we ordered two dishes as well, the toasted ravioli (a midwestern delicacy) and "The Bambino", and every order at Bambinos is served with a side of sliced bread.
Starting off with the Toasted ravioli, and I'll have to admit I was slightly disappointed with what I had received. The ravioli is one of the meat filled variety. I was slightly disappointed by that fact. The breading on the ravioli was nothing special, for a restaurant that claims to be the best italian in Springfield, they could step up their toasted rav game. To top it off, the ravioli was overcooked and even burnt on the bottom. The marinara sauce served with it was really watery and did not have many different elements of taste. My ravioli experience at Bambinos was sub par to say the least. The second dish was a pasta called "The bambino", a Cavatelli pasta cooked in a stellar meat and tomato sauce with and endless depth of flavor, the dish was even topped off with melted provel cheese, which added to the flavor. The sauce was seasoned well with hints of garlic and chopped onion. The meat sauce didn't skimp out on the meat portion of the sauce either, making this meal extremely hearty. The pasta was cooked perfectly al dente to add to how amazing this dish was. The addition of the melted cheese and toasted provel cheese on the top really made this the type of food that will stick to your ribs and remind you of grandmas cooking. HEAVY STATEMENT ALERT, this was the best pasta dish I have ever eaten. To finish out my review of Bambinos, I have got to say the toasted rav was below expectations, the pasta was amazing in every sense of the word and the service was decent at best. After being to Asia twice with a journey to Yum Yum bowl and Hinode, then heading over to Italy with a visit to Bambinos Cafe, we are finally taking a trip back to American with some good old fashioned BBQ from City Butcher and Barbeque. They are located at 3650 S Campbell Ave, Springfield, MO 65807 and can be reached at 417-720-1113. City Butcher At City butcher you can only make call in orders before 10:30 AM, so unless you call in before, then hopefully it is your lucky day and they still have meat whenever you come in. We actually ordered three items here because the sandwiches did not come with sides so we got a medium container of coleslaw along with a brisket sandwich and a burnt ends sandwich. Getting things rolling let's start off with the coleslaw. Just like most coleslaws it was made with cabbage, vinegar, mustard, mayo and some spices. I thought personally that there wasn't enough flavor and the cabbage really overpowered the sauce and traditional flavor of coleslaw. Even though the coleslaw was not very flavorful, the lettuce was crunchy and wasn't impossible to eat. The brisket and the burnt ends where very similar, the only difference being that the burnt ends are a typically fatter chunk of meat adding to the flavor, and the charred crust around the meat. On the burnt ends there was also a lot of added seasoning which made for a bolder taste. Both the brisket and burnt ends where smoked to perfection and where as tender as could be, you could even see the smoke ring around the exterior of the meat proving it's been cooked low and slow for hours. The seasoning is obviously a black pepper base and gave the meat another great spicy flavor. The bun both sandwiches were served on was a buttery flavored bun, I mean its a bun, it did its job, held the meat. Since the meat was so delicious, I think that the bun should have been higher quality. It was just a regular hamburger bun. The flavor all in all was so amazing, barbeque sauce was not even needed, all though the sauce they served had a nice mild spicy to it and was extremely good. The downside to this sauce (besides the fact it was not needed) was it had all most a jelly like consistency. All in all City butcher did not disappoint and holds true to what I've been told, the best barbeque in Springfield. Not to mention as soon as I walked into the door I was greeted with a smile. Overall, we were able to eat some very good food and the restaurants overall did a very good job. They all gave us the right food, it had somewhat of a decent flavor, and all of the workers were very kind to us. Even though we did not enjoy some dishes, the overall experience was very pleasant and positive, and I would definitely try all of these restaurants again.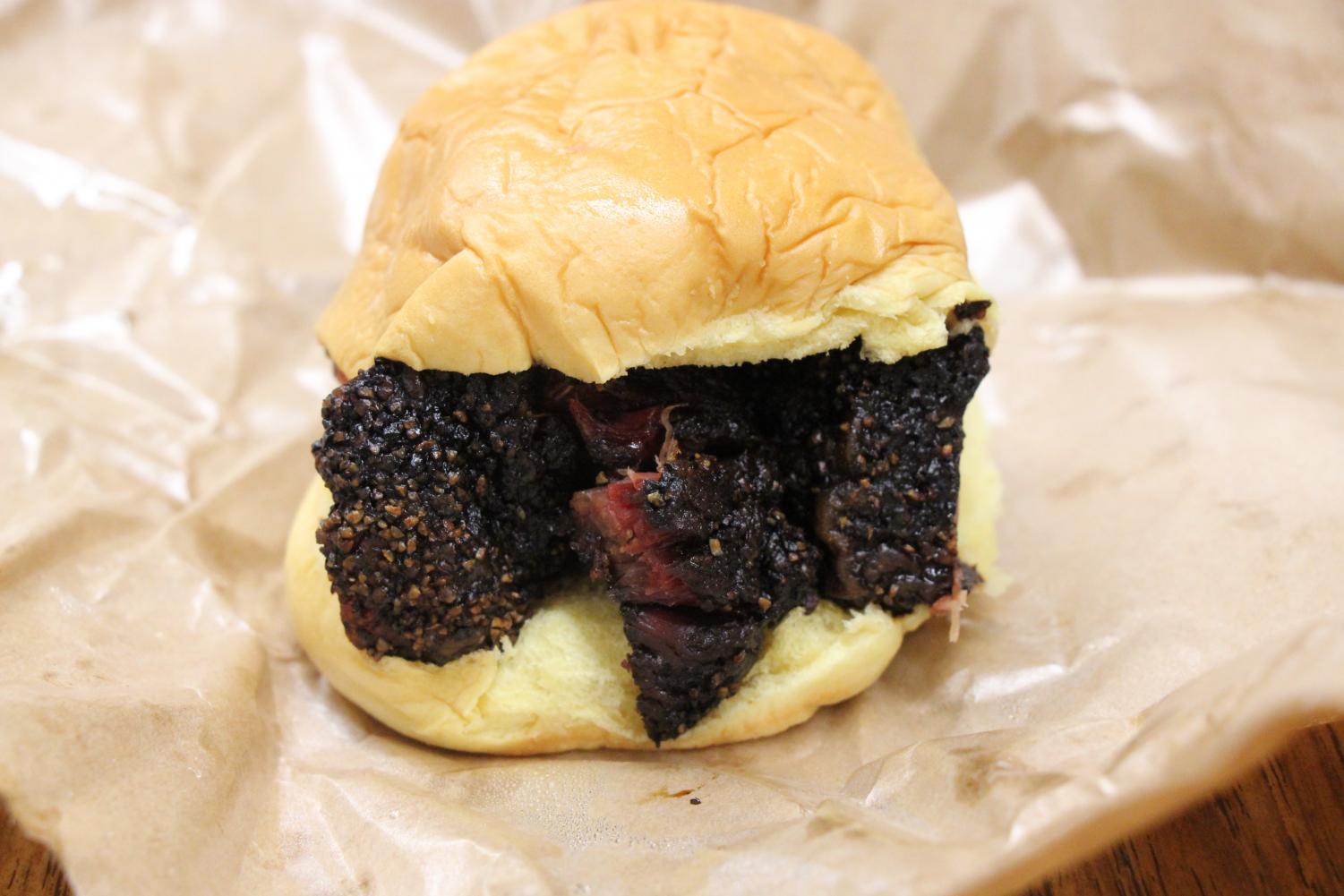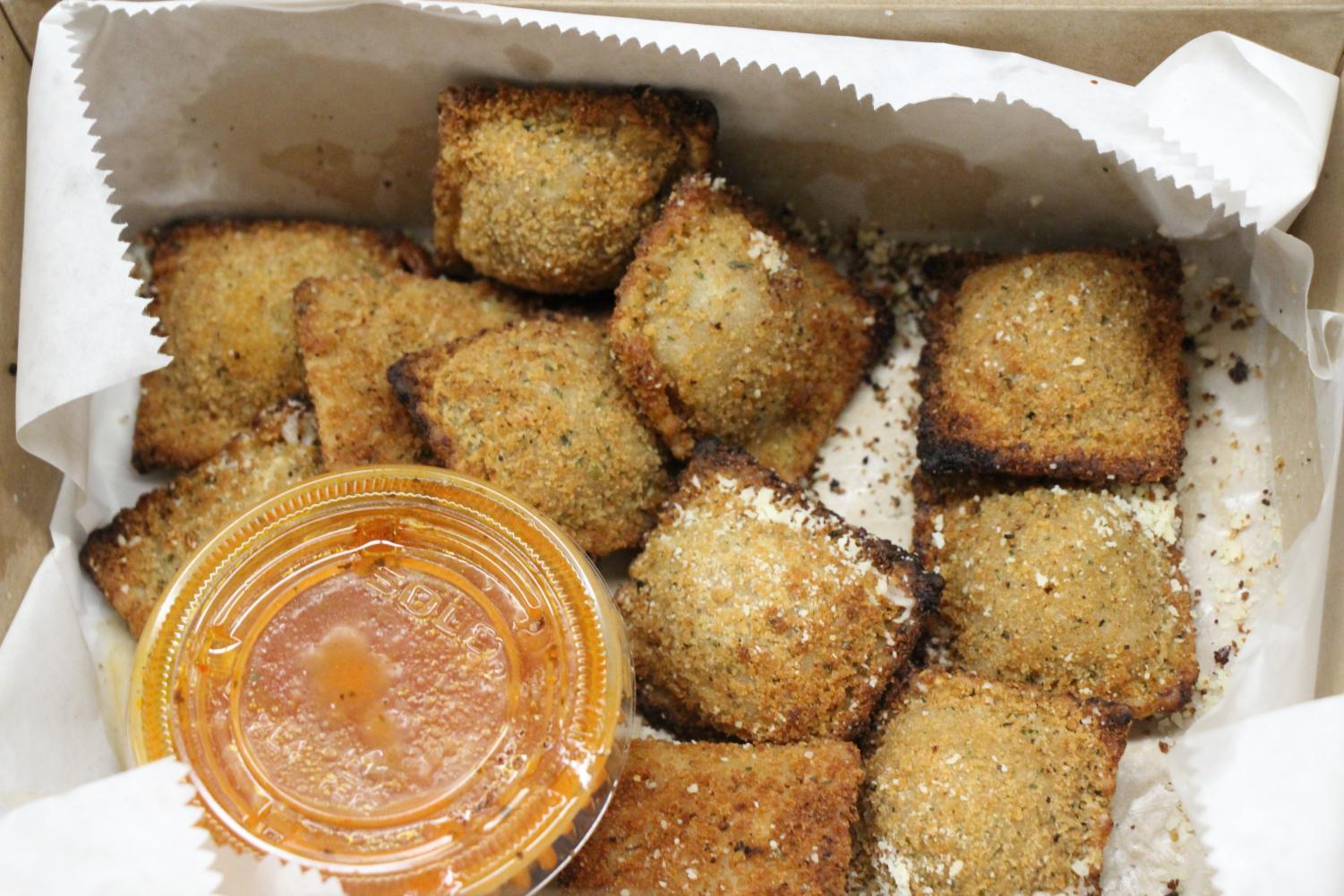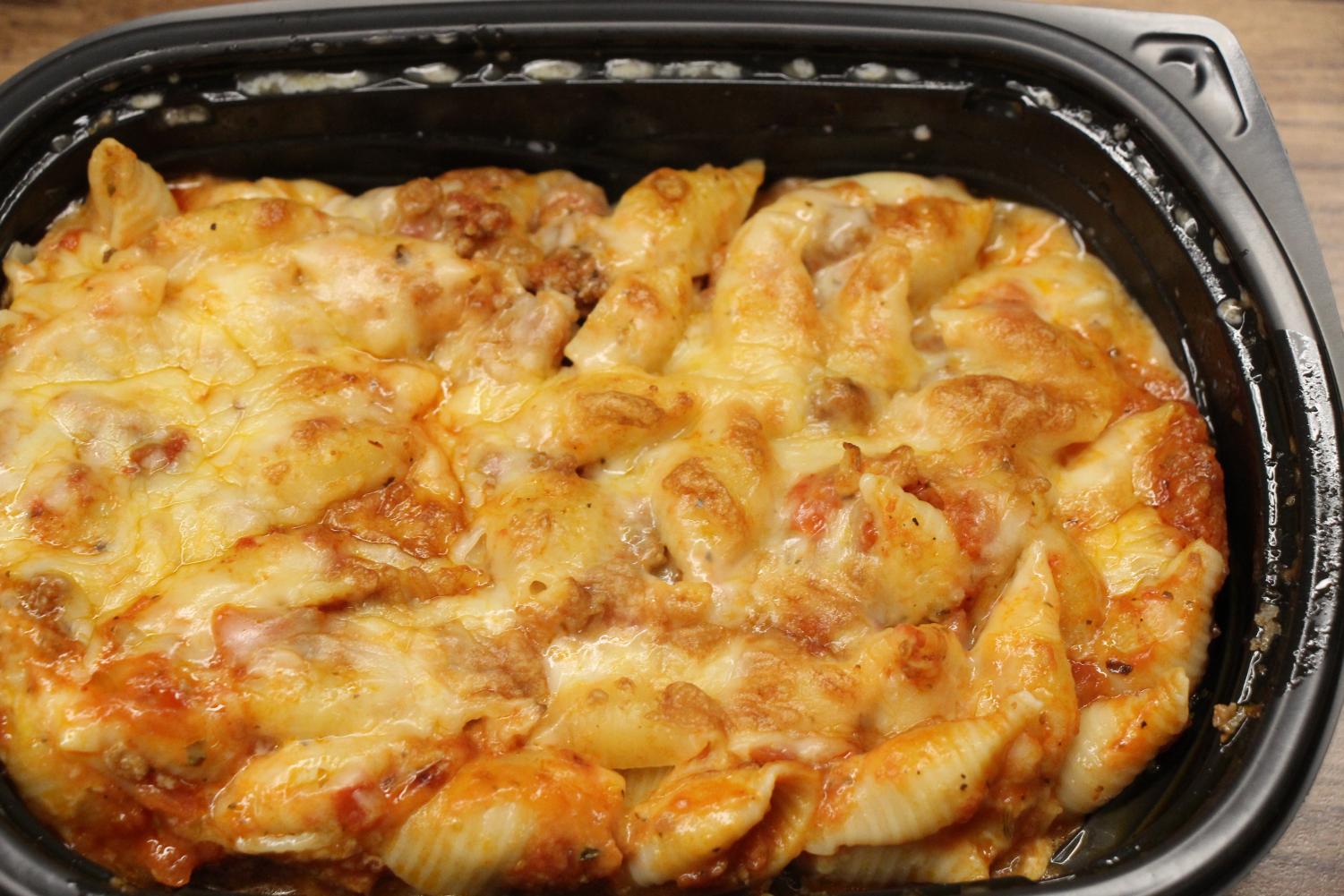 Cry Pretty
Photo Courtesy of Tribune News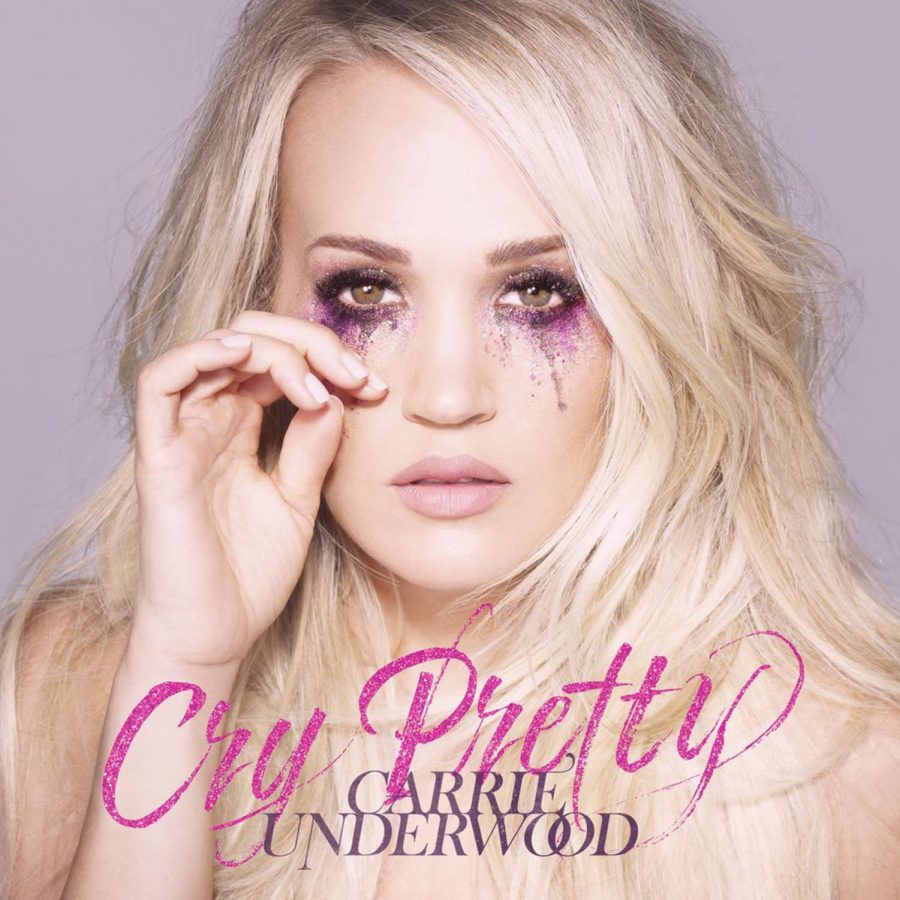 A country singer, Carrie Underwood, released her sixth studio album, Cry Pretty, on September 14, 2018. The album consist of 13 songs. They are soulful and full of meaning. The songs show another part of Carrie that most fans are not use to seeing. Not all of the songs have music videos, but you still feel the meaning in each word she sings. The songs Bullet and Love Wins are definitely the most inspirational, and the words convey messages still talked about today. These topics consist of gay rights and gun violence. In today's climate talking about these issues is important because it helps
open the minds of people in society, and brings light to some major issues. The album has taken some political risk, but nonetheless the songs aren't just about the country, roads and drinking that most stereotypical country music holds, they're about love and convey real meaning, but Carrie keeps her country style and full throat voice. I'm not a big fan of country music. I've never listen to it, but I decided to try something different. And I was pleasantly surprised. If you're a fan of country music and songs with what, I believe, are meaningful and full of life, I highly recommend the album Cry Pretty.

Swimming
In his fifth and final studio album, the late Mac Miller drowns the listener in captivating songs of R&B, soul, jazz rap about heartbreak, self love, and healing. But do not be mistaken, this is not a breakup album.
"I'm just talking about things that I'm proud of myself for, things I'm afraid of, or things that are just thoughts and emotions," he told Beats 1 host Zane Lowe.
The whole album itself, flows at the same pace and keeps you listening. The leading single, Self Care tells how Miller is overcoming struggles and making the decision to treat himself right.
The emotional and nostalgic feel of 2009 with a beautiful orchestra playing at the beginning will have you reminiscing on the past.
More upbeat songs like What's the use? , which has a subtle cameo of Snoop Dogg, tells how Miller is dealing with personal devastation.
The title goes wonderfully with the album as a whole, the album flows you along song to song, each telling a story and has important meaning behind each one. Overall, the word that comes to mind when I listen to this album is patience, I'm not quite sure how to explain why but maybe because the album seems to keep you calm and focused, even the upbeat songs. I would highly recommend listening to Swimming on your lowest, chillest, or simply days you just need to be in your head.

Sierra Burgess Really Is A Loser
The Netflix original movie Sierra Burgess Is a Loser was supposed to be a homage to every self conscious girl who feels like they have no purpose or have no idea who they are. Instead, the movie portrayed its main character, Sierra Burgess as a vindictive and manipulative loner whose only purpose in life is to win the heart of a boy. Sierra is the basic stereotype for this sort of character. She has good grades, is in band, has one friend, who is just as nerdy as her, and she is bullied for every step she takes. She is even played by a plus sized actress, which is a step up for the teen film industry. When we first meet Sierra, she is going through what most high school seniors go through, college stress. Her counselor asks her the question of "What is Sierra Burgess?" but Sierra has no answer, causing her to stress. Her counselor suggests she takes up tutoring, so that her applications stand out. That's when she decided to put her number around the school. When the head mean girl of the school, Veronica, decides to give Sierra's number to a cute guy as a joke because he has "loser friends," things start to take off. Sierra gets a mystery text, It happens to be Jamey, the cute boy. Sierra has no idea why or how this boy has her number but she plays along, hoping that it isn't all too good to be true.
When Jamey calls her Veronica it is all clear and Sierra is crushed. She decides to play along anyway. The movie tries to justify Veronica's horrific bullying with the fact that her mom is plus sized and her dad left. The mom is just a coverup for trying to be a 'diverse' movie and giving a mean spirited girl a scapegoat. The main problem I have with this movie is that it glorifies the act of catfishing. Catfishing is pretending to be someone else, and engaging in a fantasy that could eventually lead to emotional harm for both involved. Sierra is catfishing Jamey into believing that she is Veronica, when in fact she is not. Jamey eventually asks "Veronica" to FaceTime and (Sierra being an idiot) says yes. Coincidentally, the real Veronica ends up needing a tutor and Sierra offers to help her in exchange for a favor. Her plan is to FaceTime Jamey with Veronica's face, but with Sierra's voice in the background. When Sierra says something, Veronica acts like it is lagging. The FaceTime ends up being a success, and the catfishing continues. Overall, this movie was trying to send a major message to teenagers that you don't have to be the most beautiful, skinny, or the most popular to win the favor of people, but it ended up being like every other Netflix original, with the same cast, bad acting, and the glorification of nasty internet ways.

Kneeling For Nothing
I do not support making Colin Kaepernick the face of the Nike campaign. I personally believe that it is disrespectful and a spit in the face to the men and women that serve and have served our great country under the flag and National Anthem. However, I don't believe that Kaepernick intended for it to be viewed as disrespectful. I think that he just wanted to do something to get the NFL talking about him again because he is not a very good quarterback and he was probably going to get traded. No matter the intended outcome of his actions I do realize that he was just exercising his right to protest, I just don't agree with the way he went about it. I am truly glad that he used his "celebrity" status to stand up for something that he believes in.
Honestly though, I don't think that he is the right person to speak for the "oppressed black people and people of color" since he grew up in a white household and he did make it into the NFL so he wasn't too oppressed if you ask me. Also, for Nike to name him as the face of their ad under the phrase "stand up for what you believe in, even if it means losing everything" is ironic. He DID NOT lose everything! He simply lost one overpaid job for another. That is not everything when there are people dodging bullets on a war front, hiding from the government in order to go to school, and when many people don't have houses, food, or drinkable water. Kaepernick used his status and the issues of the world to benefit himself and Nike helped him to do so when they endorsed him.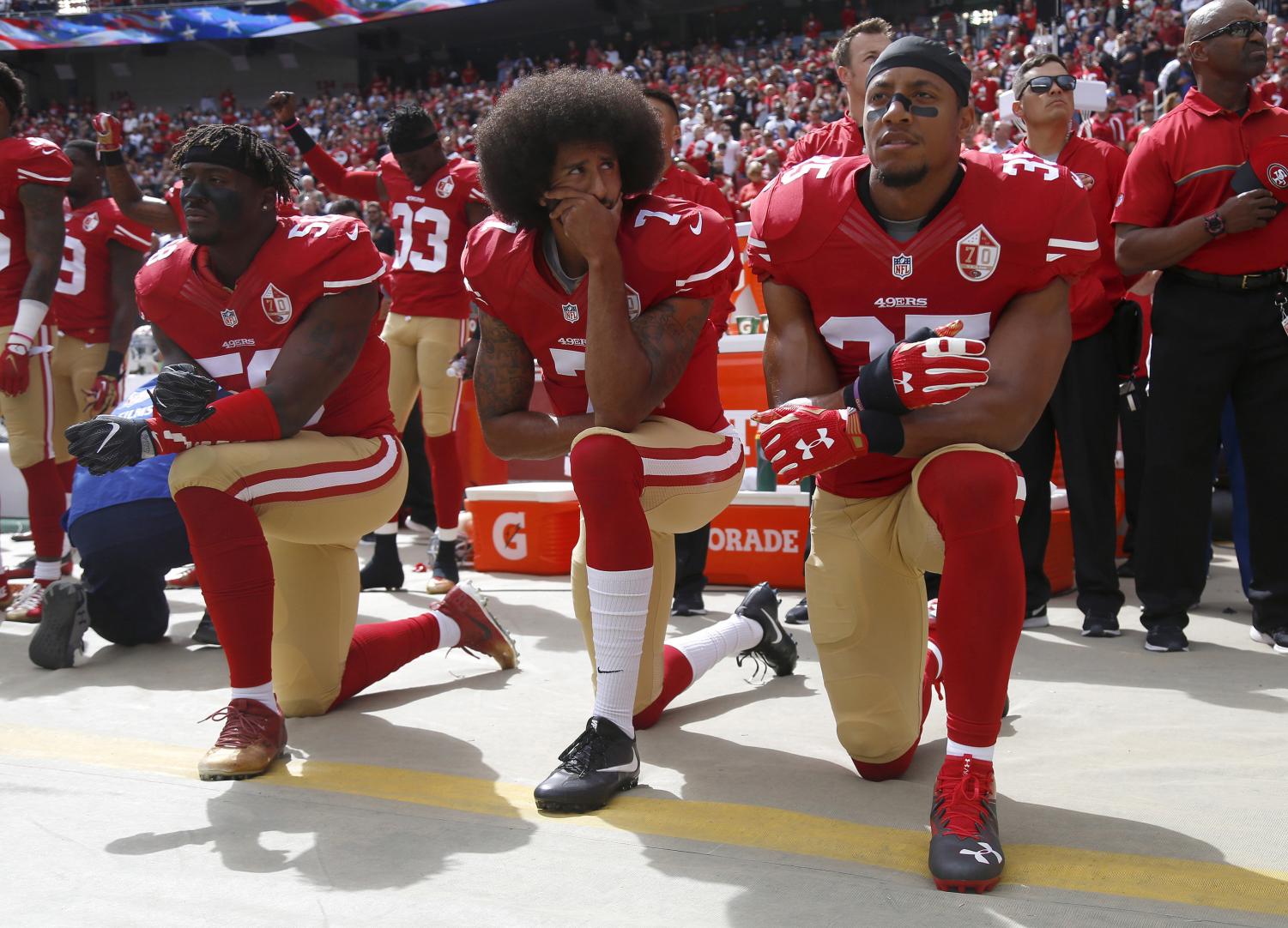 The Young Adult Novel Apocalypse: Authors Exploit the Genre
J.K. Rowling spurred the explosion of today's young adult genre back in the late 90s with the release of the first Harry Potter book.
       She had to go to several different publishers —at least 12, according to The Guardian—because her story was repeatedly rejected.
   And it wasn't because the publishers didn't like the story. They were worried that the books would never sell, says the fandom-journalist site Hypable.
   Christopher Little, Rowling's first agent, told The Guardian that publishers feared nobody would read Harry Potter because, they reasoned, it wasn't relatable to an adult audience.
   Before Rowling, there wasn't much of a Young Adult genre, and this is likely due to the same reasons why Rowling had to face so much rejection.  No company saw any profit in publishing a book that catered to such a small demographic of 12-18 year-olds.
   Although I'm glad that Rowling had determination to put what would become one of the most beloved book series of all time on bookshelves, it's understandable that these publishers didn't want to take the risk.
   Teens didn't have their own genre before the last couple decades.  Books were published for children, and books were published for adults.  Before the late 90s, students read classics like Gatsby and Catcher in English classes, and any leisure reading was made for the grownup audience.
   Books like Gary Paulson's Hatchet or like Hinton's The Outsiders (she was 17 when her book was published, funny that) are some of the earliest examples of YA fiction, but few others wanted to write fiction for specifically young people because there was no demand for it.
   Rowling set the precedent for  young adult literature by showing everyone how much money you can make by creating something that teenagers want to read.
   Ever since Rowling's immense success, there was an outbreak of young adult books.  Authors like John Green, David Levithan, Rick Riordan and Veronica Roth—all names you can find on our library's shelves—have emerged as some of this generation's most successful writers.
    YA literature has become the bottom of the barrel for books; publishers are using the genre as  loophole for authors who aren't good at writing to get something published.
   Recycled plot lines, laughably bad dialogue and character arcs as flat as old Pepsi are only some of the many crimes against literature that run rampant throughout these god-awful books.
Joyce Carol Oates, American author with hundreds of published novels, short stories, poems and essays, said in an interview with the Michigan Quarterly Review that young adult writing takes a special kind of skill.
"[My editor] Tara encouraged me to write a young adult novel, which, for me, became an experiment in genre: how to present a narrative in the most succinct and dramatic way, relying mostly upon dialogue, a minimum of interior narration, virtually no description, exposition, or background. In adult fiction, the act of describing, for instance, a high school cafeteria could be a tour de force of sharp, sensory writing, but a young adult editor will simply cross out such a description with the gentle admonition: 'Teenagers know what a high school cafeteria is, you don't have to tell them."'
   Oates may be right that good Young Adult fiction is dramatic and succinct, but much of the young adult books published these days aren't on par with the leading authors of our generation.
   Rowling's use of installments was artful, masterful and added to a gripping plot.  C.S. Lewis and George R.R. Martin have also used installments tastefully.  But  the rise (and plague) of series has become just another way to copycat Rowling's successes.  It's become less about writing impactful and thoughtful literature and more about making up new ways to keep making money.        One of my biggest problems with this genre is that it is insulting to our intelligence.  YA authors have this nasty habit of censoring themselves all the time.
   Do these authors think we don't know what sex is?  Do they think that they are doing us some great service by only alluding to all the dirty things that teenagers do?  Young adult books should be as honest and real as the lives of those reading them.
   The Young Adult genre has become an outlet for middle-aged writers to reminisce about their high school experience.  While this style may be suitable for memoir writing, it's not entertaining when placed in a modern setting with fictional characters in a slice of life plot line.
   Forty-year-olds do not know what the current high school scene is; they like to impress their ideas on what they think high school is like on their story and pass it off as real.
   Oates was right when she said that high-schoolers know what a cafeteria looks like.   There's a special shared experience between students.  It's a mutual language that we all know, and authors are making it all too obvious that they don't speak the tongue.
  What are teenagers all about?  Their phones!  Let's write all of our stories with a heavy reliance on texting and email in order to dig ourselves an even deeper grave.  Books that use threads as a means of carrying a plot makes a story boring as hell.  If i wntd 2 read txt lk ths (which is NOT how teenagers text, John!) id skrrt skrrt rite on ovr 2 twitter lol.
   This plot device-y way to make characters seem more hip and trendy falls short nearly every time and leaves readers bored, confused and a little uncomfortable.  This heavy reliance on technology in order to make a book seem more modern is a glaringly obvious crutch for someone lacking talent in writing dialogue.
   Our great-grandchildren will still be reading Mark Twain and Mary Shelley when they're in school. Cassandra Clare who? Stephen Chbosky what?  Young adult books exist only in the present and have no literary merit to keep them relevant in the future.

Are Chromebooks useful?
SPS has introduced Chromebooks to their curriculum for all students to use this y
ear. This gives every student the opportunity to have Internet access on a computer and can use Google Docs to store and save all their work. This has been a debate all school year, in which some people enjoy them while others don't. I asked a few people what they thought about the Chromebooks. "They are useful resources, but they are not needed very often." 
Senior Ian Martus said. They have their uses for the classroom but can take away from the learning experience by distracting students with the gaming capabilities and being able to browse the internet.
The Chromebooks are not a favorite among people, but they get the job done. They will be in the school's curriculum for the foreseeable future.

Immigrants Know More
 Being an immigrant myself, coming to America was very difficult I had to learn a new language and about how the government runs. So my main point is why do I have to learn more about their country than they do.
  Like how does that make sense, to add onto that the process of becoming a citizen is a long and gruelling process.
   In order to be eligible to apply to become a citizen, first off you need to be eighteen, a lawful permanent resident of the United States, resident and physically present in the United States for at least five years at a time of application, and must be of good moral character.
  I get the other requirements to apply to be a citizen, how can you classify a person as a good moral citizen; think about it how is the U.S Citizenship and Immigration Services(USCIS) suppose to tell a immigrant is a good person.
  "One of the general requirements for naturalization is good moral character (GMC). GMC means character which measures up to the standards of average citizens of the community in which the applicant resides. [1]In general, an applicant must show that he or she has been and continues to be a person of GMC during the statutory period prior to filing and up to the time of the Oath of Allegiance," according to the USCIS.
   But I'm not the only one that understands this many other students know how hard the process of becoming a citizen.
  "Yeah I remember when I first got my citizenship, it took me almost two years before I finally got it, when they told me I was finally a citizen of America all the hard work was well worth it," said Junior at Evangel Patrick Puletusie

What We're Thinking of Fergie's Not-So National Anthem Rendition
   She's Fergalicious… well maybe not so much right now. If you, like many others saw Fergie's National Anthem performance before the NBA All-Star game, then you're probably just as confused. Maybe you're wondering the same thing I am, who in the world told her they liked that and  it was okay to do on national television?
  On February 18, some of the best basketball players teamed up to play and win, proving who is better for the year. Millions watched from all around, and unfortunately for Fergie, the first 10 minutes were re-watched more than anything else that night.
  Fergie's rendition started off slow, and right off the bat no one knew where she was taking us. High, low, and shaky; all notes she was doing her best to hit but we're definitely not agreeing with her. It was like a car crash that was so bad you couldn't help but watch to see how it ended.
  It was all anyone could do to not laugh at her, but that's probably not too polite of a thing to do on TV. As players and celebrities panned on and off the camera, the world got to catch a glimpse of just how hard it is not to laugh when someone is making a fool of themselves. As the song came to an end, Fergie threw her hands in the air and said, "let's play ball," finishing the performance with proudness on her face.
   Right away Fergie became all anyone could talk about; tweets, remixes, and reactions posted every minute. It was something the world could hide from Fergie either, obviously she was going find out what everyone thought of her performance.
   "I've always been honored and proud to perform the national anthem and last night I wanted to try something special for the NBA," Fergie went on to say, "I'm a risk taker artistically, but clearly this rendition didn't strike the intended tone. I love this country and honestly tried my best," Fergie said.
   An apology and a week later, everyone has began to leave Fergie alone. Will we ever know who told her to do that on national television with a straight face? No, but I say we pass the blame and humiliation to that person.

High School Girls Perpetuate the Lesbian Trend
  There are three reasons why a high school girl might gush about her new girlfriend.
  The first reason is that she's  just like the rest of us: confused, blindly stumbling about, dating to pass the time or dating to find The One. She's trying to figure herself out, so she's showing off a new boyfriend or girlfriend on Instagram every few weeks to cover up the fact that she's lost in the perplexity of growing up.
  The second reason is that she feels free to express her sexuality.  She feels safe in an environment that supports her, and she's able to live as a homo/bi/poly/pan-sexual woman because she is brave enough to be herself in a world that sometimes encourages her not to.
  The third reason that  high school girls might feel compelled to date each other is because of the Lesbian Trend.
  Many people may consider Lesbians to be trendy because there are a lot more of them than there used to be, especially in the high school setting.
  Hello, it's me, the token Lesbian, here again to complain about Lesbian things.
      While I typically joke that girls wearing those plaid lumberjack shirts are "appropriating lesbian culture," I can't help but wonder what else straight people are are stealing from us.  And then I realized that, by dating girls themselves, straight girls–heterosexual girls, that is–are taking away the core of what it means to be gay.
  Don't get me wrong, I think it's wonderful that more people are coming out.  We're fortunate to live in an period where it is becoming more safe and more acceptable for gay people to be themselves.
  But straight people don't get to have this. Taking away the root of what homosexuality is by exploiting it the worst type of oppression.  Pretending to be gay or being gay just for fun is just another form of ostracizing the LGBT+ community.  Get your yucky little hetero fingers off of things that don't belong to you.
  My theory for the increasing lesbian crowd may be caused in part by celebrities like bisexual actress Bella Thorne and lesbian actress Ellen Page who serve as  role models for young girls worldwide.  And imitation is the sincerest form of flattery, so teens who want to be more like their famous idols may take up homosexuality as a hobby.
  What these girls fail to understand is that homosexuality belongs to homosexuals and nobody else.  Same-sex dating is a characteristic reserved only for people in the LGBT+ community and those searching for their identity, not for heterosexuals.  This isn't to say that heterosexuality is bad; just stay in your lane, girls.
  To be clear, the problem does not lie in those who are looking to find themselves.  Nobody expects you to know your sexuality, and actively dating multiple genders does not cause anybody any harm.  Bisexual people (those attracted to their own gender as well as another gender) aren't the problem, either.
  The center of this problem lies in decidedly heterosexual girls using other girls as an excuse to consider themselves a minority.
 Being a minority is cool somehow for someone who has never been in a minority group.  Because a privileged person will never have to suffer the true consequences of being a minority, they might think it's fun to dabble in a world that is foreign to them.  
  The Lesbian trend is merely a reason for girl to go looking for a reason to be oppressed.  But because they are not truly in the LGBT+ community, there is no way they will ever suffer any injustice.
  High school girls may decide to "go gay" because they're fed up with teenage boys, because the new endeavor seems fun and exciting or because the Internet glorifies this newly-blown-up "heteroflexible" term, which people use to describe themselves as mostly straight and sometimes gay.
  Heteroflexibility, then, is essentially heterosexuality but only when it's fun not to be.  This is another example of dabbling in the culture of the oppressed and never needing to suffer any of the consequences. It's a cop-out.  It's unfair.  And it's further oppressing the groups of people who actually identify as gay, bisexual, transgender, and others.
  Dating for love versus dating for the attention has been a problem for young people for as long as dating has been popular.  We need to tell the difference between the two and put a halt to the latter.
 So, girls:  If your girlfriend is just another accessory to your outfit, it's time to stop.  If your girlfriend is truly someone you love, and you can see yourself building a future with her, then I wish you the best of luck.

Black Panther Review
The Black Panther starts after the death of T'Challa's, the main characters, father now he has to become the new black panther and new ruler of Wakanda.
  But when a foe challenges his right as the king and black panther, he is caught up in conflict that will put not just his title as black panther at risk but the fate of the people of Wakanda as well.
  I think this has been one of the best superhero movies  since the first Captain America movie.
 The Black Panther has been labeled by Rotten Tomatoes as  "the best movie of all time," also it smashed the box office record with over 218 million dollars on opening night.
  So I recommend this breathtaking movie to anyone, but better get to the theaters quickly, because tickets are selling fast.

Thank You, Fortnite
On July 25th, 2017, the gaming world changed forever. Epic Games released  Fortnite, a free co-op survival video game for Xbox One, Playstation 4, Mac and Microsoft Windows. This game has been the most popular game this year, as 45 million users played at least once.
                                                                        Fortnite is the most exciting  game to play since Modern Warfare 2 came out in 2009. No game is close to how addicting and fun Fortnite is. The Battle Royal section of the game is you vs 99 other people. Last one  standing wins. Battle Royale takes skill, determination and a lot of luck. You can play by yourself (solo), with one other person (duo) or with 3 others (squad).
Solo takes the most skill because its just you and  yourself. No one can save you, and no one can help you.  You're either good at solo or you're not, there is no inbetween. Duo is a different story, having another person by your side takes the stress of you and you can be a lot more risky and push more often while solo takes strategy on when to attack and when hold back. Squad is the most chaotic and takes tons of communication with your teammates.   Taking down 4 people is challenging by itself, but with communication and a little bit of luck you can take down a squad and you might find yourself with a win.
  When you are so close to winning you can smell it, every move counts. Trying to counter the oposing player and finally get your first win, is a stressful process. Once you see Victory Royale pop up on your TV, a rush of excitment and happiness enters your body.
As long as this game is around, the only thing I can say is: Thank You, Fortnite.

A To Z Conspiracy: Area 51
Whats really going on behind the closed gates of Area 51?
By ZACH ARNOLD AND AARON SAWCHAK
The U.S we're  conducting low flying planes for recon missions about one hundred and fifty six miles from Las Vegas in Nevada in the early 1950's. The constant  fear of being spotted and shot down led President Eisenhower to authorize the development of a top secret high altitude recon aircraft project called the U-2. This required a remote area not visible by spies or civilians. Area 51 was perfect for this.
  The sheehan family owned a groom mine property overlooking the secret base Area 51. The family no longer owns the title to the property that the family owned for one hundred and thirty years. The Federal government took the deed through eminent domain after offering the Sheehan family $333,000 which they thought was extremely low. The family has still not been paid for the land but are very prepared to fight in a jury trial.. Sheehan told Fox News that Air Force officials started showing up unannounced on the property in the early 1940s and 1950s to intimidate his grandparents. His family made complaints to the Air Force but nothing ever happened. After the Air Force confiscated the property on September 16, 2015, the family had three experts appraise the property. Each appraiser noticed its unique value and came to a conclusion that the land was worth 44 million to 116 million dollars.
  In contrast to commercial airliners, which can fly at altitudes of around 30,000 feet, U-2 planes could reach heights of 60,000 feet. This led to the misconception that U-2's were extraterrestrial flying objects. With Air force officials knowing these  sightings were actually U-2 tests they decided to cover this up by saying that these sightings were "natural phenomena" and "high altitude weather research planes". The CIA officially acknowledged the existence and location of this base in 2013. In July 1947, the military sensationally announced in a press meeting that they had found the remains of a crashed flying saucer in the desert. The following day they retracted their statement saying that it was a U.S air force air balloon. Sheriff Jess Slaughter and Deputy Sheriff Charles Fogus were on duty the night of the incident.
  In the interview with Sheriff Fogus he claimed that  he saw a flying object smash into the side of a river bed. The object was "100 feet" across. "When we got there the land was covered with soldiers and they were hauling a big creature,I saw the legs and feet on some of them and they looked like our feet.
  After the Soviets took people to the moon the USA felt pressured to do the same. Not having the technology that the USSR had, the Americans were desperate to get someone to the moon. Area 51 was the best place they could find to fake the moon landing. When Neil Armstrong planted the American Flag  in the dirt, the flag started to wave like there was a breeze.

My Voice Matters, Too.
TINKER V. DES MOINES (1969)
   Our story starts in the height of the Vietnam War, with a middle school girl by the name of Mary Beth Tinker and her older brother John Tinker. The siblings are famous for  protesting what they perceived as the war's injustices by donning black armbands to wear to their Des Moines, Iowa public schools.
   The Tinkers' school administrators, to say the least, were not pleased with their display of activism. In fact, a new policy was quickly adopted by Des Moines district to stop students from participating in such protests. The policy stated that students who refused to comply with their new "no-armband" policy would be subject to suspension if they didn't remove the bands.
    As this was a blatant disregard for students' first amendment rights  throughout the district in a public school, John and Mary Beth persisted with their protest. They were suspended in December 1965 and returned the following January, but not before their parents filed a lawsuit against the school in U.S. District Court for infringing upon the Tinker siblings' first amendment right to freedom of expression. This sparked the infamous Tinker v. Des Moines (1969) Supreme Court case. While the District Court ruled in favor of the Des Moines Public School District, the United States Supreme Court ruled in favor of the Tinker family when they appealed.
   "It can hardly be argued that either the students or the teachers shed their constitutional rights to freedom of speech or expression at the schoolhouse gate," Justice Abe Fortas said during the 1969 Supreme Court case, four years after the original suspension.
   To make a long story short, hurrah! Public school students, including student journalists, retain their first amendment rights -including that of the press- inside the schoolhouse gates. This set the Tinker Standard into action in public schools, which was meant to protect any and all forms of student expression, so long as it was not a disruption of the educational process. While the Tinker Standard did not specifically address student press, this right is implied under "first amendment."
   Now if only it were really that simple.
HAZELWOOD V. KUHLMEIER (1988)
   The 1969 Tinker ruling will bring us into another important case for students and student journalists in America: Hazelwood v. Kuhlmeier (1988). In the 1980's at a St. Louis area public high school, Cathy Kuhlmeier, was a student at Hazelwood East. She, along with other student journalists, on her Spectrum newspaper staff, planned to publish two in depth news pieces on teen pregnancy. In the eleventh hour, Hazelwood East's principal pulled the stories from the publication just before being sent to print, deeming them inappropriate for a high school audience. He also argued that the identities of pregnant students in the stories were not hidden well enough, and that the father of a divorced teen interviewed in the story should've been able to comment.
   And I happen to agree with this statement. The stories were prime examples of sloppy, and, frankly, poor journalism. Identities of the students in question were not properly disguised, and the writing lacked subjectivity when certain people in the story appeared to be displayed in a negative light. But that is not what is up for discussion. What we're talking about is censorship of student press in a public school: a blatant disregard for the 1969 Tinker ruling.
  Because of the wrongful censorship, Cathy Kuhlmeier's suing of Hazelwood East High School for infringing upon rights protected by Tinker v. Des Moines. After a flip-flop of rulings between the U.S. District Court for the Eastern District of Missouri and the Eighth Circuit Court of Appeals, the United States Supreme Court ruled in favor of the school. The ruling stated that unless a publication identifies as an open or public forum (like Kickapoo High Quarterly), school-sponsored content can be censored or edited by administrators to prevent inappropriate material from being disseminated to the student body. This means that not only student publications, but also choir concerts, speech and debate pieces, theatre performances, or any other example of school-sponsored, student-produced content are subject to administrative censorship.
WHAT NOW?
What about the Tinkers? What about Abe Fortas? I thought that I didn't shed my first amendment rights at the schoolhouse gate, but it appears that I do shed one: my constitutionally guaranteed right to freedom of the press. But it is neither my administrators' nor my legislators' duty or right to determine which parts of the first amendment do not apply to me.
   Luckily, I'm not alone in these opinions. In an effort to protect students from administrative censorship under Hazelwood v. Kuhlmeier, the Student Press Law Center, a non-profit organization in Washington, D.C. that seeks to protect and strengthen the rights of student journalists, started a project now wildly popular among American student journalists: New Voices. The website for New Voices defines itself as "a student-powered grassroots movement to give young people the legally protected right to gather information and share ideas about issues of public concern." New Voices works with advocates for journalism, law and civics in order to help student voices avoid stifling by school administration.
   As of 2017, thirteen states have passed laws, codes or advisories into place to protect the rights of student journalists that the Hazelwood decision formerly denied them. Missouri is not one of these states.
   The state of Kansas though, is one of the thirteen states to have one of these laws in place. The Kansas Student Publications Act allows administrators to review content prior to publication, but emphasizes that the students -not a district, board member or employee thereof- are responsible for determining their own content as well as any civil or criminal action that may come about as a result.
   Julia Howell, Editor in Chief of Topeka High School World Newspaper and its website the Topeka High School Tower in Topeka, Kansas reflected on the benefits her publications have seen thanks to the Kansas Student Publications Act.
   "We have been able to write stories that have caused a lot of backlash…but not all the backlash was bad," Howell said. "All of these stories were things that needed to be talked about."
   She discussed some of the controversial topics that the law has allowed them to publish, and how how that has benefited her particularly diverse high school and its publications.
   "Because of this act, we are able to create a discussion about things like drug abuse, controversial forms of protest, tense political events, etc. We have such a diverse school and community that limiting anything we say would be crazy and very uninformative," Howell said.
NEW VOICES OF MISSOURI
The Student Press Law Center reports that about twenty states are currently running New Voices campaigns to help protect the rights of student journalists, and Missouri is one of them. The Show-Me state, home of the Hazelwood trial, has no legislation preventing administrative censorship for Missouri student journalists or their advisers.
  In layman's terms, the results of my extensive research, diligent interviews and comprehensive reporting can be completely scrapped simply because I was reporting a truth that a school suthority didn't think should be publicized. In the real world, we'd call this fascism. But for whatever reason, it's okay to suppress my rights to freedom of the press when I'm a high school student.
  In January 2016, Representative Elijah Haahr (R) introduced the Walter Cronkite New Voices Act to the Missouri General Assembly. The bill would keep school administrators or other officials from censoring student media, so long as the media is not libelous or slanderous (false and defamatory statements), that do not invade privacy, violate any law or cause a disruption at school.
  "Missouri is the home of one of the world's most famous and iconic journalists in Walter Cronkite, but also the home of the Hazelwood decision that saw the rights of student journalists suppressed," Haahr said. "My hope is that we can reestablish Missouri as a place that supports the freedom of the press, and protects the rights of high school and college student journalists."
  In 2016, the Walter Cronkite New Voices Act passed with flying colors in the Missouri House of Representatives, and received "favorable reception" in the Senate Education Committee. Unfortunately though, the bill never reached a Senate floor vote in 2016 and died on the calendar, as many bills do. This year, the bill came to this disappointing fate once again.
  With Representative Haahr's recent election as Missouri Speaker of the House, the bill has since been taken over by Representative Kevin Corlew.
WHY NEW VOICES SHOULD MATTER TO YOU
Hazelwood v. Kuhlmeier incites the kind of censorship that is born of fear and a lack of trust in student journalists. Our administrators and our legislators  alike must begin to see our journalism classrooms for what they are: newsrooms. Newsrooms full of journalists who simply want to report the truth and nothing but it, but often cannot because no law exists to protect them from wrongful censorship.
  While I, a student journalist, promote such legislation for my own benefit, you, the readers, play a huge role in my argument as well. You deserve to see the cold, hard truth every time you open an issue  of this magazine, or any other publication for that matter. You deserve to hear about controversial topics like sexual assault or the legalization of marijuana, because if one thing is for certain, it's this: these things are happening. Some schools are crawling with mold. Some students are living on the streets. People are dying of heroin overdoses. Children are deliberately killing themselves, and people are walking into schools with firearms to kill children.
   The idea that you, as a high school student, can't handle controversy like this is not only absurd; it's insulting. In preserving Hazelwood v. Kuhlmeier and everything it means, you are being deprived of this truth and being viewed as a child that must be shielded from all bad things.
  If you would like to learn more about the New Voices movement in Missouri and in the United States as a whole, be sure to visit NewVoicesUS.com or send an email to newvoicesmo@gmail.com. You can also contact Rep. Corlew at Kevin.Corlew@house.mo.gov to voice your concern; my voice matters, and so does yours.
  In the words of American hero Walter Cronkite, "that's the way it is."

Christmas Cookies
As thanksgiving comes to an end family and friends start to think about getting ready for christmas one of the most celebrated american holidays.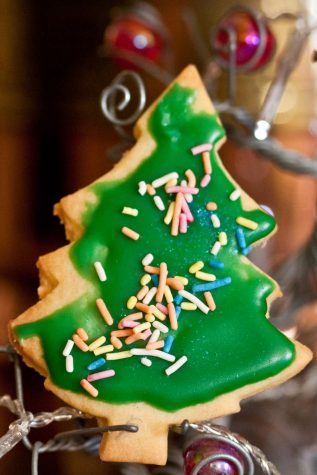 Making christmas foods and goodies is one amazing way to have some fun in the kitchen around the holidays.
Making sugar cookies: ingredients- 2 ¾ cups all purpose flour, 1 teaspoon baking soda, ½ teaspoon baking powder, 1 cup of butter-softened, 1 ½ cups white sugar, 1 egg, 1 teaspoon vanilla extract. Directions: 1) preheat oven to 375 degrees. In a small bowl stir together flour, baking soda, and baking powder. 2) In a large bowl, cream the butter and sugar together until smooth. Beat in egg and vanilla. Gradually blend in the dry ingredients. Roll rounded teaspoons of dough into balls, and place onto ungreased cookie sheets. 3) Bake eight to ten minutes in the preheated oven, or until golden. Let stand on cookie sheet two minutes before removing to cool on wire racks.
  How to make royal icing; Ingredients- three tablespoons of meringue powder, six tablespoons of water, and four cups of sifted confectioners sugar. Next you are going to beat all ingredients together on low for seven to ten minutes or until icing forms peaks. Keep icing covered with a wet kitchen towel to keep icing from drying out.
  After making these cookies and adding the royal icing i decided to try them and give them a rate from one to ten. I give these cookies a solid eight because they are very good and i couldn't stop at just one cookie. The icing really added a perfect flavor to the sugar cookie.
Source for recipe: allrecipes.com

Team Sports Quiz Changes
The team sports curriculum has been changed starting this year. Instead of tests being on paper, they are now on Canvas for students to take before midnight on Thursday. There are pros and cons to this experiment and the change has some differing opinions on the subject.
The are some pros of the online quizzes. They don't take out any class time to take the quiz. They are shorter than the paper quiz, and provide a good study guide. "This allows us to actually do more physical activity and less sitting around looking at papers." Senior Zac Salyers said. There are more activities now because of the added class time.
There are cons to this movement as well. The activity can be confusing to some and there is not a teacher to help them through it. It can also be hard to find with all the canvas classes and tabs there are. "I sometimes forget to take the quizzes due to not going on canvas everyday. I will forget when I get home and be stuck with the zero." Sophomore Aidan Bilbao said. These issues can cost students a good grade in the class.
The online quizzes have the right idea, but there needs to be a better format in place.

Senate Bill 98 Ignores Minority Rights
Springfield Public Schools' policy on transgender bathroom use is the lack of policy.
 Republican State Senator Ed Emery plans to change that.  He oversees Senate Bill 98, commonly known as the "bathroom bill."    
  The bill would make transgender students legally obligated to use the bathroom, locker room, shower room, etc. that matches with their anatomy, meaning their biological sex, and not their gender identity.
 It is already illegal to go into a restroom with ill intent, so proposing a bill that targets transgender youth exclusively is both discriminatory and superfluous.  
 The bill states, "in every public school setting in which a student may be in a state of undress in the presence of other students, school personnel shall provide separate, distinct areas designated for use by students based on their biological sex to ensure the personal privacy and safety of students."
  Senator Emery claims that the safety and privacy of all students is his priority, but the details of the bill imply otherwise.
  Should SB 98 pass, transgender students will not be allowed to use the bathroom that they want to use.  For example, a trans boy—let's call him James—is someone who presents, acts, lives, dresses, and IS male.  If the bill passes, James will not be able to use the men's bathroom.  This is discriminatory and does not take into account James' safety.
  Senator Emery thinks that transgender people should have to go somewhere else other than the bathroom with which they identify.  What Emery doesn't realize—or rather, what he doesn't care about—is that transgender students wouldn't be able to use their biological bathroom, either.
  If James were to use the women's restroom like Senator Emery wants, he would be very out of place because he doesn't look feminine in any way.    He would be ostracized for simply walking into the restroom that matches his anatomy.
  The bill also states "A student who asserts to school officials that his or her gender is different from his or her biological sex may be provided with alternative restroom, locker room, or shower room accommodations."
  The word to note is "may."  Emery's bill says that schools may provide alternative accommodations, but the bill in no way forces the schools to do so.  Transgender students won't be able to use the bathroom that they want, they won't be able to use the bathroom that matches their biology, and there's no promising that they will have anywhere else to go.
   Alternative accommodations are not the solution to the bathroom debacle.  Building a third bathroom for all the "others" in schools provides a breeding ground for harassment and bullying.  It calls attention to students who use the third bathroom and jeopardizes their privacy.  
  The bathroom bill does not ensure safety for students.  It is already illegal to go into a restroom with ill intent, so proposing a bill that targets transgender youth exclusively is both discriminatory and superfluous. 
  The bill further states that "[a student can] be provided with alternative restroom, locker room, or shower room accommodations, provided that a parent or legal guardian . . . shall provide written consent to use of such alternative accommodations."
  I do not need permission from my parents do use the bathroom!  It should not be up to parents to determine which bathroom best fits their child.  Senator Emery and those in favor of this bill  know that many transgender students have turmoil at home because they are not accepted by their families.  By requiring parental consent, the bill effectively denies transgender students of their rights.
  To recap:  James won't be able to use the men's restroom.  He will be bullied if he uses the women's restroom.  And even if he obtains parental consent, he still will not be allowed into the restroom that he wants to use.  
  Bills and laws are written so that they can be enforced.  Authorities will not be able to control who goes into what bathroom. Transgender students deserve their rights, and SB 98 does not ensure the equality of everyone.
  The good news is that Missouri's senate is not in session currently, so this bill will not go into effect any time soon.  Emery will have to re-introduce the bill in January of next year and start over if he wants his bill passed.
  To voice your concerns, visit senate.mo.gov and send Mr. Emery an e-mail.  Missouri State Senator Bob Dixon's district includes Kickapoo, so you can also e-mail him so that he can vote with for best interests of the people he is representing.