Kickapoo Golden Arrow Band 2021 Season
  The Kickapoo Golden Arrow band has a long history of success that didn't disappoint this season.
   Their show this year, Luminous, is revolved around the idea of light and gold. There are three movements, or different songs in the show, varying from slow tunes to fast-paced rhythms.
  After months of hard work, the band of 149 students of all grades and instruments showed what they've worked for at the competitions they performed at this year.
   "That's the payoff- you do all of this just for the seven minutes that you're on the field," junior Jacob Hall said. "That's where you've got to make it all count."
   Marching band is a combination of playing difficult pieces of memorized music while marching and doing choreography. This creates a larger visual effect for the audience to enjoy. 
   "Rather than sitting in a chair and playing something, you actually have to do something with the music, like make the music move," junior Kinsey Keeling said.
   There are a lot of different components that have to work together for the show to go smoothly. One of these is the drum majors. 
   The drum majors this year, Polaris Rissler, McKenna Hunt, and Riley Rector, are responsible for keeping the band together musically. 
   "Drum majors are the bridge between the actual students and staff." junior Riley Rector said.
   All three drum majors are on a raised platform and use their hands to keep time as a visual metronome for the band.
   "It's nice to be able to feel like you have an important role in the band," junior McKenna Hunt said. 
   Being a drum major is a  leadership position in the band and these students do their part to help the band succeed.
   "It makes me feel good about myself cause it makes me feel like I've contributed more to the band being successful," Hunt said. 
   The band performed at four competitions in September and October, all around the midwest, and placed in finals in all of them. 
   "If you do make it to finals, afterward it's really relieving just because you're done and usually it's better than your first run so it's rewarding," junior Camilla Fuentes said.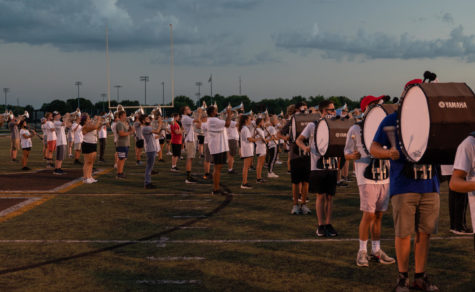 Marching band not only gives these students a musical and athletic outlet but also a community. 
  "You spend time with the people that you normally otherwise wouldn't," Hunt said.
   Between during and after-school practices and long days spent traveling and performing, by the end of the season this band is more of a family than a class. 
   "All in all, we come together, we all do something that we like together and we have a lot of fun," Rector said.
Smith Dives Into State Once Again
   When you think of sports at Kickapoo, football, baseball, and basketball normally come to mind first. But, there are some sports are that aren't as well known.
   Junior Brett Smith is the only diver on the Kickapoo boys swim team, but he doesn't let that stop him from doing the sport he loves.      
   "I dive because it is a fun and interesting sport. It's a sport that requires repetition and where other sports force strength, diving is more about technique," Smith said.
   He first started diving freshman year because his older sister was a diver in high school and she encouraged him to join. Smith also has a history in gymnastics and so he already had a flipping background, which is helpful when diving.
  There are multiple dives that Smith has learned; he can do at least 20 dives, but practices about 12 daily. 
   "You're gonna flop on your first couple times, no matter what," Smith said. 
   His favorite and top-scoring dive he does is an inward, which is a front flip off the end of the board. 
   After a diver performs their dive, they get five different scores out of ten from five judges. The highest and lowest scores are dropped and the three middle scores are added together and divided by the difficulty of the dive.
   "The worst part is whenever you go up to the diving board and you think about it too much and you psych yourself out because the longer you think about it, the harder it's gonna be," Smith said. 
   Although Smith is the only boy diver at Kickapoo, he knows he isn't alone when competing.
   "We have other divers from SPS and we're all cheering on each other and we're a team," Smith said. "Most of the divers from SPS, Nixa, Ozark, and Republic go and do stuff together." 
   The divers from other schools aren't the only ones supporting Smith, but the swimmers from Kickapoo as well.
   "I enjoy diving because you meet a lot of new people along the way," Smith said. "Our teammates make us laugh and take our mind off of the scary parts to diving." 
   But the season isn't over yet. Right now, Smith is one of the top male high school divers in Missouri. He's gone to state competition the past two years and is predicted to represent Kickapoo again at state on November 13th.   
Golden Girls Win Nationals
Congratulations to our Kickapoo Golden Girls on their placements at virtual nationals this year. They placed 11th in two categories and another dance placed 17th. The girls were so excited and we are incredibly proud of them. All of their dances placed higher than last year. We look forward to seeing all that they accomplish next year.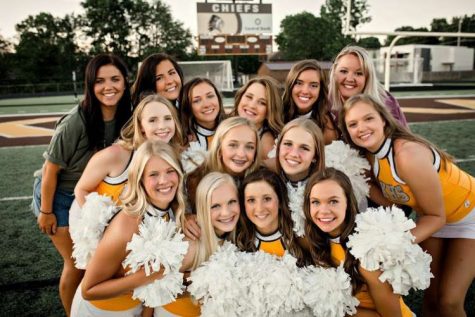 Shredding the Turf
The Kickapoo girls' varsity team was at it again this past Wednesday, crushing Glendale's team 4-1. This game was extremely important to their season, as it was not only the southside showdown but also the conference game.
"It was super exciting because we really weren't sure how the game would turn out," sophomore Julia Klein said. "And of course beating a school rival is always a good feeling."
Winning the game secured for them the 2021 Ozark Conference title and means they are moving onto districts next week. Districts next Monday and Wednesday, beginning with the girls playing Waynesville on Monday. On Wednesday they will play Ozark or Central, depending on who wins their game on Monday.
Because of COVID, this is Klein's first school season, and what a season it's been. "It has been super fun getting close with the girls and winning a lot of games," Klein said.
Kickapoo Boys Tennis Aces Their Way to State
Kickapoo boys tennis team has been on a hot streak thus far. They took the court by storm and beat Central High School to take the district championship. Our boys tennis team beat Central 5-1 and it wasn't even a contest, after playing them in conference and losing 4-5 in dramatic fashion. Our boys team came through when it really mattered. Cayden Danzer and Patrick Terry qualified for individual state. Danzer and Terry will be competing in the state tournament as a doubles team.
Southside Showdown Champions!
Kickapoo girls soccer beats Glendale, once again, for a conference championship!
Wednesday, May 12th, the Kickapoo varsity girls soccer team beat Glendale for a conference championship for the fifth year in a row. Ending the game with a three point lead, the girls got to take the Southside Showdown trophy back home. "It was really nerve wracking going into the biggest game of the year but I knew that we could pull it off," senior, Chloe Young said.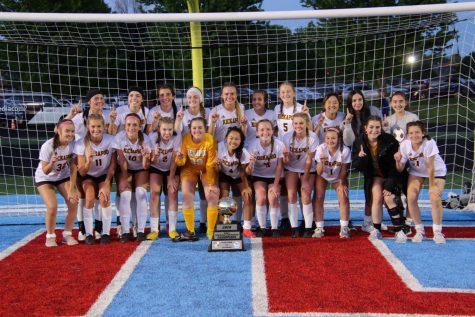 Sophomore, Sabrina Jones, led the game with two goals followed by a goal from both Junior, Abby Light and Sophomore, Abby Bilbao.

"The feeling I got in my stomach when the whistle blew was crazy. There were so many emotions before, during, and after the game. We all played our best games and it was good competition. I think our matching braids really helped bring the trophy back home," sophomore, Vanessa Maturey said.
They LadyChiefs ended their season 18-3 and are now preparing for districts in the upcoming week. A win against the falcons is always a good way to end the season, Go Chiefs!
Boys Track and Field
The Boys track and field team has had a strong season so far, and they are just getting started! The team has competed in various meets since the beginning of this season earlier in the year. The team has ranked highly among others, with more than 10 members in both track and field events placing in the top 3 throughout a majority of their meets at various schools in the community. Last Wednesday they had their conference meet and their high hopes were met.
Throughout the entirety of the team 22 placed within the top 8 at the conference meet, 15 in the running and relay events, and seven in the field events. The varsity placed fourth in confrence. Overall Coach Goddard said he was very happy with the teams results and is looking forward to the rest of the season.
Something that was conveyed consistently was how happy the team was to be competing again and ultimately being able to practice after the abrupt end to last season. "I really missed going to the meets and cheering everyone on last year." senior sprinter Ryan Harris said. Despite being smaller in size this year the team's talent and potential were exceptional across the board. This did not go unnoticed by the team, "We've had a smaller number of athletes show up to run this year, but we're all looking solid and we've got a lot of talent to use this year, even in a smaller number." senior sprinter Matthew Wagoner said.
The team has been practicing since early January, shortly after we returned from Winter break. "Everyone is running their hardest and making lots of progress," Harris said in the weeks leading up to the conference. Occurring early last week the team went into the meet looking strong with players feeling as though they had a high chance of succeeding in their plans to move on to state. "the sprints team is a lot faster than I've seen in the past years, and we have beasts in the throwing. All events, boys and girls, are looking very promising," Harris said. The upperclassman have also had an influence on the younger players, such as freshman Jacob Field. "All of them are very kind and great leaders. I strive to become a leader like them." Field said. The team stayed true to their words with Kickapoo's Javelin Throw record being beat by sophomore Andrew Link.
Congratulations to the team and good luck through the rest of your season!
Is Fan Attendance Too High?
   The SPS athletic department doesn't take the basketball season, and other school sports into consideration  as much as I'd like to think. It seems as though there have been huge strides taken to ensure the seasons of many sports, however more precautions have yet to be put in place for boys basketball to continue the season. There are some mask mandates, and it is said there is limited attendance, but there is a lack thereof. High school sporting event attendance should be limited to immediate family members.
   At the Willard basketball tournament this Winter, Kickapoo faced off against Greenwood in the championship. Attendance at this game was over 1,300 people. There was initially supposed to be less than 1,000 people in the stands.  Even during a national, even global pandemic, there were well over 1,300 fans packed in a highschool basketball gym.
   Suiting up and stepping on the floor, I was amazed by how many people I saw in the stands.  It felt like the most fans in any game I have ever played in. The only thing running through my mind was the number of cases that could end our season.
   Not only were there an insane amount of fans, other teams like Parkview and Hillcrest were also in attendance. After watching the big game, both teams got phone calls saying they were in close distance of Covid-19 cases and were forced to sit out at least two weeks. This could directly impact the Kickapoo teams because if any one of those 1,300 had come in contact with a player or a coach, our season could be put on hold in an instant.
  This is why there should be an extremely limited number of fans. The athletic department set up rules and guidelines for our season, but it can quickly be taken away for something we can't control. I know the athletes would rather have their seasons than have a thousand people cheering them on, and risking it all.
Serving Into the Season
Boys Tennis has hit their way into the season. Currently, they are having practices and beginning tryouts, which will last up until March 12th. With less than 20 players, they look to Freshman and Sophomores to take on big roles of playing Varsity.
They are looking forward to a predominantly, home season, with less than 5 away matches. With a tough schedule ahead, they look forward to having, once again, another run at the post-season. As they have won three district championships in a row, they hope to find a fourth this coming season.
As they enter the regular season against Lebanon on  March 29th, they prepare for Rock Bridge, Jefferson City, and Central (Springfield).
Behind senior, Caden Hillman, the Chiefs will rally through the season.
Designer at a Discount!
  Keeping up to date with popular name brands should never come at an extreme cost. Here is a list of trendy items and their fraction of the cost Amazon dupes; 
  LuluLemon has been a commonly purchased brand since the mid 2000s and their prices have steadily increased along with their popularity. LuluLemon align 28" leggings are one of their most popular products, which cost about $98. The most common dupe for these leggings are the Buttery Soft high waisted yoga pants on Amazon, which cost around $22. 
It is no secret Ray Ban sunglasses are a popular sunglass brand for many teens, but is it really worth the cost? The most common Ray Ban glasses I see people wearing are the Round Metal Classic G-15 + Gold, which cost around $154 before tax and shipping. You would be lucky to find these in store and especially on sale, but fortunately Amazon has an almost identical pair for $19.99 and is offered with Amazon Prime.
Hydro Flask water bottles have been around for a couple years now and their popularity has only increased. Hydro Flasks are great water bottles, especially the 32 oz. bottle with the wide mouth straw lid, which tends to be about $49.95. To me $5o for a water bottle is a bit extreme, but once again Amazon is coming to the rescue. Amazon sells a "Simple Modern Insulated Water Bottle with Straw Lid 1 Liter Reusable Wide Mouth Stainless Steel Flask Thermos", which is also 32 oz and cost about $19.99 and also comes with Amazon Prime! 
Boys' Golf Starts Their Season
After three days of tryouts, Boy's Golf finally has their 16 member team for this year. The first 3 days of March were spent narrowing down the team in order to fill in the empty spots. The players' abilities were tested by playing  three, nine hole rounds at the Oscar Bloom Golf Course. They were then ranked off of how they played.
" I hope that as a team and as an individual we can get to state, I think that the team will get along well because we all have the same goal and that is to get to the state tournament!" Senior Hayden Wiggins said. The team will be meeting for practice everyday after school at varying locations and will work hard to reach their goal.
Girls Swim Successful Season
The Kickapoo High School girls swim team led a successful season. While COVID-19 ruined many students chances at getting to compete in sports and participate in clubs, the girls swim team was still able to compete and put forth great efforts to preform at there best when it came time to compete. Despite many obstacles, the team managed to pull off another great season.
"This season was definitely interesting because of all the COVID rules we had to follow. We only had 2 travel meets, one of them being state, when we usually have about 5. We lost a lot of our support group not being able to practice with the Nixa swim team," said sophomore McKenzie Lowry.
However despite this unconventional season, the team was able to win the Ozark Invitational meet and the Southwest Missouri meet. They all worked extremely hard, to achieve all they did.
"We had a lot more practices this year sometimes two a day, we practiced during Christmas and Thanksgiving break and some weekend practices. I think we all knew it would be a hard season but none of us gave up and we just kept pushing through," said sophomore McKenzie Lowry.
"To prepare for this we have been practicing as much as the weather will allow but a little bit different than we do during a normal season. For big meets like state we "taper" which means we have moderate practices that help build muscle memory instead of having longer more intense practices and tapering also allows us to have the energy to swim the best times at state, " said senior Paige Lenahan.
The hard work and devotion would bring the team to state, where they would all have good swims along with some podium wins, and junior Ashlyn Moore would medal.
"About a year ago when things started shutting down I wasn't able to swim for a couple months which set me back but I was super motivated to get back to where I was before and then get even better so I started going to Bader Sports Performance when things opened back up and pushed myself even harder in practice to reach my goal of meadaling at state," said junior Ashlyn Moore.
Even with COVID-19 and other obstacles in there way the girls swim team was still able to pull off an amazing season.
"I think we made the best out of what we could this season. We had a lot of personal bests and a lot of goals were achieved by multiple girls. Our coach, Peter Hill, always refers to the team as a family and this year I feel we really became one," said Ashlyn Moore.
Golden Girls Tryouts
Information regarding upcoming tryouts and deadlines.
Tryouts for Golden Girls are March 27. Pick up an informational/application packet in the front office or from club sponsor, Amy Barron (room 105).
Forms are due March 8th to Amy Barron or brought to the parent/participant meeting that will be held Monday March 8th at 5:30 p.m. The meeting will be held in the Library at Kickapoo.
Tryouts are March 28th from 9:00 a.m. to 3:00 p.m. The results will be posted March 27th on the Golden Girls social media by 9:00 p.m.
You do not need a current physical to try-out, but if you make the team you will need a physical by April 2021.
Dancers will be judges on appearance, cooperation determination, skills, how quickly they retain the routine, overall performance and their enthusiasm, interviews, teacher/coach recommendations.
Please come prepared with a 1-1:30 minute solo.
The booster club has fundraising activities that help pay if cost is an issue.
"Tryouts are always exciting we love to see returning people come back and new people wanting to come up and be a part of the team," club sponsor Amy Barron said.
The Upcoming Lady Chiefs Soccer Season
COVID-19 ruined the girls soccer team season in 2020. As the Spring season is approaching, so is a new season of soccer!
COVID-19 seemed to destroy and cancel a lot of major events last year. Though things are slowly beginning to improve with social distancing, mask wearing, and constant sanitizing, a lot of us are still missing out on events that we haven't enjoyed since 2019. Fortunately, the girls soccer team has received their schedules and after a year of not playing due to a ruined season in 2020, the girls are eager and itching to get back out on the field.
"Because of COVID we did not get a season last year at all. So, we are hoping that this year we can get a full season and be able to play in as many games as possible," said sophomore Abby Bilbao.
"I chose to play for Kickapoo because I loved the competition when I played for Cherokee Middle School and wanted to continue. There's also a certain pride that goes with competing for your school that I enjoy. My favorite part is the games themselves, especially against our rivals," said senior Jenna Biser.
"We find out our teams today [March 4th, 2021] and I'm excited to see how well we do this year, we have a lot of competition but I think we'll stick it out," said junior Maggie Miller.
"The girls on the team have worked really hard to be ready for the season so come support," said senior Emma Sansom.
As the girls seem to be excited for their upcoming season, practices to prepare them for it seem to be rough.
"We haven't been able to have many preseason practices to avoid getting anyone sick," said senior Emma Sansom.
Jenna also commented on practices, "Right now practices are every Tuesday and Thursday when the weather permits it."
Even with limited practices the girls have been flexible. Luckily, the team will not have to be waiting much longer to play and the fans won't have to wait to watch. Within a few days, the girls will be having their first taste of a game since 2019.
"We [the girls soccer team] have our jamboree here at Kickapoo, March 11th, at 5:00 p.m. Which is like a mini tournament where the varsity team for us, Glendale, and Nixa play only halves," said Jenna Biser.
While the jamboree will be a fun event to attend to, the girls first official game isn't until March 29th against Harrison. If you're looking to attend then it's located at Kickapoo at 6:00 p.m.
UPDATE (3/5/21)- Due the current quarantine of the girls soccer team, it is currently unknown if the Lady Chiefs will be participating in the jamboree scheduled for Thursday, March 11th, at 6:00 p.m. If the team does unfortunately miss the jamboree, they are still scheduled to play on March 29th.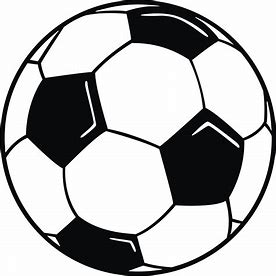 Go Chiefs!
Lady Chiefs Entered the Top 50
Making a statement and carrying on the tradition of Kickapoo Girls' Basketball. Once again, the Lady Chiefs have made it onto the top 100 ranked high school basketball list. According to MaxPreps, the Kickapoo Lady Chiefs are ranked #46 in the nation. Every week, the rankings are updated and Kickapoo continues to rise on the ranking list.
In 2016, the Lady Chiefs were ranked #52 in the nation, according to MaxPreps. They finished 29-3 on the year and won the Class 5 State Championship. The current Lady Chiefs are looking to collect another plaque and banner to hang around Kickapoo.
"I feel like it is my responsibility to pass it (Kickapoo Lady Chiefs basketball tradition) along to the future players," Senior, Indya Green said.
The Lady Chiefs stand as #2 in the state and hold a record of 19-2. With 4 regular season games left, the Lady Chiefs hope to add on to the current 15-game winning streak.
As the post-season starts in 3 week, the Lady Chiefs will have to advance through districts and sectionals to move on to the Missouri Class 6 State Tournament.
click on image to watch interview with Indya Green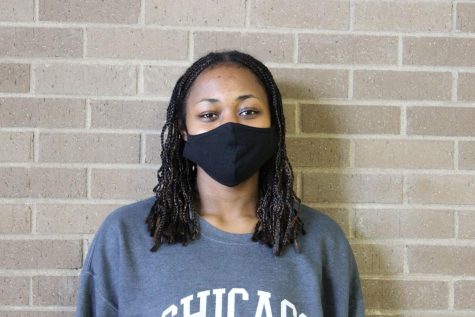 Senior, Indya Green
The Future of Kickapoo's Baseball
These current eighth graders are the possible future of Kickapoo's baseball team. All of these players were on Kickapoo's Tribe traveling team over the Summer of 2020 and some are preparing for freshman tryouts in March.
Tossing, Turning, and Thinking
KHS Winterguard athletes prepare for a new season with new regulations and a new mindset.
Kickapoo's Winterguard season will look unconventional this year due to COVID-19 the recent spike of cases nationwide.
   Winterguard is a choreographed performance art in which performers use rifles, sabers, and flags as props. Within this discipline, precision and energy are vital to emotionally impactful performances.
   This season, however, cohort separation between students has been challenging. Because some rehearsals take place during school hours, not all members can be present for all practices.
   Additionally, their typical style of choreography has required alterations, and their usual outside consultants are unable to support the group this year. The combination of obstacles has altered the overall experience for performers.
   Thankfully, the style of the sport makes social distancing slightly easier.
   "With the equipment work we do, we are used to being farther apart so social distancing hasn't been too difficult for us", comments Colorguard sponsor and KHS Social Studies teacher Sherri Peterson.
   Winter Guard senior Benjamin Ralston speaks about the impacts of the new barriers.
   "It is hard to enjoy something as much as you normally do when you can't do it to the full extent it's intended", Ralston says.
   More than that, he comments that the synergy of the group has been affected. Synergy is the combined efforts of the members amplifying together to produce a greater, collective work. This group result can be better (or worse) than the performance of the individuals.
   Simply, positive synergy is irreplaceable in Colorguard. And because of the limitations in place, the team dynamic has been altered.
   However, according to Peterson, these changes are pushing the students to maintain their momentum now more than ever.
"I think they are excited to be able to do what they love doing, performing – even though it has been different", Peterson says.
And despite many obstacles, they will be able to do just that. 
   "Both of the winter guard circuits that we compete in have chosen to offer virtual competition seasons", Peterson says.
   These circuits have been giving their teams the option of whether to register for competitive or non-competitive performances. 
   Practically speaking, this means that the KHS Winter Guard will submit a video performance and will receive scores and feedback.
   "They have been very motivated to excel at the performance opportunities we have had so far this year", says Peterson.
   The team picks a theme each season; this season's theme is centralized around thinking. Inspired by a famous bronze sculpture titled The Thinker and crafted by Auguste Rodin, the show will focus on the mind. According to Peterson, the performance will juxtapose classical elements with a modern twist.
   Peterson says, "We are going to use bright, vibrant colors and a collection of different types of musical genres."
   The purpose of the show is to convey to audiences the power of thinking. This year, that power has been shown. With quarantine and societal unrest came a spiral of unhealthy thought patterns for many individuals. Mental health suffered. But creativity flourished. Books were written and art was inspired based on our shared struggles. The performance highlights thought as the art form of the mind. It also inadvertently speaks to the power of thought during these trying times. 
   Worldwide, people have relearned the value of each moment this year. Because many sports and fine arts groups have experienced problems with meeting regularly, this has made every moment count.
   Peterson says, "We've just tried to appreciate the opportunities we get to have together as a team – have fun…and always focus on enjoying the memories we are making".
   In the end, the focus placed on the hardships we experience is either positive or negative. 
   "We often talk about challenges and obstacles as we prepare for performances…[placing] a focus on being positive-minded, mentally tough, and confident in your preparation."
   The Winter Guard season this year is unconventional. However, these performers have adapted to the best of their abilities and have continued working hard despite numerous obstacles.
   Peterson says of her students, "They have done a great job, been positive-minded, and acclimated to changes or other obstacles extremely well". 
Girls Swim
The Kickapoo Girls Swim team is in high spirits this season despite the crazy season. From now and when we return from the winter break they will have participated in their All-City meet as well as one with Webb City and another with the Ozarks Confrence. Junior Sally Cybulski gave insight on the season earlier this week where she said "I'm just mainly excited to be there at all, even though we don't get t really travel for meets I'm just glad we get to have them. While practices look a lot different, that hadn't hampered our ability to have fun.". The team has had great success this season, with too 200 medley relay teams having already qualified for state. "Despite the circumstances, all the girls still try their hardest to improve our team," Cybulski said. The team has a bright season ahead of them so make sure to cheer them on!
Onto the Final Four
The Lady Chiefs softball team faced off against Lee's Summit West Thursday night in the Class 5 Quarterfinal game. The Lady Chiefs beat the Titans 11-1 and celebrated as they knew they were headed to the Class 5 final four.
The Lady Chiefs are set to face Lee's Summit North, Saturday, October 24th, at 2 p.m. The Chiefs will travel to Lee's Summit North and play to advance to the Championship game, October 29th, in Springfield.
The Lady Chiefs come in with a record of 24 wins and 3 losses. The Lady Broncos come into the game with 27 wins and 3 losses. They will face off Saturday for the first time this year and the Chiefs are ready to put up a fight.
"I'm very excited to see what we can do Saturday. It's going to be good competition but I know we can do it," Junior, Megan Dancey said.
More Than a Game of Pitch and Catch
  Under the brightness of the stadium lights, the pitcher can make out her catcher's hand signal.
  The bases are loaded, it's the last inning, and there's a full count.
  The Kickapoo Chiefs are up by one.
  The catcher positions herself and the pitcher takes a deep breath, then starts her stride.
  She extends her leg and brings around her arm to throw her change-up. As the ball moves throughout the air, the catcher's eyes carefully watch it.
  The batter swings too early and the softball lands into the webbing of catchers mitt. The Lady Chiefs run together as the crowd erupts into cheer. They won the game.
  The relationship between a pitcher and a catcher is like no other on a team.
  The pitcher relies on their catcher to receive their pitches and make the key plays in a game, including throwing down, retrieving most of the bunts, and tagging people out at home plate.
  The catcher relies on their pitcher to trust her throughout the season, throw the pitches according to her hand signal, and be there to back her up when a runner is coming home.
  When softball pitchers seniors, Ellie Facklam and Jaden LaBarge teamed up with catchers, junior, Kate Pierce and sophomore, Callie Muldoon, it made for a pretty great game of "This or That." Team number one was Ellie and Kate facing off against team number two,  Jaden and Callie.
  The rules were simple. When given a "This or That" question, Kate and Callie had to match the answers to what they think their pitchers were going to say. In round two, Ellie and Jaden had to match what they thought their catchers were going to say.
  Some questions were softball related and some were just for fun and good laughs.
  In round one, catchers Kate and Callie are trying to match their answers to Ellie and Jaden's.
  In round two, pitchers Ellie and Jaden are trying to match their answers to Kate and Callie.
  Here were the questions and which team got them right:
Round One-
Ellie's Answers:
Batting or fielding?
Ellie: Batting
Day or night?
Ellie: Night
Dogs or cats?
Ellie: Dogs
Home or away games?
Ellie: Home
Bunting or swinging?
Ellie: Swinging
Kate's Answers:
Batting or fielding?
Kate: Batting
Day or night?
Kate: Day
Dogs or cats?
Kate: Dogs
Home or away games?
Kate: Home
Bunting or swinging?
Kate: Swinging
Callie's Answers:
Batting or fielding?
Callie: Batting
Day or night?
Callie: Night
Dogs or cats?
Callie: Dogs
Home or away games?
Callie: Away
Bunting or swinging?
Callie: Swinging
Jaden's Answers:
Batting or fielding?
Jaden: Batting
Day or night?
Jaden: Night
Dogs or cats?
Jaden: Dogs
Home or away games?
Jaden: Home
Bunting or swinging?
Jaden: Swinging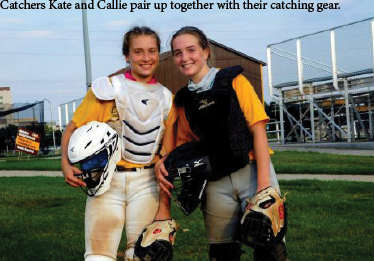 Round Two-
Ellie's Answers:
Fruits or vegetables?
Ellie: Fruits
Pop or country music?
Ellie: Pop
Fly or ground balls?
Ellie: Fly
Math or English?
Ellie: Math
Coffee or Soda?
Ellie: Coffee
Kate's Answers:
Fruits or vegetables?
Kate: Fruits
Pop or country music?
Kate: Country
Fly or ground balls?
Kate: Fly
Math or English?
Kate: Math
Coffee or Soda?
Kate: Coffee
Callie's Answers:
Fruits or vegetables?
Callie: Vegetables
Pop or country music?
Callie: Country
Fly or ground balls?
Callie: Fly
Math or English?
Callie: Math
Coffee or Soda?
Callie: Coffee
Jaden's Answers:
Fruits or vegetables?
Jaden: Fruits
Pop or country music?
Jaden: Country
Fly or ground balls?
Jaden: Fly
Math or English?
Jaden: English
Coffee or Soda?
Jaden: Coffee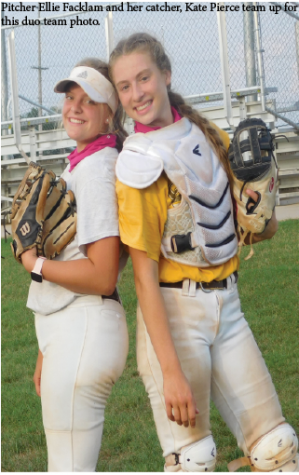 After playing the game, all four softball girls had a small interview, and here is what they had to say:
 Ellie Facklam: Softball Pitcher
  How long have you been playing for Kickapoo's softball team?
  "This is my fourth year playing for Kickapoo."
  What are your opinions on Kate?
  "The team would not be the same without Kate. She is the team comedian and one of the hardest workers on the team."
  Out of all the positions, why do you pitch?
  "I pitch because I like to be in control of the game and it is a high action position."
  What has been your favorite part of playing for Kickapoo?
  "My favorite part about Kickapoo is getting the opportunity to compete and play alongside my best friends."
  What are your thoughts on this season so far?
  "We have started the season off very well, and we hope to continue our success for the rest of the season."
Jaden LaBarge: Softball Pitcher
  How long have you been playing for Kickapoo's softball team?
  "This is my second year playing at Kickapoo."
  What are your opinions on Callie?
  "Callie is one of my best friends and I love having her behind the plate because she knows me, and we connect so well."
  Out of all the positions, why do you pitch?
  "I started pitching from a coach telling me I would be a good pitcher. I just stuck with it until now because I am not one to quit things, and I also love being a part of every play."
  What has been your favorite part of playing for Kickapoo?
  "My favorite part of playing for Kickapoo is playing with my great teammates and playing for amazing coaches who have pushed me and made me the player I am today"
  What are your thoughts on this season so far?
  "So far this season is going really well. I am kinda sad that because of COVID a couple of our really good tournaments got cancelled, but I am just glad we have a season as of right now."
Kate Pierce: Softball Catcher
  How long have you been playing for Kickapoo's softball team?
  "I have been playing Kickapoo Softball for 3 years."
  What are your opinions on Ellie?
  "Ellie is one of the best pitchers/players that I know. Ellie always keeps me laughing and having a good time during practices and games. She is my best friend and I can't imagine softball and life without her."
  Out of all the positions, why do you catch?
  "I catch because I love getting the opportunity to be involved in every play on the field. Catching allows me to be the coach on the field and I love getting to be a leader for my team."
  What has been your favorite part of playing for Kickapoo?
  "My favorite part about playing for Kicapoo is getting able to play with the most amazing coaches and teammates. My teammates are truly my best friends and we always have so much fun together when we play."
    What are your thoughts on this season so far?
  "So far, we are having a really great season, and I can't wait to see where our season takes us."
Callie Muldoon: Softball Catcher
  How long have you been playing for Kickapoo's softball team?
  "I have been playing at Kickapoo for 2 years now."
  What are your opinions on Jaden?
  I think that Jaden is such a hard worker, loves to win, and is in love with the game. She always has fun when she's playing and makes the most out of every game, and I'm proud to call her one of my best friends."
  Out of all the positions, why do you catch?
  "I was put into catching when I was 12 because my coach thought I would be good at it, and I've loved it ever since!"
  What has been your favorite part of playing for Kickapoo?
  "My favorite part about playing for Kickapoo has been being able to meet some of my best friends on the team and having such amazing coaches that help me become a better player and person everyday."
  What are your thoughts on this season so far?
  "I think that this season we are gonna go to state! We have such an amazing group of girls that are so talented and I think that if all of us set our minds on winning each game at night, we are going to be unstoppable! We have two amazing pitchers and great seniors that will lead us there!"
  A pitcher and catcher's relationship is what completes the team. Ellie, Jaden, Kate, and Callie clearly support each other extremely well.
  They all have a deep bond and a close friendship. Along with the other girls who play their positions, Kickapoo's softball team is a close family.  
  If you want to support these girls plus the rest of Kickapoo's softball team, go show them some love at their games.
  Go Chiefs!