The Aftermath of Hurricane Ida
Hurricane Ida recently made landfall in the United States, creating unimaginable damage and loss for citizens across Louisiana all the way to New York.
As of October 5th, at least 57 lives have been lost in the Northeast, as the remains of powerful Hurricane Ida sent intense storms with multiple tornadoes ripping apart the North East.
"We're enduring an historic weather event tonight with record breaking rain across the city, brutal flooding and dangerous conditions on our roads," tweeted Bill de Blasio, the New York City Mayor.
New York City officials warned all non-emergency vehicles to stay inside and off the streets after a travel ban ended, which was initiated in an attempt to keep the city's citizens safe. New York and New Jersey Governors, Kathy Hochul and Phil Murphy both declared a state of emergency.
"Stay off the roads, stay home, and stay safe," Murphy said.
Central Park, Newark, and New Jersey all received more than three inches of rain in one single hour, which is the most ever recorded there according to NBC News meteorologist, Bill Karins. The results of Hurricane Ida are tearing through the North East and the aftermath of it is devastating. But, the damage where Hurricane Ida first made landfall is much more catastrophic. Hurricane Ida first hit Cuba on Friday, August 27th, Cuban citizens witnessed Ida's 80 miles per hour winds. Fallen trees and destroyed buildings are the remains of the storm. Fortunately, over 10,000 Cuban residents were able to evacuate, and there are currently no reported deaths in Cuba from the brutal storm.
Hurricane Ida hit Louisiana, on Sunday, August 29th, primarily targeting Port Fourchon. Coincidentally, Hurricane Ida made landfall exactly 16 years after Hurricane Katrina in 2005.
When Hurricane Ida did hit Louisiana, it came roaring in as a Category 4 with 150 mile per hour winds and a barometric pressure of 930. Only 7 miles per hour under a Category 5.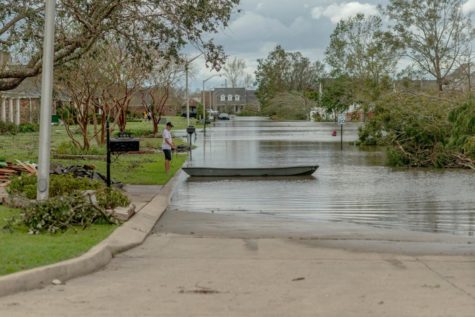 Hurricane Ida Timeline-
   Hurricane Ida started as a tropical storm and developed into a Category 2 hurricane in the Caribbean Sea on August 28th, 2021. Unfortunately, the storm gained speed and power, resulting in Ida sustaining wind speeds of 105 miles per hour. On August 29th, Ida continued to gain strength with the help of the warm ocean waters. Around 11:55 a.m. CDT, Hurricane Ida hit Southern Louisiana with two category levels higher than the previous day.
Damage of Hurricane Ida-
   After Ida made landfall, the aftermath was devastating. AccuWeather estimates damages and economic loss to reach between 70 to 80 million dollars, but that is just the beginning. Over one million people were left without power, including the entire city of New Orleans. Officials expect the power outage to last at least a week. Entergy, a New Orleans based power company, sent out 20,000 workers in an attempt to restore the power outages as quickly as possible. The storm took out at least eight power transmission lines, one of them even crashed into the Mississippi River. There are a reported 977,000 homes and businesses without power in Louisiana. In Mississippi, more than 37,000 citizens are struggling in the summer heat without access to electricity.
With Hurricane Ida being the fifth largest hurricane to crash into the United States, flooding and damage is completely expected. Intense flooding rushed through the lands of Louisiana sweeping cars off the roads resulting in many automobile accidents. Two people tragically died from a collapsed highway in Louisiana. In New Orleans, another driver's life was taken from drowning. Though thousands of people are struggling with power outages and building damages from the storm, other issues are arising. Gas and water shortages are on the rise. In Louisiana, gas is scarce due to a large percentage of gas stations simply running out. On August 31st, 35.2 percent of gas stations in Baton Rouge did not have gasoline. In New Orleans, almost 30 percent of gas stations ran out of fuel too.
On top of everything else, clean water is running low. After Hurricane Ida struck, 18 water systems went out, affecting more than 312,000 people according to CNBC News. Some of the water systems that are open are not serving clean water either. 14 other water systems, who distribute water to 329,000 people, are all under boil-water advisories, reports the Associated Press. Water is not only crucial in a normal day-to-day lift, but with added heat advisories in the south, water is even more important.
"Heat advisories were in effect for some parts of Louisiana and Mississippi, where heat index values could reach up to 106 degrees," CNBC News said.
From the most southern parts of Louisiana to north-east New York, the effects of Hurricane Ida were felt everywhere. Millions of United States citizens will be recovering from this tragic storm for many months to come. But, people who were not as affected from the storm are doing their best to speed up recovery.
Helping Hands-
Many organizations are sending volunteers to help assist with the damage and send much needed supplies. One Springfield based organization, Convoy of Hope, has helped tremendously with the supply  shortage. On August 27th, Convoy of Hope pre-positioned relief supplies.
"With Ida forecasted to be a major hurricane, Convoy of Hope's Disaster Services team is preparing supplies and equipment to deploy ahead of the storm to help those affected as quickly as possible," said Senior Director of Convoy's U.S. Disaster Services team, Stacy Lamb.
Lamb reported Convoy of Hope had a distribution of 815 cars to help 815 families. The cars were filled with water, food, hygiene supplies, baby supplies, and ice. The Convoy of Hope foundation is not the only organization sending out help to victims of Hurricane Ida, Red Cross is also stepping out and reaching out. Thursday, August 27th, around 430 people stayed in 13 different Red Cross shelters across Virginia, Maryland, Pennsylvania, New Jersey, and New York. And in the south, 2,400 people stayed in 29 shelters across Louisiana, Mississippi, Alabama, and even Texas. The Red Cross sent out 750 members to Louisiana to support relief efforts. With the worst damage in the south, Red Cross is doing their best to provide meals.
"With the help of partners, Red Cross has already provided some 49,500 meals and snacks and has distributed more than 16,000 relief items," says Red Cross's website, redcross.org.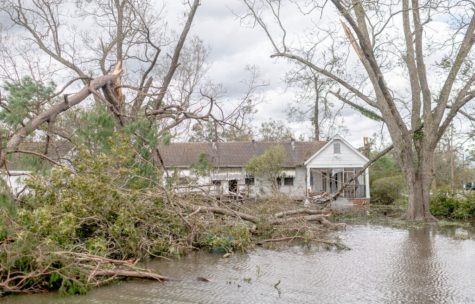 Ways You Can Help-
Red Cross: text "Ida" to 90999 to make a 10 dollar donation.
Salvation Army: call 1-800-725-2769 to donate your preferred amount or donate through mail. Label your package "Disaster Relief for Hurricane Ida," and mail to the following locations.
Eastern Territory: 440 West Nyack Rd. West Nyack, NY 10994
Southern Territory: PO BOX 1959 Atlanta, GA 30301
St. Bernard Project: visit 2020responce.funraise.org and click "Donate," to send in your preferred amount.
With historic damage across the country, organizations are doing what they can to help. Though, organizations can only do so much. It's not going to be easy, but with your help, the road to recovery can be sped up and your donation could change a person's life.
With fingers crossed and spirits hopeful, citizens across the nation hope for a quick recovery of the demolished towns. Hopefully soon Hurricane Ida survivors can return to the places that they used to call home and be united once again.