The Creative Trends of 2020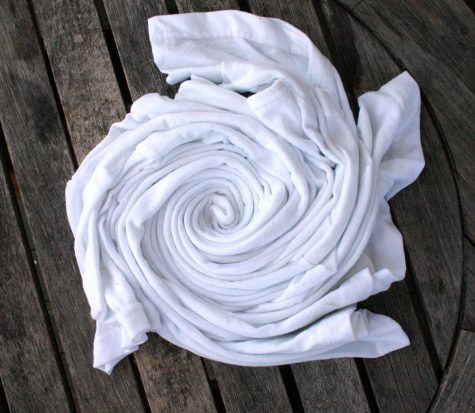 Tie Dyeing Is Back!
Try tie dyeing with fabric dyes or bleach, for an original look! Make sure to wash any new shirt before you tie dye it, and that the shirt is 100% cotton. Pick something light-colored if you are wanting to use fabric dyes. If you are using bleach, choose a dark-colored shirt. 
Simply spread the shirt out, pinch the center between your thumb and pointer finger, twist until the shirt is in the shape of a disk, and wrap it up in rubber bands.
Try to find tie dye-specific fabric dyes that do not require soda ash, if it does, it'll take a lot more time and effort. You can find these at most large craft stores.
Apply the dye or bleach onto the shirt as desired, and put it into a plastic bag for twenty-four hours. If you are using bleach, you can wait 15 minutes to an hour instead.
Finally, rinse the shirt under cool water until the water runs clear, wash in the washing machine on the cold setting, and dry.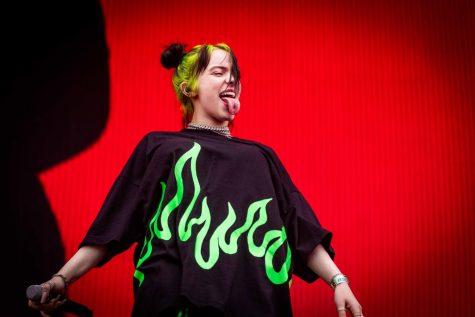 Dye your Roots!
Billie Eilish's signature "root pop" has taken the world by storm. Here's how to do it yourself!
This will require bleach if you have darker hair. There is a risk of chemical burns here, so please be careful.
If you have naturally very light hair, you can skip the bleaching step.
If you have darker hair, you will want to buy your bleaching products at a beauty store to ensure the best quality, and the best look. You will need: bleach powder, crème developer, toner, red gold corrector, purple shampoo, a tint brush, a bowl, and some plastic wrap.
For a tip, buy an extra bleach pack and crème developer just in case you run out early. Some people's hair will absorb the bleach quicker than others.
Before applying bleach, deep condition first to protect your hair.
This step is very important: Test for allergies. Dab a small bit of the bleach solution on the skin behind your ear and wait 24-48 hours. This can be tedious, but it can save you a serious rash, or much worse.
For a tip, protect yourself. Wear gloves, cover your hairline in vaseline, and cover yourself in towels.
Divide your hair into manageable sections with clips, and apply the bleach. You should start by applying a generous amount along the roots, and using the brush to quickly pull the solution down.
Next, cover your hair in plastic wrap, and check the progress of the bleach every several minutes.
When it is light enough, use cool water to rinse all the bleach out, then use special shampoo for bleached hair. Then, dry your hair to see if the color has lifted enough. 
If you want to use toner, mix and apply it to your dry hair now, wait 30 minutes, rinse with cool water, and wash your hair again.
Now, it's time to dye your roots.
Make sure you protect yourself and your clothes from stains. Wear old clothes you do not care about, because it will be very messy. Drape yourself with towels, apply vaseline to your hairline, and put on some gloves.
Mix the dye, divide
your hair into small sections using clips, and get ready to apply the dye.
Use a brush to apply the dye to your bleached roots. Generously apply to your roots, then use the brush to pull the dye down.
Wait about 30 minutes, or as directed, then use cool water to rinse the dye out, leaving it in too long can cause skin irritation, and shampoo and condition your hair with dye-safe shampoo and conditioner.
Disclaimer: This look is honestly not the easiest to accomplish on your own. It's best to go to a professional.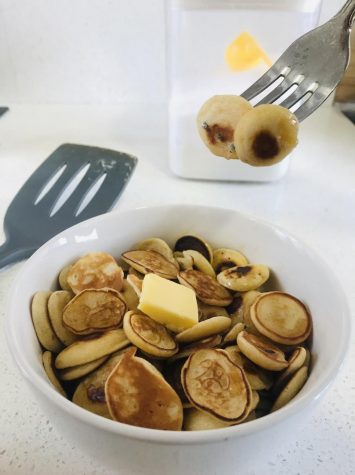 Pancake Cereal
Pancake cereal is not really cereal. It is actually a bowl of tiny pancakes that are drenched in butter and syrup.
First, you will need batter. A simple pancake batter recipe is a cup of flour, 2 tablespoons of sugar, 2 teaspoons of baking powder, 1 tsp of salt, an egg, a cup of milk, and 2 tablespoons of vegetable oil. Just mix all of that up, oil a pan, and turn the heat to high.
You can pour the batter into a plastic bag, push it all into a corner of the bag, and snip a small bit of the corner off. 
Use the bag to create as many tiny circles of batter as you can fit onto the pan. When they start to bubble, you can flip them. Leave them on the stove until they are all golden brown.
When you are done, pour the tiny pancakes into a bowl. Then, pour syrup, put a small square of butter into the bowl, and mix it all up.
Trouble With Stunts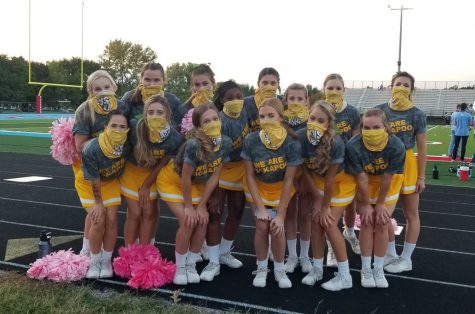 For the past seven months, cheerleading practice has been held every week, as the team works hard to perfect modified and new cheers and dances. Junior Varsity practice is held 3pm to 4:30pm every Monday, while Varsity practices are Fridays from 3pm to 4:30pm.
     During practices, the team reviews and rehearses cheers and dances to perform on the sidelines of games. They are unable to perform many of their popular cheers and stunts, due to state guidelines governing the Coronavirus, including social distancing and CDC (Center for Disease Control) guidelines.
     "I'm really sad we're unable to stunt, stunting is my favorite part of cheer," said Sophomore Amber Kwon.
     While they are not allowed to perform in close-contact with one another, they have adapted new ways to encourage school spirit during games. With new cheers, dances, and overall pep, they have kept spirits up during difficult times.
     "I totally get why we aren't allowed to stunt. While stunting, we're very close to each other, so spreading Corona between the people in the stunt groups would be very easy," Kwon continued.
    While the team cannot attend any competitions this year, they have committed to perfecting their cheers, and improving at every opportunity. They strive for better cheers, sharper motions, and more energy at every practice and game.