Trouble With Stunts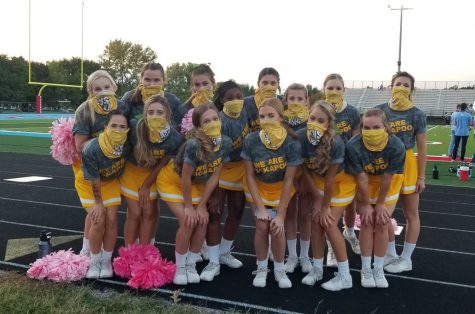 For the past seven months, cheerleading practice has been held every week, as the team works hard to perfect modified and new cheers and dances. Junior Varsity practice is held 3pm to 4:30pm every Monday, while Varsity practices are Fridays from 3pm to 4:30pm.
     During practices, the team reviews and rehearses cheers and dances to perform on the sidelines of games. They are unable to perform many of their popular cheers and stunts, due to state guidelines governing the Coronavirus, including social distancing and CDC (Center for Disease Control) guidelines.
     "I'm really sad we're unable to stunt, stunting is my favorite part of cheer," said Sophomore Amber Kwon.
     While they are not allowed to perform in close-contact with one another, they have adapted new ways to encourage school spirit during games. With new cheers, dances, and overall pep, they have kept spirits up during difficult times.
     "I totally get why we aren't allowed to stunt. While stunting, we're very close to each other, so spreading Corona between the people in the stunt groups would be very easy," Kwon continued.
    While the team cannot attend any competitions this year, they have committed to perfecting their cheers, and improving at every opportunity. They strive for better cheers, sharper motions, and more energy at every practice and game.