Kickapoo Journalism Wins Big in DC
Journalism has done it again. While they do not like to toot their own horn as much as they would like, they have done very well at their last competition in Washington D.C. There were thousands of other yearbook and magazine students at the convention and KHQ was able to win over seven titles overall. There were over 20 different competitions and the students all won individual titles in all different categories. The competition went on for approximately five days and it was stationed in the heart of Washington D.C. Along with the competition was also a numerous amount of classes that the students could attend. There were writing sessions, photography lessons, and all of the above. Students were given the option to attend these classes before the competition began to help them later on with their publication. The next convention will take place in Nashville, Tennessee in the spring.
FBLA Hopes to Win Again
FBLA has been competing and winning national awards for several years. The team recently came back after a long and vigorous competition in Denver, Colorado. These competitions include over 70 different events that students can compete in. The events can differ from taking a test about a certain topic, performing in front of judges, or creating projects using video and games. "There is a really good variety for everyone participating," Mr. Wooderson, leader of FBLA said. The handpicked judges of these competitions are either business professionals of teachers from around the state. Students compete at districts, then advance to state, and to nationals if they're lucky. "The top five in districts go to state. Top one in performance goes to state, and if they advance from state they actually get paid to go to nationals and compete," Wooderson said.
This summer the competition is in Salt Lake City, Utah. The following year it will be held in Anaheim, California. Though FBLA just got back from Denver, their work won't stop. There were 21 students who went to the conference in Denver and they plan on having at least that number or even more competing in Salt Lake. "In Denver they only went to conferences. They are now doing practice tests and practicing performances in front of me to prepare to compete," Wooderson said. Wooderson plays a very large part in making sure his students are ready. He plans on taking about 40 or 50 students to state and hopefully around 20 students to nationals if they're lucky. "We currently had 7 students make top ten in the country last year," he said. The competition goes all spring.
While they prepare for competition, the club is still running as usual. Since the competition runs all throughout the spring, they also want to work with more volunteer organizations. They are doing valentine boxes in February for Valentine's Day, which is a major project that they do almost every year. FBLA meets every other Thursday, and have been since the beginning of the year. While they are working on competition, and even after that, they plan on working just as hard to be successful in every competition that comes in the future.
"You're a Wizard, Harry!"
Harry Potter Club is a new and upcoming club that began this past school year. The club meets every Wednesday after school for roughly 30 minutes. There are ten permanent members, and three club leaders. Senior Paige Fintel is the club founder, and thought of the idea with two of her friends, Katelyn Egger and Alex Schmidt. The club meeting begins with a fact about Harry Potter. Then they discuss a futuristic question that is different every week.
The members are working on designing t-shirt designs that embody the clubs message. In the meanwhile, they are planning a Sorting Ceremony. In the first Harry Potter movie, each individual student is sorted into one of the four houses: Gryffindor, Hufflepuf, Slytherin, and Ravenclaw. These houses reflect the students personalities and individual interests. The club wanted to recreate this ceremony as close as possible. Paige rented out the Library Center's teen section for the ceremony, and it is set to take place on October 23 from 5-8 PM. Since they do not have a real Sorting Hat, they have a squid hat to take its place.
After the meeting I spoke with Paige about the beginning of the club. One thing that she really wanted to stress to newcoming members would be, "We do a lot of crafts and activities. It's a lot of fun and it's only 30 minutes." The other leader of the club chimed in by adding, "You really don't have to know anything about Harry Potter. It's more of a social experience than anything" Schmidt.
Let's Make Some Popcorn! (Correctly)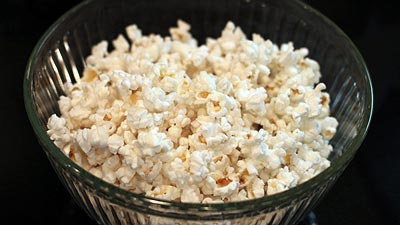 One might say that making popcorn is an easy task, but if you're a student at Kickapoo High School, you would realize that that is not the case. Students believe that if they press the popcorn button on the microwave, then in five minutes their popcorn will be perfect. But in reality, five minutes is way too long, and your popcorn will be burnt to a crisp. This is a step-by-step guide to making popcorn, and not burning it and setting off the fire alarm. First step, pick out the perfect popcorn bag; whether that be buttered or salted, the kind of popcorn is the most important process. Second, approach the microwave. Once you have gotten to the microwave make not to immediately click the popcorn button, no matter how tempting it may be. Third, open the popcorn bad and look at the instructions on the back of the popcorn and look at the cook time. Then lastly, place the bag in the microwave and type the time on the back of the bag into the microwave and voila! You should have perfectly cooked popcorn and the fire alarm shouldn't go off.