Kickapoo in the Community
KARE Team
This year, the Kare Team helps out in the food pantry and provides meals for families throughout the Kickapoo community. Each month, members go into the food pantry and check expiration dates and keep it organized. This Christmas season, they have partnered with Parkcrest Baptist Church to create bags of food for families in need. The Kare Team is all about giving back to the community and helping out others in need.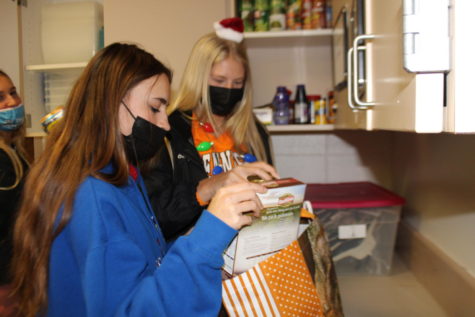 Abby Bilbao and Campbell Wilson, members of KARE team, are filling bags with meals for families in need. Photo courtesy of Gracie Marsh.
National Honors Society(NHS)
This Christmas season, members of National Honors Society have been bell ringing and collecting money for the Salvation Army. These students went all around town to different stores like Sam's Club, Walmart or Battlefield Mall. The Salvation Army is a great organization that helps out many people in need. It only takes a few dollars per person to make a difference. Many members of NHS enjoy helping the Salvation Army to be able to make a change in a person's life. "I like bell ringing because it is a way to welcome the holiday season, help others in need, and spend time with other people. All the money raised will help feed, clothe, and house individuals in need around the community," senior Bekah Eatherly said.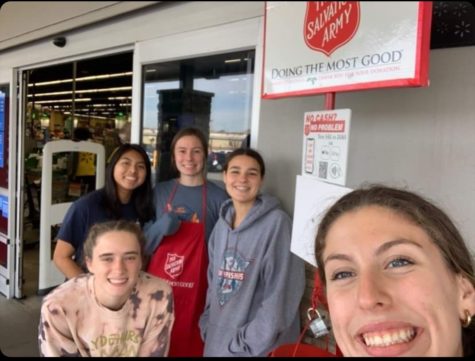 Members of NHS participate in the Salvation Army bell ringing outside of a local Walmart. Photo courtesy of Bekah Eatherly.
Fellowship of Christian Athletes(FCA)
Fellowship of Christian Athletes is a club that meets Monday mornings to share meaningful devotions and read stories from the bible. This season, FCA is spreading holiday cheer by writing holiday cards to teachers at Kickapoo. They are decorating them with markers and fun colors and making them personalized to their favorite teachers.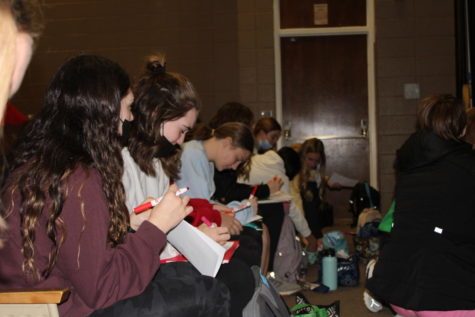 FCA members decorate holiday cards for Kickapoo teachers. Photo courtesy of Julia Klein.
Choir
Kickapoo Choir had their main holiday concert on Monday, December 13th. This concert included the Concert Choir, Chamber Choir, Acapella, and Chorus II. The Freshman choir concert was on Monday, December 6th. The choirs sang holiday songs and wore fun holiday clothing. The students wore their traditional golden robes but underneath several members wore holiday sweaters and socks. The Chamber Choir also went to surrounding middle schools and elementary schools to spread holiday cheer through singing festive songs.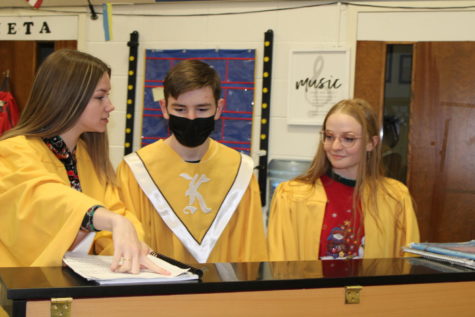 Choir students Makenna Rowe, Connor Rowe, and Lilly McGowan prepare for their holiday concert. Photo courtesy of Julia Klein.
Family Career and Community Leaders of America(FCCLA)
In honor of the holiday season, Kickapoo's own FCCLA has worked to put together cookie decorating kits for Kickapoo families as a fundraiser. "We are getting ready to finish our first fundraiser, which is a Christmas cookie decorating kit that Kickapoo parents and maybe even students can buy to decorate sugar cookies with their families during the holiday season." sophomore Kaci Perry said. They started taking orders for the kits in November and have been hard at work throughout the month of December prepping the kits for distribution. In the week leading up to distribution (which took place on December 15th), the group prepared cookie dough and started making them in different shapes and sizes. Each kit came with 8 cookies, 3 bags of icing, and two containers of sprinkles, all prepared by students. The members of this club have prepared each and every aspect of the kits, from designing the packaging to the promotion fliers, and the contents themselves.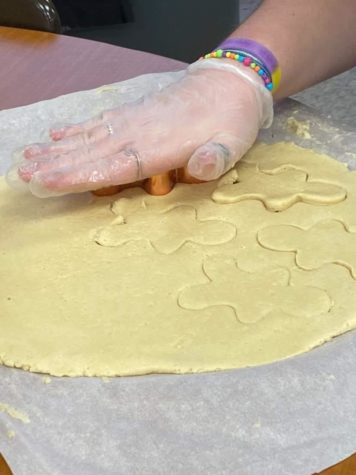 Students prepared every aspect of fundraising cookie kits, from hand making the dough, the icing, and designing the packaging. Photo courtesy of Kaci Perry.
Key Club
Students in Key Club held a basket drive for Birch Pointe Health and Rehabilitation Center for the majority of December. Members collected diabetic socks, blankets, hot hands, no slip fuzzy socks, small lotion bottles, decks of cards, crossword puzzles, pencils, and sugarless gum. Every week they worked to put the baskets together to surprise the seniors. Members of this club are passionate about helping others, and think there is no better time than the holiday season to do that. These baskets will be dropped off before winter break starts.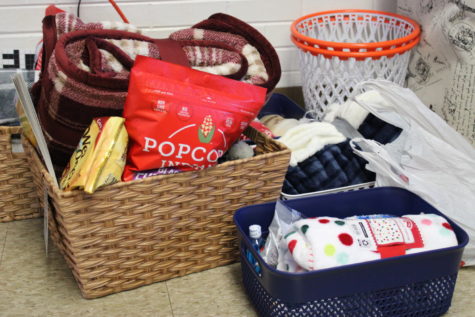 Key Club's care-packages will be dropped off to the resident's Birch Pointe Health and Rehabilitation Center. Photo courtesy of Caylee Howser.
Fine Arts assembly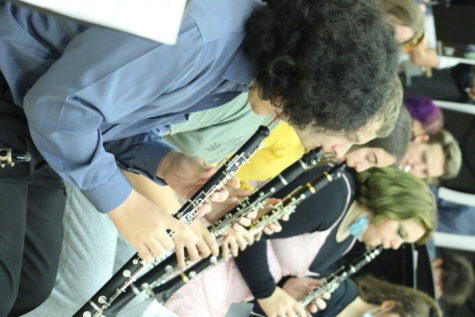 Kickapoo's Advanced Band performs during the Fine Arts Assembly. Photo courtesy of Emilia Belcolore.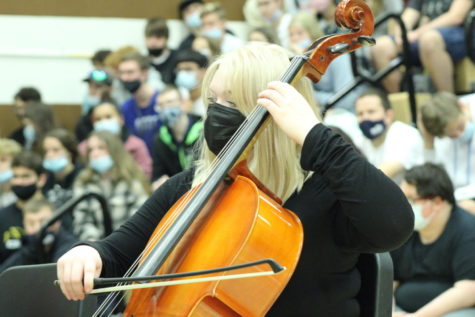 Amber Blake plays the cello as a part of the Kickapoo Orchestra during the annual Fine Arts Assembly. Photo courtesy of Emilia Belcolore.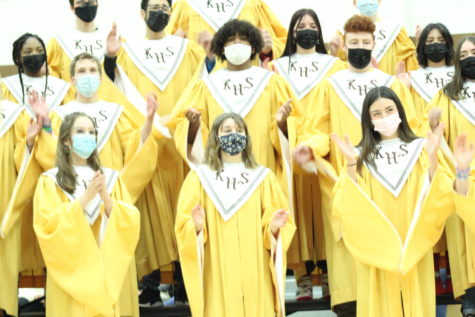 The Chamber Choir sings holiday songs with fun choreography during the Fine Arts Assembly. Photo courtesy of Emilia Belcolore.
HOSA
This season, the students of HOSA are selling Santagrams to raise money for Be The Match. A Santagram is a note that includes a candy cane that students can buy and send to a friend. Be The Match is an organization that fights against blood diseases and sicknesses.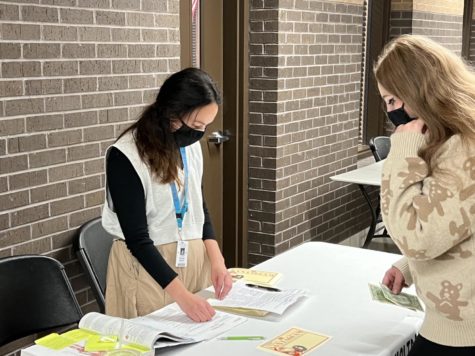 Polaris Rissler, a HOSA Member, is talking to Hailey McSparren about what a Santagram is, where their money is going and what the organization is fighting for.
Spanish Club
Members of Spanish Club visited the Lakewood Senior Living on December 16th to sing Christmas carols to the residents. The students sang festive holiday songs like Silent Night, Rudolph the Red Nosed Reindeer, and Feliz Navidad. They sang in both English and Spanish and gave Christmas cards to the residents of the home.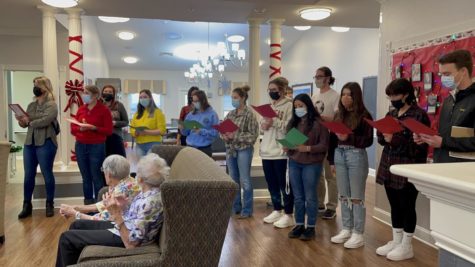 Students a part of Spanish Club sing to residents of a senior living home to give back to the community this holiday season. Photo courtesy of Gracie Marsh.