Kickapoo Theatre Presents: Bright Star
Kickapoo Theatre will be performing the Broadway musical, Bright Star, by Steve Martin and Edie Brickell starting Thursday, May 6th. The Kickapoo Theatre program began working on the show in January hoping to be able to perform it before the end of the school year.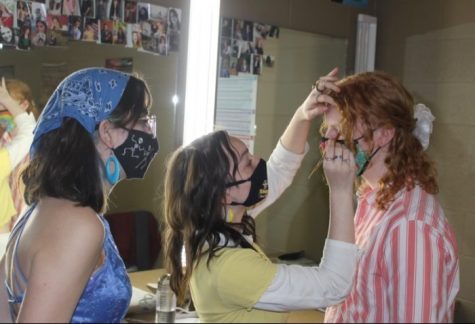 Although, COVID-19 made for limited seating, the show must go on! The performances will be in Kickapoo's Performing Arts Center at 7 p.m. May 6-8. Tickets are being sold to students at lunch for $6 however, they will be available for purchase at the door.
"Having a chance to perform for people who have been stuck in their house for months on end is what has been exciting the cast the most" Senior, John Ogden said.
The Kickapoo Theatre program would appreciate your attendance at Bright Star!
Cast List
Alice Murphy- Anna Riemenscheider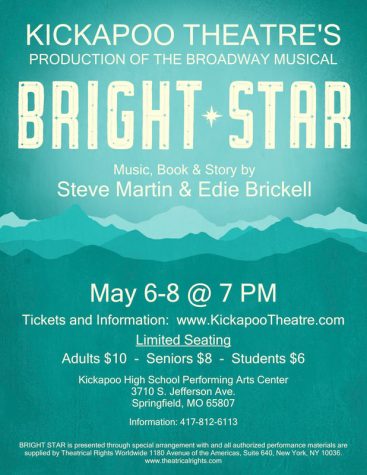 Billy Cane- Caden Rowe
Daddy Cane- CJ Wears
Margo Crawford- Jamie McCarty
Max- Garrett Fraher
Florence- Katie Penkalski
Edna- Trinity Talmage
Daryl Ames- Christian Byndom
Lucy Grant- Anna Conboy
Mama Murphy- Katelyn Every
Daddy Murphy- Kenyon Aronis
Mayor Josiah Dobbs- Jonah Clenney
Jimmy Ray Dobbs- Nick Eby
Stanford- Luke Baker
Dr. Norquist- Van Erdman
Government Clerk- Tori Clifton
Well-Dressed Woman- Addison Chapman
Bookshop Girl- Olivia Bell