Scholar Bowls Road to Success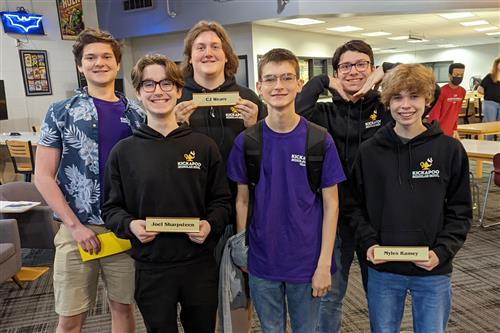 Scholar Bowl has seen a year full of success, winning multiple tournaments and making great strides toward their goals.
One of the first accomplishments the Scholar Bowl team saw was placing 6th at the Missouri Fall Academic Tournament  out of 24 of the best teams in Missouri. Scholar Bowl also received 3rd place at State, an accomplishment the group had not seen since 2019. Most recently they are preparing to send of two teams to NAQT HSNCT Nationals, which will start May 26 and go until May 29, in Atlanta, Georgia.
With great success came a lot of hard work and devotion from the teams members. "We've mainly worked on teamwork and becoming a stronger team. Our starting players: Caden Haustein, Roman Taylor, Chase Sponenberg, CJ Wears,  and Myles Ramey were all on the varsity team last year, so we mainly worked on covering our weaknesses such as literature and fine arts and working better together," Junior Caden Haustein said.
The team would place 1st at the Districts tournament against other local Class 6 teams such as Nixa, Ozark, and Republic. This win led them to sectionals which took place in Kansas City, where they won best two out of three after defeating Lee's Summit North.
State took place in Columbia, Missouri where the Scholar Bowl would be one of the four final teams in Class 6 to face off. The three other schools included St. Joseph Central, Hickman, and Parkway West.
They would beat St. Joseph Central and Hickman, but lost to Parkway West. "The top three teams all had the same record, so it went to points per game for the final game. We [Kickapoo] had the 3rd most points, so we played Hickman for 3rd place and won," Haustein said.
Later this month both the Varsity and Junior Varsity teams will head off to Nationals. For varsity Caden Haustein, Roman Taylor, Chase Sponenberg, and CJ Wears will be competing. In junior varisty Myles Ramey, Joel Sharpstein, Dave Owsley, and Matthew Hsi will compete.
With still much to come, the group is hoping for the best, and is aiming to beat the Kickapoo's record at Nationals. "We hope for our varsity team to end up in the finals, which would be the top half of teams at Nationals, this would be better than we've ever done before at Nationals," Haustein said.