Hurricanes and Heat
The damages of Hurricane Ian and what climate change has to do with it
   With this years Atlantic hurricane season comes more of the devastating storms. The most recent one to hit the mainland US is Hurricane Ian.
   Hurricane Ian made landfall in southwestern Florida on September 28th, carving a path through the state, causing immense damage along the way. 
   The severe winds of up to 150 MPH destroyed structures, the mass flooding ruined coastline property. Ian ranks in as the 5th most powerful hurricane to ever hit the mainland US.
   As the numbers come in, the true damage to this storm can be visualized. In total, 1.1 million homes or businesses lost power. As of October 4th, there are still as many as 100,000 families without power according to PowerOutage.US. Monetary damage sits at an estimated $47 billion. So far, 87 deaths have been confirmed.
   The affordable housing market in Florida was already slim, with millions living in mobile homes, as there just aren't enough houses. Ian helped to make this even worse. These trailers were not built to withstand a hurricane. 
   The destruction of a home can mean the  destruction of one's livelihood, so many families are left wondering what to do.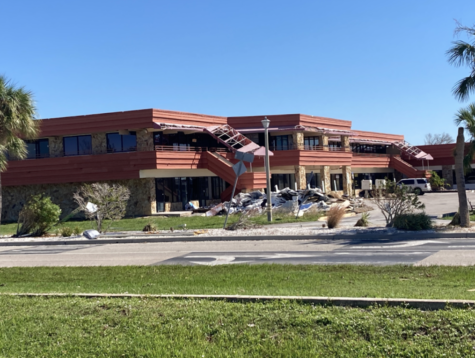 While rescue efforts have been successful in helping to save and aid those suffering the most in the aftermath of Ian, these cannot reach everyone. Some people who have lost their homes may not even return to Florida, as there's not much left for them.
   One factor that contributes to the severity of these storms behind. When warm moist air near the equator rises and evaporates into clouds, it creates an area of low pressure. Air from surrounding areas with a higher pressure rushes in to even it out, causing it to spin.
   As more air evaporates and rises into more clouds, the storm gets stronger and stronger. A general rule of thumb is that the hotter the water in a hurricane's path, the more powerful it's going to get.
  With a hotter earth comes more evaporation near the area that hurricanes form, it would make sense that this would cause hurricanes to be more powerful.
When a hurricane hits, climate change is not stressed enough.
   According to the Center for Climate and Energy Solutions, every 2℉ that the planet warms up, there is around 8% more water in the atmosphere. The extra moisture would sensibly equate to more
rainfall, and sequentially more flooding and damage. 
   Among other reasons, this is why it is imminent that not only the US, but other large carbon emitters such as China do something about the changing planet.