Kansas Expressway Extension
Expanding a main road is doing more harm than good.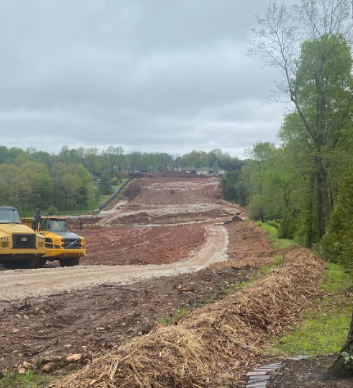 Recently, the city of Springfield has been tearing down many trees in order to make more room for  Kansas Expressway to be extended.
    There must be a different spot for this extension. There are many other roads the city could make bigger or longer, like making overpasses on Highway I60, or making the traffic lights on Campbell better.  It is not right to put people and nature through this for the next several decades.
   This project has been planned since the early 1980's but was recently started on December 22 2021. There will be two phases in this construction plan.
   The Missouri Department of Transportation (MoDOT) approved the lowest bid of $15.7 million for phase one. Phase one construction should end on November 1, 2023. Phase two does not have a price because it will start in the winter of 2023 and end in the spring of 2025.
   The contractor, Emery Sapp & Sons, are currently working on phase one which will be from Republic Road to Plainfield Road while phase two will be from Plainfield Road to Farm Road 190.
   Kansas Expressway will be a two lane road with turning lanes at intersections. Stormwater drain improvements will be made with a pedestrian and bicycle path.
   This extension might do well for traffic but it will not do well for the people who, instead of having a mini forest, will have an expressway as their  new backyard.   
   Traffic is heavy around town, so this will help with that and it will be another way to get to and from Nixa and Republic. On the downside, Greene County is harming many trees and wildlife just for a road. Tearing down trees is not only harmful to the environment but to our world and this leads to more extreme temperature swings.
   The road will be built until it reaches Farm Road 190, which is super close to River Cut and brings much more traffic into low traffic places. 
   Why not take the millions of dollars the people of Springfield are paying in taxes, and use it for places that have much more traffic than Republic Road  does?
   While there are some benefits to the extension, the cons definitely outweigh the pros.