Rock n' roll music was initially popularized in the mid-fifties by artists such as Buddy Holly, Chuck Berry, Jerry Lee Lewis, and the king of rock n' roll: Elvis Presley. 
   Rock is influenced by African-American-styled music such as jazz, gospel, rhythm and blues, and a small amount of country. Artists would take bits and pieces from the genres and mash them together to create rock. It took a few years to get the ball moving, but there was no stopping it once it did. 
   Post-World War II America gave citizens hope of prosperity for a better tomorrow and rock n' roll was just what they needed.
   African-American artist Chuck Berry released a song called "Johnny B. Goode" in 1958, which sparked his music career and the rock n' roll scene. Many of the rock n' roll scene and original artists were African-American. These artists used the rise of this music style as their breakthroughs.
   They would take rhythm and blues hits and re-record them using technological improvements such as sound mixers, electric guitars, and double-tracking techniques. Double-tracking is when an artist records either vocals or instruments, then records another clip of them performing to make it louder and more potent. 
   This technique is still used today by artists of all genres. For example, the song "Roar" by Katy Perry and "Not Afraid" by Eminem used this method in their hit songs that now have billions of streams.
   Rock was culturalized by teenagers of the fifties and sixties who were excited for a new genre of music to rock their socks off to. 
   While new voices were projected over the radio, they were typically not featured on TV. A great example of this is Elvis Presley. When he performed, his dance moves were considered provocative because he would move his hips and legs so much. 
   If he were performing on TV, they would only record the top half of his body and keep his waist and below out of frame. Girls would go crazy over his voice and interesting dance moves, which helped drive him to the top of the music charts. People of all ages quickly became enamored with the king of rock n' roll.
   As the years and decades progressed, new artists emerged and popularity rotated. During the eighties, Aerosmith, Guns N' Roses, Joan Jetts and the Blackhearts, Bon Jovi, Motley Crue, and many more took over the rock icons of the fifties and sixties. 
   These bands were considered "hair metal" due to their insane hairstyles and the clothes they would wear. They would typically start playing small gigs in run-down bars but quickly evolved into playing at sold-out arenas. 
   Fast forward roughly 40 years, many of these bands are going on their final tours or performing the occasional show. It amazes me that some classic rock n' roll bands of the eighties or older are still gracing the stage. 
   I recently saw Guns N' Roses on September 23 at Kauffman Stadium in Kansas City, Missouri. To say I was amazed was an understatement. I was completely blown away by the performance these men in their early sixties put on. 
   I was especially impressed with Axl Rose managing to hit extremely high notes after many years of smoking and drug abuse he has recovered from since.
   Slash, Axl Rose, and Duff McKagan were the only three original members of this tour, but they put on one heck of an entertaining show despite the missing bandmates. While at the show, my mom and I sat beside a married couple with their two young sons in the pit section of the stadium. They were excited to bring their sons because it was their first concert.
   When I looked over at them throughout the show, I would catch one of her sons playing the air guitar and singing along. Seeing someone younger than me jamming their heart out to some classic rock instantly made me smile. 
   That interaction had me thinking about generations younger than me and how many of them listen to classic rock n' roll. Recently, I surveyed the class of seventh graders I tutor. I combined the two classes I tutor to get a total of 37 students. 
   Out of the 37, only nine listen to rock n' roll.  After doing the math, that is roughly 24 percent. The other 76 percent listen to pop, rap, hip-hop, and other kinds of music.
   When I asked them if they listened to rock n' roll, the students that responded with "no" had looks of confusion and boredom on their faces. The results truly shocked me. I was expecting many kids that listened to rock n' roll, but those hopes were quickly squashed. 
   The kids that listen to rock, their faces lit up with joy when they heard me ask, "Raise your hand if you listen to rock n' roll."
   It made me happy to know that they may not all listen to rock, but some do. Rock n' roll can never die out. There will always be new artists in this genre.
   Greta Van Fleet is a popular band compared to rock n' roll bands of the seventies and eighties. They started to gain popularity in 2020 when a clip of them performing on Saturday Night Live a few years prior sparked fame.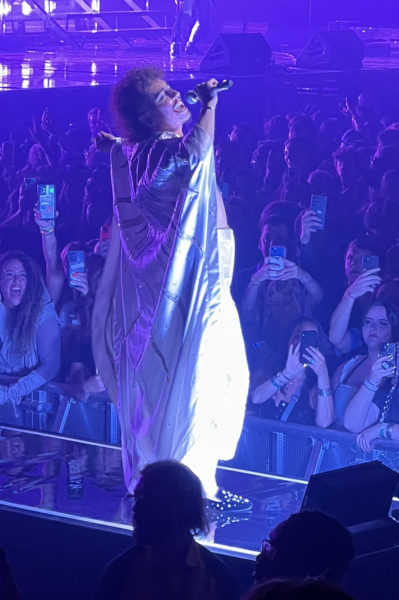 Their guitarist, Jake Kiszka, was nominated for Best Guitarist of the Year in 2022, and their drummer, Danny Wagner, was nominated for Best Drummer two years prior. Like other famous rock bands, they started off playing in underground venues, but recently played at the Kia Forum in Los Angeles, California.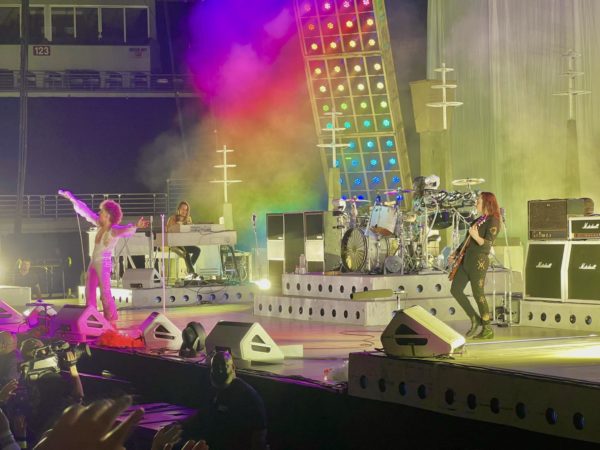 Rock n' roll might not be what it used to be, but it is still around and strong, expanding to new audiences.