Kickapoo Boys Tennis Aces Their Way to State
Kickapoo boys tennis team has been on a hot streak thus far. They took the court by storm and beat Central High School to take the district championship. Our boys tennis team beat Central 5-1 and it wasn't even a contest, after playing them in conference and losing 4-5 in dramatic fashion. Our boys team came through when it really mattered. Cayden Danzer and Patrick Terry qualified for individual state. Danzer and Terry will be competing in the state tournament as a doubles team.
Overcoming Writer's Block
Simple, yet profound ways to overcome a lack of creative inspiration.
Writer's block happens to even the best writers among us. When it takes hold, it can feel paralyzing. Whether you have a final paper due at midnight, or you're simply trying to get your creativity flowing, writer's block can be overcome. Please enjoy the following tips on overcoming writer's block from the extensive experience of a master procrastinator.
One of the biggest issues I have when it comes to writing large pieces in a short period is remaining focused. You feel helpless to accomplish what you so desperately need to do. Try…
Asking deeper questions to get engaged in the work you are doing.

Self-reflect about the root of your lack of focus. Often, I am unable to focus because of the pressure of the end goal. If you are feeling overwhelmed with focusing on a large task, ask deeper questions. Why do you feel so overwhelmed? What steps can you take, right this second, to get one step closer to the finish line? What positive result can you look forward to at the end of the task?

Think deeper about the task at hand. Struggling with Calculus or World History? Try taking a broader perspective. Then, break down what parts of the task are causing the issue for you.

Eliminate distractions.

I will say this once (speaking as much to myself as everyone else) TURN OFF YOUR PHONE. The world will not end in the time it takes for you to do your homework. Don't even use it as an excuse and say "I'm just changing my playlist on Spotify". I don't want to hear it. I have made all of these same excuses a million times. Put your phone in the furthest corner of the room and commit yourself to keep it there until you achieve what you intend to.
Attempt to fully immerse yourself in your work.

At the end of the day, accomplishing things brings satisfaction. Sit down and don't get up until the work is done. It sounds simple, but it's truly difficult. Plus, by setting aside distractions, you reinforce self-discipline. By disciplining yourself, you are showing respect for your own time, and respect for your boundaries. And when it's all said and done, overcoming work ethic obstacles removes a huge burden of stress from your shoulders.
Writer's block can set in when you are feeling uninspired. If you are looking for a way to reclaim that source of creativity, try…
Spending time outside.

Nature has so much inspiration to offer. Take advantage of that. Particularly if that assignment is a creative writing assignment, grounding yourself in nature can give you a lot of ideas to work off of when you return to work.

Read.

The very best writers read constantly. If you are having trouble with writing, try reading a piece of work from the genre you are working toward. Or simply read something you enjoy.

Listen to music.

Music is such a powerful force. It can create mental connections between memories, people, places, and ideas. Try listening to music that you associate with a particular period in your life or that you associate with the task you are trying to accomplish through writing. Ideas that you associate with this music can resurface and give you ideas for your piece.

Freewrite.

Try taking a break from the rubric. Instead, write about whatever is in your head. If particular anxiety is keeping you from making progress on your project, write about it. By expelling this anxiety on paper, it may make it easier to focus on the assignment at hand. Write without expectations and see what you create.

Get organized.

Your passion for the project you are working on may simply be drained because you feel overwhelming. Take a moment to breathe. Set aside what you have already done on the project and take a moment to truly organize your thoughts. There are many different types of visual representations that you can use to organize the concept you're tackling. Things like a flowchart or an idea web can be immensely helpful and can serve as a reference point as you progress toward the end goal.
Lastly, if all fails, take a complete mental break before easing back into the project. Get a snack, take a walk, or drink some water. Any activity that can help refresh your body physically also will help sharpen your brain for productivity. Sometimes, in the pursuit of achievement, the best thing you can do is take a moment to recenter mentally, physically, and emotionally.
The Dreadful Bathroom Rule
   Students should be able to use the restroom whenever they want. It's only natural to need a bathroom break and unfortunately the urge sometimes comes within the first 20 minutes of class and the last 20 minutes of class. 
   Since the beginning of the 2020-2021 school year, the school has enforced a rule stating that students may not use the restrooms the  first 20 minutes and the last 20 minutes of each class. This rule is mandatory for all SPS schools operating during the COVID-19 pandemic. 
   The school is taking precautions in order to keep our four days a week schedule and to prevent a major COVID-19 breakout, but is this rule really making contact tracing easier or is it just causing unnecessary problems for students?      
   Take me for example. There I am, sitting in class at 1:20 pm on a Monday, completely absorbed by the fact that I really need to pee and ignoring whatever it is my teacher just said about Picasso. 
   Unless science proves that COVID-19 only spreads within the first and last 20 minutes of class, which it hasn't done, students should be able to use the restroom whenever they need to. 
   Removing this rule, or even changing it from 20 minutes to 5 minutes, would be better than wasting away a class period trying to hold in whatever it is that needs to be done in the bathroom. 
The Power of Misinformation
Reading is believing. Right?
"
I think it's a teacher's job to teach you how to get your information but it is most definitely on the individual to go out and seek that information and for them to educate themselves."
— Hannah Laflen
Misinformation has infiltrated every part of society: through our news cycle, our social media, our political arena, and every other branch of access. It influences our very perception of the world, yet remains veiled and largely unaddressed.
Most recently, the COVID-19 pandemic and the 2020 Election have exposed the vast reach of this social issue.
However, misinformation has been prominent throughout history. Publicly-disseminated 'half-truths' arise at the very points when history is being made.
When isolated and amplified, it is this same tactic that is used to dismiss unquestionable historical events like the Moon Landing and the Jewish Holocaust of World War II.
One key distinction that must be made when it comes to false information is the line between misinformation and disinformation. Misinformation is incorrect information that is allowed to spread, oftentimes through online mediums.
Disinformation, however, according to Meira Gebel of Business Insider, is "intentionally, maliciously deceptive".
Disinformation is a form of false information that is used to manipulate the actions of the listener towards a specific outcome. Misinformation, on the other hand, is unintentionally inaccurate. Misinformation may seem less harmful, however, both forms of media lies can be easily spread by an uninformed reader.
Even readers who consider themselves to be "informed" can unintentionally aid toxic misinformation spread by sharing an unvetted source through social media. This reoccurring cycle of falsification thrives on a lack of media literacy.
Media literacy is knowing what you're sharing and where exactly your information comes from: not just according to the word of an influencer or celebrity but from tangible and backable facts.
In the 2019 book "The Power of Misinformation: How False Beliefs Spread" by James Owen Weatherall, and Cailin, O'Connor, this concept of false beliefs is heavily discussed.
One major question Weatherall and O'Connor address that we must ask ourselves is whether or not true democracy can survive in the era of false information. Because democracy is founded on principles like truth and justice when the fundamental concept of truth is uprooted, what is left of democracy?
The direct correlation between the level of trust we endow the 'truth' and our trust for others political and socially is clear. The less we trust political figures and our fellow citizens, the less we can believe facts produced by such sources.
In recent years, a general increase of individualism and a shrinking political structure is said by a Pew Research Center study to have increased over 65% of U.S. adults believe that a lack of trust in the federal government and one another makes it harder to solve problems.
The problem with misinformation is that in certain cases, even when a piece of information is exposed as false, it still has power over our culture. The misinformation that we fall prey to reveals the cognitive and perception-based vulnerabilities within our view of the world. In other words, misinformation shows us what we can and will be fooled by. The fact that we are vulnerable to certain forms of deception is terrifying and media literacy must be cultivated to combat it.
The following interviews were conducted between reporters and students Hannah Laflen (Senior), and Cooper Peck (Junior), concerning their personal opinions on misinformation and media literacy.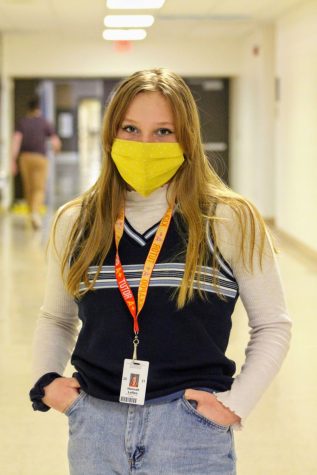 Interview with Hannah Laflen:
How would you define misinformation?
"I would define misinformation as a piece of information that is extremely exaggerated, or points fingers at someone. And obviously any blatantly false information…I think they [radicalized new sources] are one of the biggest contributors to the misinformation."
How has misinformation affected your perspective of politics?
"I have realistically been on both sides of that political spectrum. I grew up in a really conservative town with a really conservative family. And by going to school and educating myself, and learning more of what I didn't know before, I have kind of made a full one-eighty."
How do you feel about the factual discrepancy between radicalized news sources?
"I do look at information from both ends of the spectrum, CNN and Fox…It does make me angry though, that people are so critical about where you get your news information, that people have to look on both sides…and have to verify their information through multiple sources."
Do you think that a non-politicized media is possible?
"I truthfully don't think that will ever happen. I think that we are always going to have differing news sources and I think in reality that's good but I don't think there is a reality in which we will see that."
Whose job is it to teach students how to gather news in a factual and well-rounded fashion?
"I think it's a teacher's job to teach you how to get your information but it is most definitely on the individual to go out and seek that information and for them to educate themselves."
How has your involvement in government classes helped you?
"Taking government classes and AP Government has contributed to my knowledge…Knowing information from both sides, and both sources and comparing them is so important. Getting that information and educating yourself on politics in general, and widening your sources is what has given me my opinion. Having an in-depth knowledge or looking at politics and the history of politics has given me my perspective."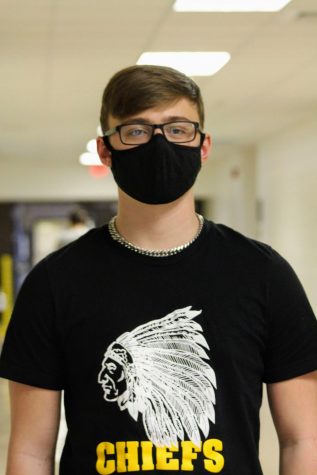 Interview with Cooper Peck:
How would you define misinformation?
"Very similarly, I think it comes down to when they [news sources] make information fit with their opinions."
How has misinformation affected the decline of trust in the media?
"It has definitely gotten worse and worse as people become more and more radicalized."
How has politics influenced your view of misinformation in the media?
"Just knowing how much bias is out there both in the media, and seeing it through events, it has made me fall more towards the middle on political ideas, simply not knowing who I can trust".
Who does the responsibility of teaching media literacy fall upon?
"I think it should take place at a younger level, but it is more of a personal responsibility you bring upon yourself…I have gotten more interested in how politics and government work but I also have a twin brother who I am around all the time and he doesn't have an interest in that stuff. It just comes down to personal responsibility and involved you want to be."
COVID-19 Tensions Rise
As possible vaccines for the deadly virus begin circulation early next week, emotional tensions continue to rise.
With the eagerly anticipated approval of Pfizer's Covid-19 vaccine by the FDA, tensions regarding Covid-19 are continually spiking nationwide. Among the public, there are widespread fears concerning the effectiveness of the vaccine along with the possible side-effects it may reap.
According to the frequent incoming updates by various newspapers, including CBS News, the FDA approval is coming "rapidly" which would allow people to start receiving the first dose of the vaccine as early as Monday or Tuesday of the incoming week.
However, with new hope on the horizon, the need for vigilance is even more important. Within the last week, rising tensions here have reaffirmed the need for social distancing and masking in large public gatherings.
Over this last weekend and into Monday, local pentecostal congregation James River Church has come under heavy criticism for conducting their annual Christmas services. Although church officials confirmed that temperature checks and various forms of precautions were in place, photos of the event sparked outrage. In these photos, congregants are shown closely seated, many of the maskless. Although some families opted to socially-distance, the church's negligence has been a highly charged issue.
Local Health Department Director, Clay Goddard, spoke out on the actions of the church. He is quoted in an article by the Springfield News-Leader.
"I can't see those photos without also thinking of the images we've all seen of the impossible circumstances our hospitals are battling every day."
The anger towards James River Church is merely one instance of the tensions that are rising at continual carelessness in our region. Despite the recent anger directed at church gatherings and sports events, people are continually going to bar and attending small-scale entertainment events, despite the clear risk that it poses.
We find ourselves at the beginning of the end with the near-approval of the Pfizer vaccine. Although it may be easy to fall into reckless behavior with the security of a possible cure quickly approaching, it is so important to remain vigilant.
This is the most deadly season of the pandemic to date. Students nationwide may find it easy to lapse into thoughtless and exposure-risking behaviors because of their ability to fend off the more serious side-effects of the virus. However, young people hold a unique responsibility to ensure that they are not asymptomatically spreading this deadly virus to people who do not have the same level of security health-wise. This responsibility weighs even heavier in what may be the last stretch of this tiresome pandemic and year.
Drum Line
Drum line is currently preparing for their online indoor season. This year due to covid-19 they are not allowed to travel to shows so they are doing video recordings of their performances and sending them in for competition. They are preparing for WGI and MCCGA. MCCGA is the local circuit for drum line and color guard and WGI is national. They will be competing against about 40 groups at MCCGA, and about 250-300 groups at WGI. We are wishing them good luck as they compete this year.