Beverage Breakdown
   Starbucks. We all know it, most of us have had it, and the majority knows how popular it is. From the trends of posting each of your favorite drinks on Instagram, to visiting the mall just to get a caffeinated fix with your friends, Starbucks has become a major cultural influence. 
  However, it's time that we all had a new perspective of this mermaid mascotted café. 
  Now that it's the midst of pumpkin-spice everything season, here are some widely popular fall drinks that Starbucks has to offer. 
  These well-known autumn beverages consist of pumpkin-spice lattes, pumpkin cream cold brews, pumpkin-spice caramel macchiatos, and pumpkin-spice cremes. 
  One 16 ounce (medium) pumpkin-spice latte with whipped cream contains 280 calories.  
  A grande (medium) pumpkin-spice cold brew contains 380 calories. A medium pumpkin-spice caramel macchiato is 370 calories. Finally, a pumpkin creme has 310 calories. 
  If you're not interested in these fall drinks, then maybe the foods and their fall flavors might be more appealing.
  Starbucks ' seasonal menu offers pumpkin scones, pumpkin cream cheese muffins, and pumpkin bread. 
  Their pumpkin scone topped with sugary icing. The pumpkin cream cheese muffin is topped with pumpkin seeds. 
  However, the pumpkin bread is not a seasonal item and is available all year round.
  If pumpkin spice just isn't your cup of tea but you are still craving that fall feeling, then here are some alternative drinks. A few examples are the cinnamon dolce latte, caramel apple spice, a salted caramel mocha, and a toasted graham latte. 
  One 16 ounce sized cinnamon dolce latte holds 170 calories. A medium-sized caramel apple spice and the salted caramel mocha are both 290 calories.
  Now the cost of a few drinks. The prices for all drinks will be based on a grande (medium) size. 
  A pumpkin-spice latte a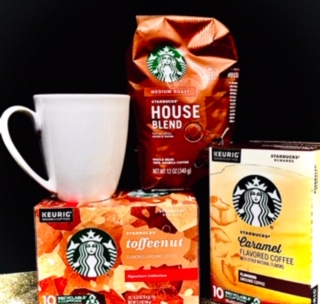 nd the salted caramel mocha are $4.95, a cinnamon dolce latte is $4.25, and a caramel apple spice is $3.45.
  If you're not interested in leaving the comfort of your own home for a Starbucks coffee, there are recipes that can use to make your favorite coffee in your kitchen. 
  If you want to make your own pumpkin-spice latte, then follow this recipe:
  Ingredients:
  ½ tablespoons of sugar
  2 tablespoons of pumpkin puree
  ½ tablespoons of pumpkin pie spice
  ½ cup of brewed coffee
  ½ cups of your choice of milk
  Directions:
  Combine all of the ingredients to a pan and mix together
  Turn the stove on medium heat and bring to a simmer
  Turn the stove off and add your beverage to your favorite mug 
  Top it with whipped cream, leftover pumpkin pie spice, and cinnamon
Enjoy
If you're craving the popular iced caramel macchiato, follow these instructions:
 Ingredients:
  1 tablespoon and 1 teaspoon of vanilla syrup
  1 tablespoon and 1 teaspoon of caramel sauce
  1 cup of ice
  1 cup of milk or milk substitute
  2 shots of espresso (or 80 ml of strongly brewed coffee)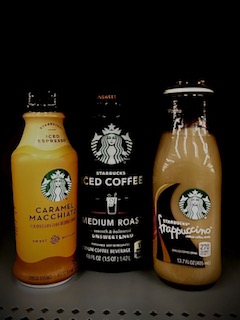 Directions:
  Combine the ice, vanilla syrup, milk, and espresso
  Mix together until it's fully blended
  Drizzle the caramel sauce over the top
  Enjoy
  Then, there is this caramel apple spice recipe:
  Ingredients:
  64 ounces of apple juice
  ½ cup of white sugar
  ½ cup of packed brown sugar
  2 tablespoons of flour
  ½ a teaspoon of cinnamon
  1 cup of water
  1 teaspoon of vanilla extract
  1 cup of heavy whipping cream
  5 tablespoons of powdered sugar
  ½ teaspoon of vanilla extract
  Dash of cinnamon 
  Caramel sauce 
  Directions:
  Add the apple juice to a large pot to warm over medium heat, but do not bring to a boil
  In a smaller pot mix the sugars, flour, and cinnamon together
  Stir in the water and bring to a light boil for 2 minutes
  Remove from heat and allow syrup to thicken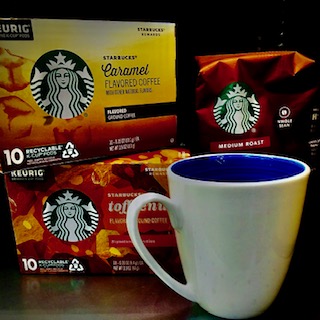 Add in the vanilla extract
  Pour the syrup into the steamed apple juice 
  Serve immediately and top with whipped cream
  Homemade whipped cream:
  Combine whipping cream and powdered sugar in a cold bowl
  Beat together with a cool mixer for 2-3 minutes on high speed until it is light and fluffy
  Be careful not to overmix
  *If desired then top the whipped cream with a drizzle of caramel sauce
Enjoy
  Starbucks seems like it's always been super popular. Whether it's the wrongly spelled names on the cups to the trendy seasonal drinks, these cafés sell just over 8,000,000 cups a day. 
  Some think that Starbucks is overpriced or it just doesn't taste good. To others, Starbucks is a passion and they couldn't imagine life without their morning cup of joe. 
  Now that nutrition facts, prices, and some DIY recipes are being revealed, it's up to the people to decide if they want to outgrow this cultural trend of Starbucks.