A Trip Across the World
Introducing two Ukrainian students who walk Kickapoo's halls.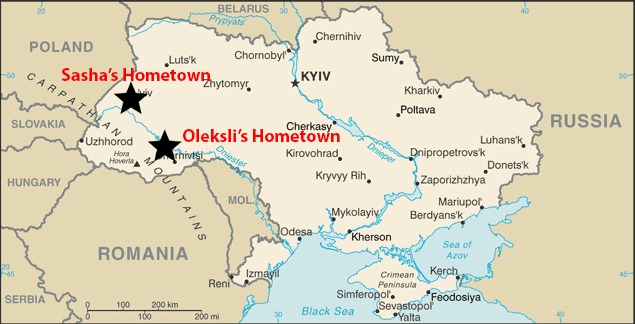 Whether you follow the news or not, the war in Ukraine is something that everyone has heard about. Reports of refugees flooding European countries, stories of citizens hiding in bunkers and shelters, and images of bombed out buildings and homes have flooded the world stage. It is no secret that the Ukrainian people have suffered greatly in the past couple of months.
As the war continues, the United States has begun letting more and more Ukrainian refugees seeking a safe place to live within our borders while their own country is in peril. From big cities to rural areas, American citizens are welcoming Ukrainians into their communities. Several teenagers from this group have settled on Springfield to become their American home, and two have found their way into the halls of Kickapoo. Their names are Sasha Pentsak and Oleksli Myktiuk.
Pentsak is 16 years old and is from the city of L'viv, Ukraine. He has been living in Springfield for one month. His path into the United States was a little different compared to other Ukrainian refugees.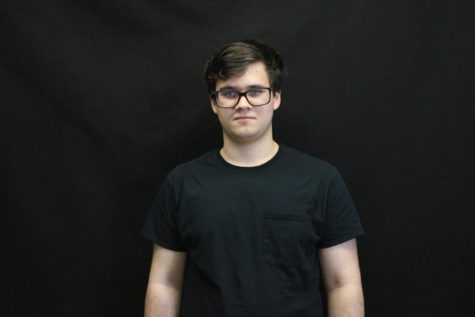 "I didn't come here through Visa, I got here over the Mexican-American border," Pentsak said. "I came here through Mexico because that is a great corridor where you can go through. It was the only place where you could go inside the US legally," Pentsak said.
Pentsak met Myktiuk at Kickapoo, when Myktiuk arrived through Visa. Myktuik is also 16 and comes from Pryvoroky, Ukraine. Myktuik has relatives in both Springfield and Portland, but his Visa sent him here four months ago.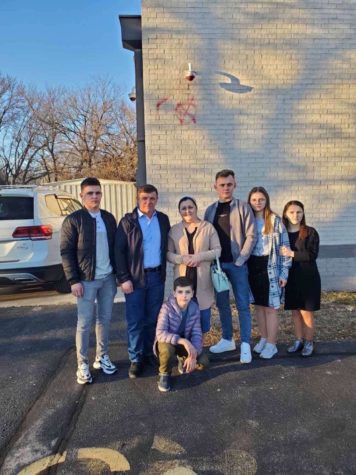 "It took 6 years to get the Visa," Myktiuk said. "I got his documents to come here. They called me out to Missouri with my Visa instead of Portland."
Pentsak and Myktiuk lived similar lives in Ukraine as American students do. They went to school, had part time jobs, and hung out with friends. However, there were some differences. Pentsak went to a specialized school that was specifically designed for kids that excelled in math and physics. Pentsak explained that his school focused specifically on these subjects, as well as English.
Myktiuk went to his village school which he said was different from Kickapoo.
"Our schools were smaller and more packed and crowded. Here it is bigger," Myktiuk said.
Myktiuk also enjoyed working outside of school, as well as playing European football.
"I worked outside of school mostly. I did remodeling inside houses," Myktuik said.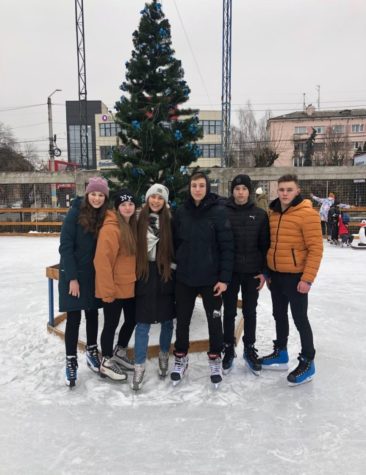 Since coming to Springfield, Pentsak and Myktuik have noticed some interesting differences between Ukraine and the United States. One, of course, is that everyone here speaks English, but there are some other differences less obvious.
"The biggest difference for me is police," Pentsak said. "The police are more armed. They have guns, rifles, not just pistols."
Pentsak also went on to describe the difference between not just law enforcement, but also the food, specifically donuts.
"The food is a little bit different," he said, "It's more sugary. When we taste donuts here it's a little bit of bread and sugar, sugar, sugar."
Myktiuk agreed with both of these descriptions, and then went on to describe the differences between the cityscape, as well as the people who live there.
"Everybody is nicer here. They'll smile. The roads here are better, and it's clean outside," Myktiuk explained.
"Everyone is a hard worker here. All of the students take it seriously," he went on, describing the students he's met at Kickapoo.
Although both Pentsak and Myktiuk's experiences in the United States have been good ones, the war still rages on for them, in their country and in their hearts. Through it all, however, they remain positive that one day they may be able to return home to a country free from Putin's grasp.
"I would quote an old Ukrainian president. Ukraine is not Russia," Pentsak said. "That's what I would want to tell people."
**Special thanks to Emily Marchuk who acted as translator during the interview.**