School Shootings Plaguing our Country Amidst the Pandemic
The silence of an unanswered question was interrupted with gunfire. A presentation that has demanded weeks of preparation cut-off by frightened screams. Just when you thought school couldn't get any worse, the intercom tone fills the hallways, "students an active shooter has entered the building," and the world as you know it changes forever.
In Kickapoo's 51 year history we have not been faced with the horrifying situation of an active shooter invading our campus. This school year alone, 16 different schools have been met with this reality that we hope to avoid. A reality that has left 31 people injured or killed. Here are a few of the most recent events along with their aftermath.
Phillips Academy Highschool
On October 12th shots were fired at Phillips Academy HIghschool as students were preparing for dismissal. Local sources say that an unidentified man opened fire from the street, aiming at the school when the school's 46-year-old security guard opened the doors to the back exit in preparation for students' dismissal which was just minutes away. Multiple shots were fired three of them hitting the security guard in the elbow, arm, and back. A 14-year-old student was also injured during the disturbance, she was shot three times in her armpit, back, and pelvis. Both victims were taken to a nearby hospital. The juvenile was in critical condition, she has since made it through surgery successfully and is in recovery. The guard left the scene in stable condition and has continued to improve since the Tuesday meeting shooting. The police have not identified the shooter and have not taken anyone into custody. They believe the shooter was a former student but it has not been confirmed.
Mansfield Timberview Highschool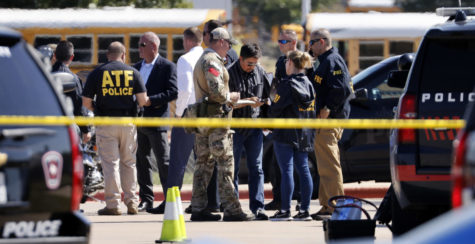 What started as a fight between two individuals ended in four people being injured, two by a gunshot wound. On October 6th two students began in a physical fight, as it progressed one of the individuals drew a firearm. This has since been identified as 18-year old Timothy Simpkins, he drew a .45 caliber gun on his 15-year-old classmate, one of the two gunshot victims. He was shot 4 times, the bullets lodging themselves in the chest, stomach, arm, and leg. As of the most recent update, the gunshot victim is in a medically induced coma to benefit his recovery in the ICU. The second gunshot victim was a 25-year-old male who is in good condition, the specifics of his injury were not released. Two more were injured in this shooting from the pandemonium that broke out following the gunfire, one was a teenage girl who was hospitalized but has been in stable condition alongside a pregnant teacher who was treated on the scene by paramedics and promptly released. The shooter (Simpkins) fled to his home after the shooting discarding his weapon on the way. His family home was raided a few hours after the shooting following a state-wide manhunt, Simpkins was then arrested. The most recent update by local authorities stated that he was being held in jail on a $75,000 dollar bond. His family has since spoken out saying the student was bullied and robbed twice in his time at school and this may have motivated his actions. They also said that they do not in any way justify his action but hope that the officers will take into account this circumstance during their investigation which is still ongoing.
Mount Tabor Highschool
On September 1st one student was shot and killed following a long dispute between two teenagers. As revealed in court, Maurice Evans Jr. and William Miller Jr. had a long dispute that had extended through the summer months. Then shortly after their return to school, the students engaged in a conversation of which details have not been released. It ended in Evans pulling a gun on Miller and fatally shooting him. Miller was only 15 years old. After the dispute Evans fled throwing the gun he used in a trash can on school grounds. This event sparked an hours-long lockdown on the school's campus. Evans was taken into custody that evening nearly 6 hours after the shooting occurred. Since then Evans is being held by local police going back and forth between hearings as he awaits his trial. Since then there has been a recurring pattern of lockdowns and firearms on campus within the area and specifically at Mount Tabor Highschool.