Super Chiefs, Super Students
For the first time in three years, Kickapoo held Super Chief Olympics, a sporting event specifically designed for the beloved special education students.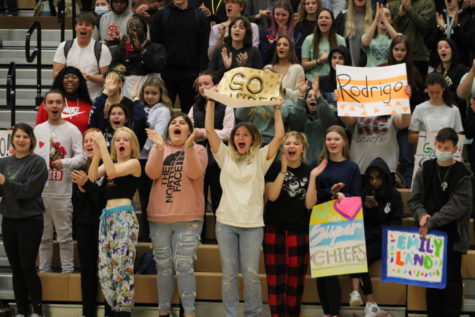 Hundreds of students flood the stands every year to watch Kickapoo's star athletes compete. Whether it's football or soccer, basketball or baseball, the crowd can be heard across the field. For one day a year, the cheers are louder that of even the Homecoming game as our Super Chiefs take the court.
   In room 124 holds some amazingly unique students which make up Kickapoo's Special Education (SPED) Department. On May 5th, 2022, for the first time in three years, every student had the chance to celebrate and cheer on the SPED Department. During Super Chiefs Olympics, a sporting event for the SPED students, all staff and students were able to purchase one dollar tickets to watch their fellow schoolmates compete.  The beginning of Super Chiefs Olympics consisted of a small parade, introducing each student who was paired up with a volunteer to assist them. After the parade, all the participants were split into two teams to begin the competition.
    To start the event off, contestants carefully rolled a life-sized inflatable beach ball from one side of the gymnasium and back as fast as they could. Round two consisted of students rushing out onto the basketball court to collect balls that were scattered around the floor, then throw them into a net. As participants were attempting to score points, the crowd was up on their feet and going wild with excitement.
"
 It was so amazing to have the chance to watch the special education kids just be themselves and to have them feel the love that so many people have for them.
— Junior Kenlee Rankin
    Round three was made up of a throwing contest. Students were instructed to grab different kinds of balls and throw them out onto a circular mat. The goal was to land the ball as close to the center as possible. The final round was an intense obstacle course. Each participant walked through football ladders, carefully stepped over wobbling rubber mounds, maneuvered under a limbo stick, and finally grabbed a toy dinosaur off the ground and threw it through a hula-hoop that was swinging the air.  Although everyone received a participation award created by the school's very own ceramics class, there seemed to be one student in particular who won over the audience's heart. 
   Gavin Stark, one of the beloved SPED students, absorbed every bit of attention that was especially for him. Stark said he was happy to be involved and enjoyed all the different activities. 
"
It was awesome and I did good…They (the audience) watched me and my mom and dad.
— Gavin Stark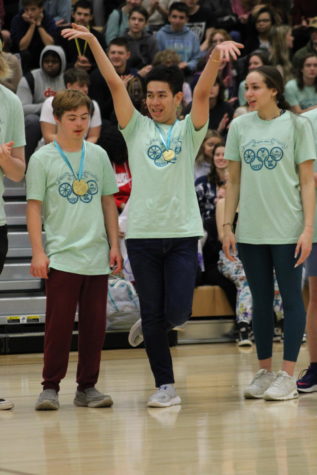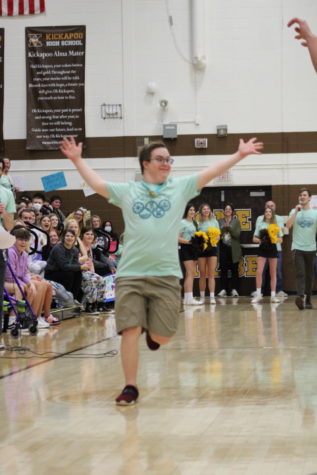 Another well known student that participated in Super Chiefs Olympics is Thai Nguyen. Unlike
his fellow competitors, Thai thought that the finale of the obstacle course was easy and also mentioned that playing with the sports balls was his favorite part. Because of COVID-19, Super Chiefs Olympics has been inactive. School principal, Dr. Power's was excited to put this annual tradition back into movement. 
   "It's just the joy and excitement on the faces and students, especially the participants. But just the kids in the crowd and how well they embrace the students and support them and encourage them. It makes me tear up," Powers said. 
  Powers was not the only person who rejoiced that the Super Chiefs Olympics was back in action. Many volunteers who were involved in the Super Chief Olympics, were grateful for this opportunity. 
   "I'm so happy we got to have this experience this year. We haven't had Super Chief Olympics since my freshman year. This was an amazing way to end the year," senior Destiny Marvin said.
   Super Chiefs Olympics is something that students can now continue to look forward to since the COVID-19 regulations have slowly begun to disappear. Each and every ordinary student can shift the spotlight for one day to give a little extra recognition to some not so ordinary, but extraordinary students.