A Year in the Life of a DECA Member
From SDC trips to fundraisers to competitions, Kickapoo's DECA chapter has been hard at work.
   After two years of canceled competitions and hectic online adaptations, DECA was back in full swing this year. Beginning the year, as usual, applications were sent out and members paid their dues as competition season quickly approached.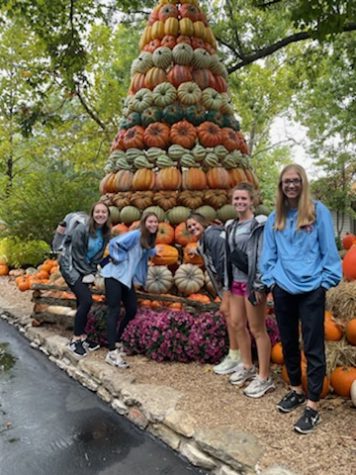 While members began to contemplate which event they would compete in, the group took a trip to Silver Dollar City where they got to learn about the behind-the-scenes aspects of the local theme park.
   The next months were spent prepping for competition and the homecoming parade where a few members were able to show some school spirit with other clubs from around the school.
As the holiday season neared, DECA officers worked to give back to the community. They collected money from members and other donors throughout the school and used it to help survivors of domestic abuse at the Harmony House. DECA leaders (both sponsors and officers) made tie blankets which were then donated to the Springfield charity.
   After a hectic month of unexpected snow days and weeks of school-wide quarantine, competition season finally arrived. Members began testing and submitted their papers which they had spent months preparing. Just a few weeks later the group met at Seminole Baptist and the long-awaited day finally began. District Competitions.
  Along with the dozens of other schools that are a part of DECA District 11, members entered roleplays and began presentations that determined whether or not they would advance to state competition in Kansas City later that month. 
 Nerves rose as the award ceremony began. As the names were called, smiles and cheers erupted from the crowd, many coming from the group of Chiefs in the back. Ten qualified to compete at state and another thirteen placed in the top five in their event, leaving the chapter proud and awaiting state competition.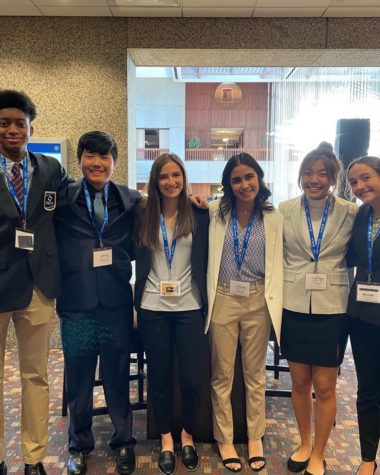 State competition took place in Kansas City the weekend of spring break, which forced many of our own competitors to drop out. However, six still went on to compete.
   The group spent a weekend in KC competing in their respective events and waiting to see who would advance to the international competition. While the majority of them wouldn't make it past this weekend, senior Esther Choe advanced.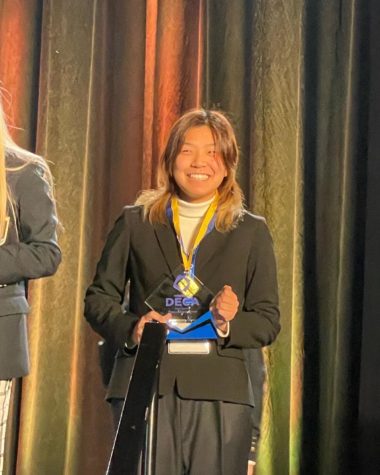 About a month later she would compete in Atlanta and place in the top 25% of her category, making her last year at Kickapoo one for the books.
"I usually get super nervous, but for DECA I was more relaxed and had a YOLO mindset. I guess it was good enough for internationals!" Choe said.
   As the year comes to a close, the seniors leave, and members look forward to the summer months, another year of success and competition is on the horizon, awaiting for eager students to return.