Christmas Cookies
Zach Arnold, reporter
December 11, 2017
 As thanksgiving comes to an end family and friends start to think about getting ready for christmas one of the most celebrated american holidays.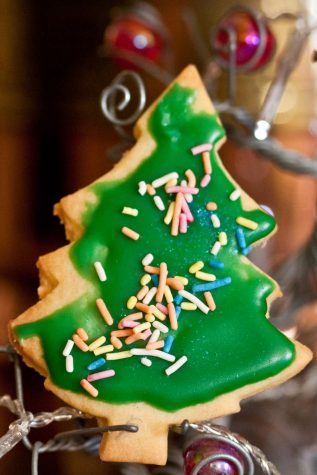 Making christmas foods and goodies is one amazing way to have some fun in the kitchen around the holidays.
Making sugar cookies: ingredients- 2 ¾ cups all purpose flour, 1 teaspoon baking soda, ½ teaspoon baking powder, 1 cup of butter-softened, 1 ½ cups white sugar, 1 egg, 1 teaspoon vanilla extract. Directions: 1) preheat oven to 375 degrees. In a small bowl stir together flour, baking soda, and baking powder. 2) In a large bowl, cream the butter and sugar together until smooth. Beat in egg and vanilla. Gradually blend in the dry ingredients. Roll rounded teaspoons of dough into balls, and place onto ungreased cookie sheets. 3) Bake eight to ten minutes in the preheated oven, or until golden. Let stand on cookie sheet two minutes before removing to cool on wire racks.
  How to make royal icing; Ingredients- three tablespoons of meringue powder, six tablespoons of water, and four cups of sifted confectioners sugar. Next you are going to beat all ingredients together on low for seven to ten minutes or until icing forms peaks. Keep icing covered with a wet kitchen towel to keep icing from drying out.
  After making these cookies and adding the royal icing i decided to try them and give them a rate from one to ten. I give these cookies a solid eight because they are very good and i couldn't stop at just one cookie. The icing really added a perfect flavor to the sugar cookie.
Source for recipe: allrecipes.com