PDT: a Public Display of Toxicity
Celebrity Ye West is oversharing his divorce drama on his Instagram, and entertaining his large following. The truth is, however, that he is expressing underlying tones of toxic behaviors in a relationship, something that his fans don't seem to notice.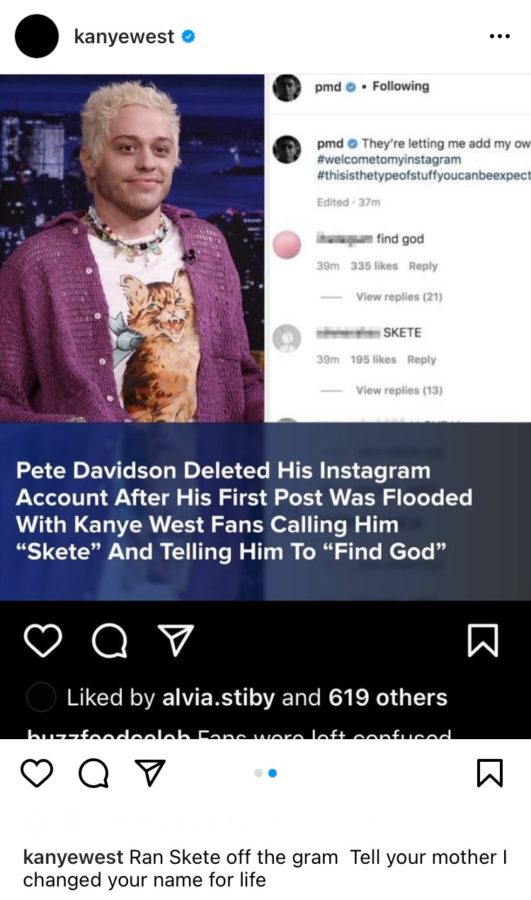 Recently, famed music artist and producer Ye West has been dramatizing his divorce from celebrity Kim Kardashian all over his public Instagram account. With posts involving Kardashian's new love interest Pete Davidson and demanding time with his children, these overshares online portray a typical red flag in an abusive/toxic relationship. The only difference for this one being West's 14.7 million followers, who are publicly watching it all go down.
For about a month, West has been sharing and deleting Instagram posts revolving around his ex-wife and her life without him. He has been adamant about wanting to get back with her, wanting to see his children, and even going so far as to publicly threaten Davidson, issuing his followers to 'deal with him' if they ever see Davidson in public. 
Following West's Instagram posts has been a source of entertainment for many of his followers, as many memes have been created, posts have been shared, and support has been shown. But because of this, the ability to read into the meanings behind those posts and shares has been somewhat smothered.
Now, while West's celebrity status might throw an air of comedy into this situation, underneath it all is a plain example of a toxic divorce from what we can only assume was a toxic relationship, and fans should approach the matter with that in mind. Kanye is putting in jeopardy not only the safety of Pete Davidson but his own children. He is also showing signs of being manipulative in screenshots of text messages he has exchanged with Kardashian that he has publicly posted.
Before reposting one of his posts onto your story, or voicing your support for something that could potentially be traumatic for the Kardashian-West family, think for a moment about what it would be like if one of your peers was doing this to their ex. It simply wouldn't be acceptable. The repercussions of being toxic shouldn't stop just because they are celebrities, as their victims' personal and mental safeties are just as crucial.