She's More Than Just 'That Girl'.
Wendy Riley-Washington overcomes many obstacles and makes school history as the first ever female wrestling state champion.
    Junior Wendy Riley-Washington is the top female wrestler in the state of Missouri. Since being the girl's 2019 state champion in just eighth grade, she seems to be unstoppable. Riley-Washington finished her wrestling season first in the state and only has plans to move forward.
 "With the most amazing coaches by my side, I have won four tournament titles. Throughout those wins, I have beat multiple state placers from the previous year and worked my way to the top of the rankings," Riley-Washington said.
   Riley-Washington began wrestling in sixth grade and with hours of practice and dedication she has only improved.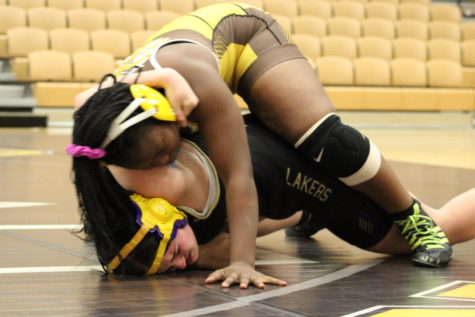 "Once I was in sixth grade, I joined the team against my parent's wishes and from there it has only gone uphill," Riley-Washington said. 
   Her wrestling journey started at the Jackie Joyner Kersee (JJK) center in East St. Louis. From there, she joined the Little Devils Wrestling club in Belleville, Illinois. She then continued to wrestle for Belleville East High School. Riley-Washington's wrestling career took a slight turn when the pandemic began. 
   "Unfortunately, due to Covid, my freshman season got cut short the day before state…After reflecting on putting in all of the sacrifices I did and having the state canceled the afternoon before, I was devastated and stopped wrestling.," Riley-Washington said. 
   Now at Kickapoo, Riley-Washington began wrestling again and went undefeated with a record of 24-0. Riley-Washington recently won the Ozark Conference Tournament on January 29th.  Her hard work, determination, and endless practice has gotten her the well-deserved state ranking of first place. But it hasn't always been easy. 
"
   "Being a female wrestler is figuring out how to push past barriers that were placed on you from birth. People underestimate you until you show them that you are "That Girl" and have put in the work they could have never imagined themselves doing,"
— Riley-Washington
   Toxic masculinity can be found in almost every sport, but in wrestling it is extremely prominent.
   "Nothing is worse than people trying to humiliate a guy for losing to a girl when it is indirectly dehumanizing and an insult to everything we do," Riley-Washington explained. 
   Although the toxic masculinity can be hard to overcome, Riley-Washington believes that she has a steady support system. 
   "I keep my support system close to my heart because of this reason and many more, they are everything I could have ever prayed for," Riley-Washington said.
   Riley-Washington has grown close with her fellow wrestlers on the team, and the feeling is definitely mutual. 
   "Wendy has one of the best mindsets when it comes to wrestling and competition. She has this never give up attitude that is amazing to watch. One of the nicest people you'll ever meet and is an animal on the mat," senior wrestler Tai Koyama said. From the mat to school, she is focusing on what will improve her as a person and as a wrestler.
"

   "I wrestle for myself, and the outcome is irrelevant as long as I do everything I can and take nothing for granted,"

— Riley-Washington
   Although she has next year to wrestle, Riley-Washington has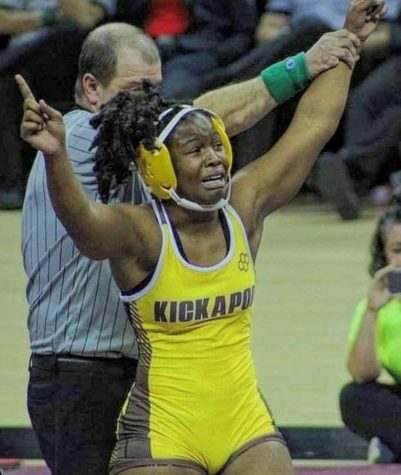 already made history. In February of 2022, she went down in history as Kickapoo's first girls wrestling champion, not to mention she was undefeated her entire
season.
   "I am blessed and truly grateful to be Kickapoo's first of many things and words cannot express the gratitude I have towards everyone around me. To know my name will officially go down in history forever brings tears to my eyes, but to know that it is the start of me making history and change, just totally makes me drop to my knees to thank God because it feels unreal," Riley-Washington said.