Southside Showdown Champions!
Kickapoo girls soccer beats Glendale, once again, for a conference championship!
Wednesday, May 12th, the Kickapoo varsity girls soccer team beat Glendale for a conference championship for the fifth year in a row. Ending the game with a three point lead, the girls got to take the Southside Showdown trophy back home. "It was really nerve wracking going into the biggest game of the year but I knew that we could pull it off," senior, Chloe Young said.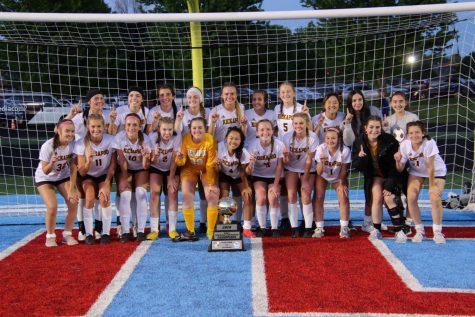 Sophomore, Sabrina Jones, led the game with two goals followed by a goal from both Junior, Abby Light and Sophomore, Abby Bilbao.

"The feeling I got in my stomach when the whistle blew was crazy. There were so many emotions before, during, and after the game. We all played our best games and it was good competition. I think our matching braids really helped bring the trophy back home," sophomore, Vanessa Maturey said.
They LadyChiefs ended their season 18-3 and are now preparing for districts in the upcoming week. A win against the falcons is always a good way to end the season, Go Chiefs!
Kickapoo Theatre Presents: Bright Star
Kickapoo Theatre will be performing the Broadway musical, Bright Star, by Steve Martin and Edie Brickell starting Thursday, May 6th. The Kickapoo Theatre program began working on the show in January hoping to be able to perform it before the end of the school year.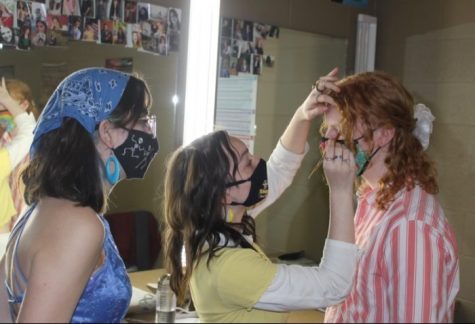 Although, COVID-19 made for limited seating, the show must go on! The performances will be in Kickapoo's Performing Arts Center at 7 p.m. May 6-8. Tickets are being sold to students at lunch for $6 however, they will be available for purchase at the door.
"Having a chance to perform for people who have been stuck in their house for months on end is what has been exciting the cast the most" Senior, John Ogden said.
The Kickapoo Theatre program would appreciate your attendance at Bright Star!
Cast List
Alice Murphy- Anna Riemenscheider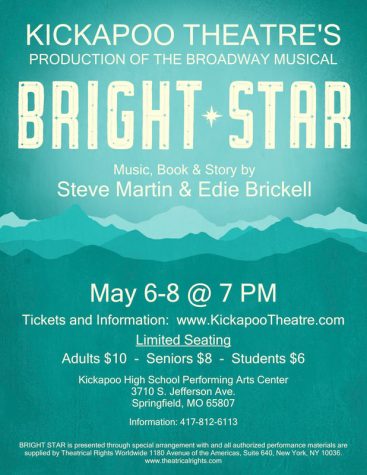 Billy Cane- Caden Rowe
Daddy Cane- CJ Wears
Margo Crawford- Jamie McCarty
Max- Garrett Fraher
Florence- Katie Penkalski
Edna- Trinity Talmage
Daryl Ames- Christian Byndom
Lucy Grant- Anna Conboy
Mama Murphy- Katelyn Every
Daddy Murphy- Kenyon Aronis
Mayor Josiah Dobbs- Jonah Clenney
Jimmy Ray Dobbs- Nick Eby
Stanford- Luke Baker
Dr. Norquist- Van Erdman
Government Clerk- Tori Clifton
Well-Dressed Woman- Addison Chapman
Bookshop Girl- Olivia Bell
Plasma Donation: Is this the New Way to Make Money?
Struggling to find money, many high school students over the age of 18 have looked to plasma donation for some extra cash. Plasma donation is the process of drawing blood and separating the cells from the liquid portion. The red blood cells and platelets are then used in hospital patients for treating bleeding and other disorders.
There are many plasma donation locations around Springfield including CSL Plasma and BioLife Plasma. Prior to donating, your medical history will be reviewed to verify your eligibility as a donor. The donation process typically takes around 1-2 hours from start to finish. First, your blood will be drawn and separated through a process called plasmapheresis. Then, the rest of your blood, minus the plasma, will be returned back to you.
"I started donating plasma the day after I turned 18 because my father from a young age taught me how it helped people. With plasma you can use it to help burn victims and even people with cancer and my dad said, 'Why would you not help someone in need if you have capability for it.' It stuck with me and now I donate as much plasma and blood I can to help others who really need it," senior Jayda Thomas said.
Since there is such a high demand for plasma, these donation centers will pay you to donate. A prepaid card will be rewarded to you after a successful donation up to $700 a month; however, every donation site differs. Up to two donations every seven days is allowed. A refer-a-friend system is implemented in some donation centers offering extra money or points. If you are in need of money or are looking for a way to help out our community, do not overlook plasma donating!
Spring Break Activities
Are you finding yourself without Spring Break plans? If so, there are plenty of activities available in town.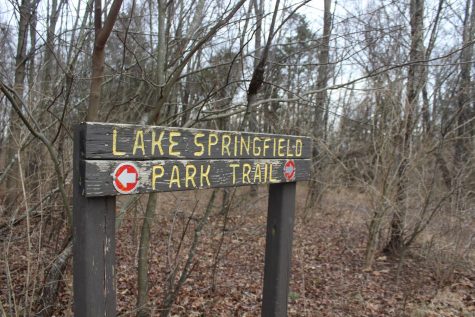 Springfield Lake
With this shockingly warm March weather, there is no excuse to not be outdoors. There are various activities to do on the lake like fishing, kayaking, hammocking, or even hiking the Springfield Lake trail.
Bowling
Bowling is an easy and inclusive way to socialize with friends. Andy B's, Sunshine Lanes, and Enterprise Park Lanes are highly rated bowling alleys in the Springfield area.
Wonders of Wildlife
If you have not yet gotten the chance to visit Wonders of Wildlife, this conservation themed museum is waiting for you. Treat yourself to a $40 educational attraction that will not disappoint.
Volunteer
Volunteering is a great way to pass time, helping out our community benefits so many people. This can include tasks as simple as picking up trash around town, donating blood at the community blood center, or even taking it one step farther and researching your own place to volunteer like The Kitchen, Inc., for example.
Safely Hang out with Friends
Socializing with friends and family is always a good way to take your mind off of school, or work, etc. Hosting a small, safe, gathering might be the way to go. If you are looking for ways to spice things up, consider having a "Dip Party" where everyone offers to bring a different kind of sweet or savory dip.
Busiek State Park
Busiek State Park is a forest and wildlife area just south of Springfield offering activities such as camping, hiking, biking, and contains a shooting range, all productive ways to spend Spring Break.
Wild Animal Safari
Springfield's local drive-thru reserve is a fun way to keep yourself entertained. In this 5-mile reserve, you are given the opportunity to see hundreds of wild animals. Yes, this is much like the Dickerson Park Zoo, but who doesn't want to switch things up every once in a while.
Coronavirus Vaccine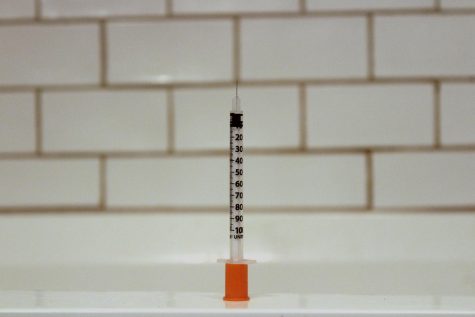 This past Thursday, the FDA panel voted for the approval of the Pfizer Coronavirus vaccine. Unless any last-minute legal requirements arise, an emergency authorization will be granted this Saturday, December 12th. The initial shipment will send
6.4 million doses around the world, half of which will be used immediately, while the other half will remain reserved for the second dose to the same recipients.
After the many vaccine trials, the vaccine has proven to be "somewhat effective" and has not had any cases of serious allergic reactions thus far. 
As for high school students, we are not being prioritized to receive the vaccine. The vaccine will be given to first, healthcare workers then, elders living in nursing homes.
The vaccine hopes to decrease the rising death rates due to the virus around the world. Kickapoo students are hoping to get back to a normal school year following the release of the vaccine. Until then, it is encouraged to keep practicing social distancing and safety precautions to avoid the spread of COVID-19.
21 Chiefs on Pause
Covid-19 has caused the cancellation of many club activities, including 21 Chiefs. In fear of spreading the virus, the club has had to hold off on their first quarter activities.
"We are actually kind of on pause with 21 Chiefs. Many of our activities revolve around volunteering with social events for students and individuals with disabilities – in many cases Down syndrome; however, as of right now, all of our usual events have either been canceled or postponed until further notice, due to Covid-19," club sponsor, Ms. Constantine, said.
There are not any anticipated activities or news for 21 Chiefs for the first quarter and possibly through the end of the year. This is disappointing news for the students and volunteers in the club but unfortunately, activities are not safe right now.
Double Whammy
This past month, boys varsity soccer has beat Glendale varsity soccer not once, but two times. Kickapoo received first place after playing against the falcons in their second to last game of the Kickapoo Shootout Friday, October 2nd.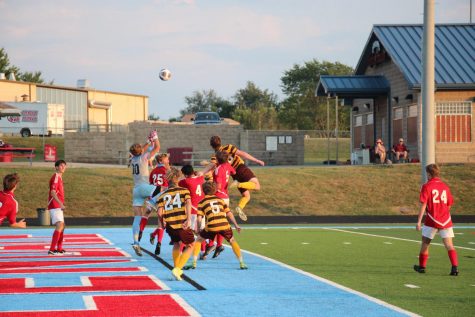 "It felt amazing to win the Kickapoo Shootout for the first time since I've been at Kickapoo, especially against Glendale," senior Spencer Sharpe said.
A few days following Kickapoo's win in the Shootout, they had another win against Glendale on Wednesday, October 7th. The game ended with a one-point lead in overtime creating a very exciting game. With a final score of 5-4, the Kickapoo boys soccer team finally got to take home the Southside Showdown trophy after years of it being locked up at Glendale High School.
"It was exciting to come back from 1-4 and win in overtime. Celebrating our win was a cool feeling that not everyone gets to experience," junior Owen Bowler said.