21 Chiefs on Pause
Covid-19 has caused the cancellation of many club activities, including 21 Chiefs. In fear of spreading the virus, the club has had to hold off on their first quarter activities.
"We are actually kind of on pause with 21 Chiefs. Many of our activities revolve around volunteering with social events for students and individuals with disabilities – in many cases Down syndrome; however, as of right now, all of our usual events have either been canceled or postponed until further notice, due to Covid-19," club sponsor, Ms. Constantine, said.
There are not any anticipated activities or news for 21 Chiefs for the first quarter and possibly through the end of the year. This is disappointing news for the students and volunteers in the club but unfortunately, activities are not safe right now.
Double Whammy
This past month, boys varsity soccer has beat Glendale varsity soccer not once, but two times. Kickapoo received first place after playing against the falcons in their second to last game of the Kickapoo Shootout Friday, October 2nd.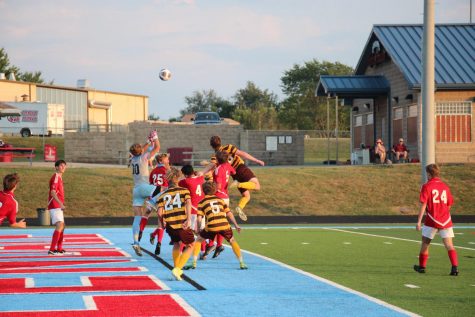 "It felt amazing to win the Kickapoo Shootout for the first time since I've been at Kickapoo, especially against Glendale," senior Spencer Sharpe said.
A few days following Kickapoo's win in the Shootout, they had another win against Glendale on Wednesday, October 7th. The game ended with a one-point lead in overtime creating a very exciting game. With a final score of 5-4, the Kickapoo boys soccer team finally got to take home the Southside Showdown trophy after years of it being locked up at Glendale High School.
"It was exciting to come back from 1-4 and win in overtime. Celebrating our win was a cool feeling that not everyone gets to experience," junior Owen Bowler said.