Behind My Cousin Lino
A backstage look at how the Matinee of My Cousin Lino was put together to form the final production.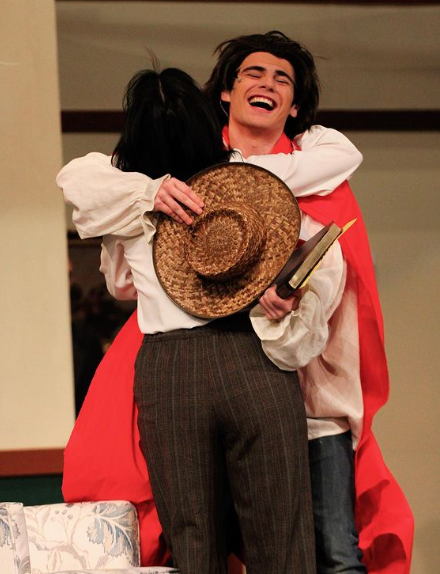 Kickapoo's theater program is known to hold high-quality productions, their latest matinee being one of those productions.
My Cousin Lino is a play about Katherine and Jonathan Prescott's cousin Lino, a famous botanist, who cancels his visit to the flower society fundraising dinner. When Robert Willis (Jonathan's old friend) shows up, Jonathan convinces him to trick the others into believing he's Lino, the only issue is the interesting guests.
Micheal Butcher, the director, chose this production for a variety of reasons.
"I have to look at cast size and what the cast calls for, specifically the numbers or males vs females and I like to look for a script that's entertaining, and it's just a fun play," Butcher said.
Butcher described how with musicals it's much harder to have a permanent set.
Caden Davenport, the secretary for Kickapoo's International Thespian Society and the head of Kickapoo's technical theater, played Willis.
"Every day in class we'd run through it multiple times, with variations of cast, because we have several characters for different cast, and we'd mix up who's playing who and basically just run through different scenes mixing and matching different cast," Davenport said.
Van Erdman, Treasurer for the Thespian Society and the head of acting, played Jonathan Prescott.
"I try to think of things he'd do in a typical day like making calls because he owns a big business, or calling his love, how he'd talk and speak," Erdman said.
Regan Reed, head of hair and makeup, played Katherine Prescott.
"We practiced every day in class for this show, I also had to work every day at home on memorizing my lines, and we had after-school stuff for hair and makeup, and closer to the weeks of performing we had after-school rehearsals to six or seven every night," she said.
My Cousin Lino was not just an amazing spring play this year, but a goodbye to the seniors in the theater that won't be present next year.