What Type Of Bread Are You?
Do you have healthy sleeping patterns?
Are You Eco-friendly?
Test Your Kickapoo Knowledge!
Buzzing To The Top
The last few weeks have been very busy for Scholar Bowl. Their two teams have gone to different competitions and tournaments and placed highly at them.
"Last Wednesday we went to Sarcoxie where B team got first place and A team got second. We had four people that placed in the top ten at that tournament," sophomore CJ Wears said.
Placing first and second in that tournament made Scholar Bowl fired up and prepared to continue on with their other competitions.
"That Saturday we brought four teams to WashU in St. Louis. A team got around top ten and B was around 15. There were 35 teams and it was a very difficult tournament. We have a tournament coming up in two weeks at Mizzou," Wears said.
The Taste Of Water
  Imagine this, it's between classes and you only have five minutes to get a drink and get to class. Knowing which fountain to go to can save you a few seconds of those valuable five minutes. Through a set of rigorous tests and an official chart, I'm going to tell you where to get the best water in our school.
     Eighteen fountains make up what most students can easily access in between classes. Fountains next to each other were rated together and their scores then averaged. This means only twelve fountains are up for the true title of the best fountain.
   Let's start with the categories I went through to figure out the best water fountain. 
    I first started with the coldness of the water. After a long day getting a cold drink can make all the difference. On a scale from one to five, there were many fountains that achieved a perfect score.
 Fountains near the first floor science wing and first floor history wing have some of the coldest water. Another honorable mention would be the fountain near the concessions stand.
   The water there is crisp and cold, but did not reach the top of the ranks due to deficits in other categories.
   The next of the categories I choose to rank the fountains was accessibility. Some fountains were immediately disqualified for being in places an average student cannot get to.
   Depending on what class you're in or traveling to could change the accessibility for you. For this, I went with fountains that weren't meant for certain classes or too far from the rest of the school.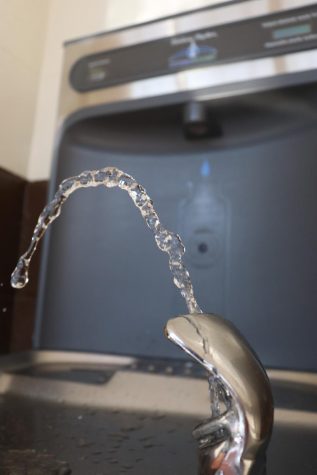 My next category was the presentation. This severely lowered the scores of different fountains. Small chunks of food in the drain or unfortunately placed trashcans can ruin a good hydration experience.
   This caused fountains in the commons, near the gym, and on the second floor near room 244 to lose a majority of their points. 
   Next is taste. Some people might say that water is tasteless, but I would have to disagree. Water can taste metallic, dirty, and even stale. So, when picking the perfect water fountain, the taste was a big concern.
   The second floor science wing and second floor English wing fountains had a crisp, clean taste that left me feeling refreshed.
   Finally, the last of my categories was pressure. When you have to touch the spout the water comes out of to get a drink, it leaves you feeling grossed out. For this, I recommend the first floor science wing or the fountain near the concessions stand.
   There was one fountain that had everything I was looking for in a quick drink. With five in temperature, accessibility, presentation, and taste the second floor math hallway had the best water. With a 4.8 rating, as the water pressure lost a single point, it's the best fountain in school.
   Next time you're in need of a quick drink and have time to walk to any fountain, the math hall will be waiting. 
Behind the Tournament
Academic Team, or Scholar Bowl as some call it, has been very busy this school year. Their teams have qualified for Nationals as well as preparing for their tournaments coming up soon.
"In two weeks some of the varsity players are going to a workshop at Mizzou to train. Hopefully, some of us will get on the state team. The Kickapoo Tournament is this week, we have about thirty teams in it. We will not be playing, we'll just be moderating the groups," sophomore CJ Wears said.
Faster Than The Buzzer
Academic Team meets every Tuesday afternoon and Friday morning. The members have been working tirelessly to get ready for upcoming competitions.
As a part of Academic Team, students answer trivia questions. The object is for your team to answer more questions correctly than the opposing team.
"For meetings, we go over what we're trying to get better at as a team and individually. Meaning we read practice questions," sophomore Roman Taylor said.
Their confidence in going into the competition is high.
"I think we're going to do pretty well this year. We have some good freshmen who came in. The middle school had a really good division," senior Kim Tieu said.
The members are having a good time preparing for their competitions and tournaments, as well.
 "The people are pretty great. It's pretty fun. I love Ms. Odom, Momma Odom for the win," Tieu said.
Around the World
    One of the many trips being offered this school year is an educational based trip to Peru.
   Two of the Spanish teachers, Mrs. Nunez and Mrs. Stennett, organized an eight-day trip in order to teach students cultural diversity and the history behind Peru. This trip was open to any student and family member and currently has ten students traveling with a few chaperones.
   "I haven't visited South Africa before, so I want to see that part of the world," Stennett said.
   Students will leave early July 9th and will start their adventure almost immediately. Visitations to the Castle of Lima, Machu Picchu, and the capital of Peru will be on the student itinerary.
   Multiple trips to an elementary school will be included in the trip and will encourage students to interact with children and look at education through a new perspective.
   The basis of this trip is to encourage students to travel and experience new cultures and to develop a different perspective on the world.
   Students will be having authentic cooking classes, conversations about food and contrasting cultures, and will be cramming in information about the country.
   "Even if you can't go on these trips, try and travel in your lifetime. It really does change your life and perspective on the world, it changes who you are," Stennett said.
Getting Vaccinated
The end of the school year marks the beginning of the next. It also marks a new requirement for all new seniors for the 2019-20 school year.
"All incoming seniors must have received one dose of the Meningococcal vaccine after their 16th birthday in order to start school in the fall," the Kickapoo high school website stated.
Meningococcal is better known as meningitis. Incoming seniors can get their meningitis shot at walk in clinics such as HyVee and Walgreens or their family doctor.
Students need to bring documentation of their vaccination to the school nurse as soon as possible.
Meningitis is a serious disease. All incoming seniors need to get their shot at the earliest convenience.
Come next year every senior must have their shot to attend classes and graduate.
A Trip Around Ireland
The Choir Department was given the opportunity to perform in the Limerick music festival in Ireland. This festival is made up of orchestras and choral groups from across Ireland and America.
This trip allows musically inclined students to perform in a international festival and experience different cultures at the same time.
  Not many schools get the chance to travel to a foreign country and participate in a musical festival among Irish and American Cultures.  Students attending this trip will be performing a mass by Mozart at the Limerick university and Christ Cathedral Church in Dublin, Ireland.
   The trip is from June 5-13, and five of those days will consist of rehearsals and performances for the festival. The rest of the trip will be spent touring the land of Ireland and touring coast lines, cliffs, and castles where students will get a chance to kiss the famous Blarney Stone at Blarney Castle.
  "My favorite part is sitting back and watching my students perform in all of these wonderful places. During the festival I won't need to sing or direct or do anything, I just get to sit back and watch them perform," Choir Director Nathan Cornelius said.
   Students on this trip will get the chance to build a passion for traveling internationally and witness other cultures through music. Not only is this a trip for students but it helps build the reputation of the Choir department and allows further opportunities to occur.  
When The Votes Are In, Change Could Be Coming
Laws and new bills get passed all the time and high school students rarely know about them. Even when these laws and bills affect students in their everyday life. Three bills are on their way to being passed either in Missouri or other states that might affect Missouri very soon.
The first bill is the Phillips-Hill's bill. This will allow students to work from home on online assignments during snow days instead of extending the school year.
The would be called "flexible instructional days" and would work the same as a normal day of school. The only difference is that students would stay at home during days where the weather is too bad to travel.
With the addition of Chromebooks in schools adding days where students worked from home online would be an easy adjustment.
"Flexible instructional days are a valuable tool for schools because they offer an opportunity to meet the educational needs of students without having to extend the school year too deep into the summer," Senate Education Committee Chairman Ryan Aument said.
The second bill is the Cronkite New Voices Act, more commonly referred to as the New Voices Act.
"In 1988, the U.S. Supreme Court ruled that censorship of certain articles in a student news publication didn't violate the students' First Amendment rights," Editor and Chief of The Standard, Cortlynn Stark, wrote.
This bill would allow Missouri student journalists to have more freedom with what they write for school publications.
"Censoring student journalists actually hurts the future of journalism. When you take away their First Amendment rights to publish, you damage their trust in the system that supports journalism," Stark wrote.
Many people seem to agree with Stark as this bill has been being pushed to pass since November, 2017. If the bill passes a whole new era of student journalism could take place.
The third bill would cause the school year start date to be in late August. Due to high rates of tourism in Missouri a change such as this would affect many groups of people.
"The proposal by Rep. Jeff Knight, R-Lebanon, would set the starting date no earlier than 14 days before the first Monday in September," Kurt Erickson of the St. Louis Post-Dispatch wrote.
The sooner the school year begins, the sooner families have to end their summer vacations. This means Missouri is making less tourism money than what is wanted. Pushing the school year back even just two weeks would give students more of their break while also giving the state an income boost.
Keeping Up With Scholar Bowl
Scholar Bowl is a club where students answer questions faster and more accurately than the opposing team. Scholar Bowl is very busy right now.
"We have the Trivia Night, Wednesday (February 28th) we have Reed Springs, we have History Bowl on Tuesday (March 5th), after spring break we have two big competitions, and then after that, we start districts," sponsor Mrs. Odom said.
This isn't all the club is doing. Scholar Bowl is intent on helping both themselves and others with some of their events.
"We have Trivia Night on Friday (March 1st). It's our big fundraiser where we're raising money for our trips and travel but we're also raising money for Mrs. Moran in the counseling center because she's in heart failure," Odom said.
The members of Scholar Bowl are enthusiastic to be helping out while participating in a club they love.
Are We Safe?
ABC News states that fifty school shootings have taken place since the Columbine shooting in 1999.
School systems take shootings very seriously. A new procedure called ALICE (Alert, Lockdown, Inform, Counter, and Evacuate) is a plan of action that tries to keep students safer than they previously were under the old system of lockdown drills.
"ALICE is thinking about the situation and what you can do and what you feel comfortable doing if put in that situation," Assistant Principal Chris Hunsaker said.
ALICE training for teachers started this school year. Later in the year students will be learning about the revamped crisis drills from teachers and be seeing them in action during intruder drills.
"We will have one intruder drill every quarter, I don't know a specific date," Hunsaker said.
The way schools and law enforcement respond to shootings
have changed dramatically since Columbine.
When the old lockdown system was designed to protect students from drive by shootings, gang violence, or random shootings outside the building.
"Even police officers were taught it would be a hostage situation. And most school shootings are no longer hostage situations," Hunsaker said.
The first step of the new procedure would be to try to get the student body safely out of the building.
"If you knew you needed to get out of the building and you could get to it safely then you're going to run," Hunsaker said.
The next step, if it isn't safe to get out of the building, is to block the intruder from getting into the room.
"If you knew that the person was right outside your door you're going to barricade it and make it as
hard as possible for them to get in," Hunsaker said.
And if neither of those options can be put into action and the intruder is already in the room, students and teachers are asked to contain the threat.
"If you knew that person was coming in the door, you're going to do everything in your power to prevent the situation from getting any worse than it already is," Hunsaker said. "You're going to make things as difficult as possible for them to do the act that they're wanting to do."
Many teachers have strong opinions on the new procedures.
"I was skeptical. I'd heard through word of mouth a lot of different things about ALICE training, but I hadn't received any of the training yet," Hostetler said.
ALICE gives teachers and students a plan to rely on if an event like a school shooting was ever to take place.
"You cannot plan for a tragic event like a school shooting. They're not all the same, they're not carried out in the same way. So you really can't be prepared for that, but what you can be prepared for is what to do in the moment," he added.
School shootings are unique situations and should be treated as such.
"You don't know until that day comes if they're going to be in your classroom or the hallway outside of the classroom or the other end of the school," Hostetler said.
ALICE could help teachers and students react in a high-stress situation outside of the school environment.
"It's good thought process to have no matter where you go. Whether it be a movie theatre or some other public place," Hunsaker said.
This will be new to a lot of students, but in the end, it could save lives and prepare them for situations later that may occur further down the road.
Trying to take out the intruder is the last step in ALICE, and it can save lives.
"The resource officer talked to us about training that he had been to. He talked about what happens if you just stay in your room versus if you just try to get out and what happens if you fight against a shooter coming into your room," Hostetler said.
All the information about ALICE, such as a full history and tips on implementation is available at www.alicetraining.com.
"If we are running this efficiently, within seconds of a shot being fired people are getting out of the building or they're blocking the room so an intruder cannot get into the room. That person is going to be left with empty halls and rooms they can't get into," Hostetler said.
ALICE is nothing for students, parents, or staff members to worry about. If a tragic event like a shooting was to ever happen, having a set procedure like ALICE is more likely to keep people safe.
"I think the training and their ideals are good, but the situation is something that I hate," Hostetler said.