Haunted House Review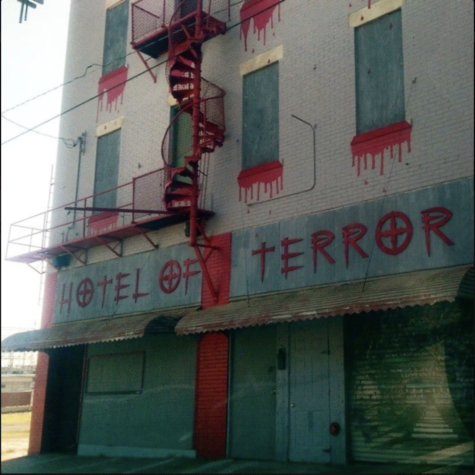 Hotel of Terror 8/10
     Upon entrance of the Hotel of Terror, located in downtown Springfield, I promptly signed my life away. They require you to scan your fingerprint as a virtual signature. The lengthy waiver in summary says the Hotel of Terror is not liable for anything that happens to you or your belongings, and that you will not use your cell phone whatsoever. 
     Once I was in the haunted house the walk took about 20 minutes to complete. I personally had all the excitement I needed after five minutes and was ready for it to be over. 
     If you were hoping to read a detailed description of the events that took place in Hotel of Terror this is not the article for you because I think I blacked out for the majority of the experience.  
Clowns: 6/10 I don't like clowns
Chainsaw guy: 1/10 this was by far the worst part of the walk, and I was actually convinced this guy was going to cause me physical harm.
People hidden in the walls: 7/10 I liked that they just jump scared us and then went back to minding their business. I took off 3 points though because they scared my date so bad that he sucker punched me in the face.
Pitch black walkway: 2/10 this is just really unsafe. Like I could not see a thing .
People banging on the ceiling: 8/10 I liked that there was glass separating us from the people banging on the glass. I felt moderately safe.
Spinning room: 9/10 there was nothing scary in this part, it was actually really cool, just got a little dizzy from the bright colors and springing walls
Leaving: 10/10 I was so happy to get out of there and you exit by going down a slide so that was a good time.
I would rate the overall experience: pretty good
Greek Life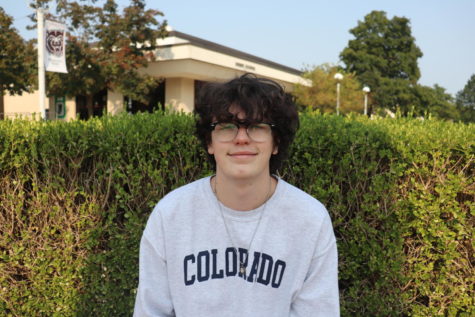 There is a paper thin line between lifelong brotherhood and the toxic culture that can be perpetuated in a fraternity.
On the Missouri State campus every corner you turn there is a different fraternity house standing proud. Each with young men flaunting their undying loyalty to their frat and claiming their house is superior. 
MSU is home to six major fraternities that have around 100 members per house. There are even a few smaller ones with fewer brothers. 
      In fraternities, they refer to each other as brothers and call themselves a brotherhood. This type of language dates back hundreds of years and contributes to the mob mentality in fraternities. 
     This mindset can persuade people to do things they wouldn't normally, due to the normalization from those around them.
As early as 2016,  at the University of Lincoln, Nebraska.
allegations began flooding in for the Phi Gamma Delta fraternity,  also known as the Fiji chapter.
     The fraternity was suspended from campus from March 17, 2017, through May 2020. The petition for reinstatement began in 2019 and was approved the following year.
     According to CBS News, "Dozens of cases of sexual assault have been reported to the university. From January 1, 2016, to August 27 this year, there have been 148 reports of sexual offenses, including rape, attempted rape, and sexual assault."
     The Fiji house was once again suspended after the alleged rape of a minor in August 2021.
     The Fiji chapter at the University of Lincoln, Nebraska has a long history of misconduct. While things like this are prevalent and do occur, we must acknowledge that not all fraternities are like this and so many college alumni will tell you that deciding to join a fraternity was the best decision they made.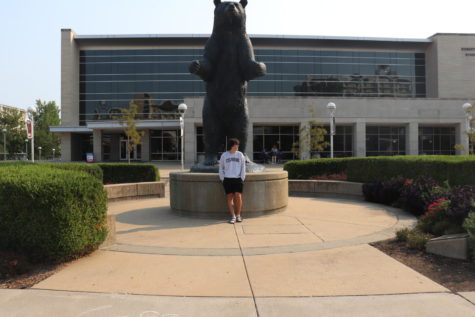 When Evan Gomez (Kickapoo alumni, class of 2021) told me that he wanted to join a fraternity in all honesty it made me really anxious because of the culture of toxic masculinity often associated with fraternities.
     When talking with him and trying to be open-minded about this topic, it made me realize that people have different experiences with controversial things.
     Gomez pledged to the Sigma Nu chapter at Missouri State. 
     "I really didn't have an interest at first, during rush week I just decided to check it out and I really clicked with a lot of the people there," Gomez said.
     He continues on to say that it isn't all about partying every night, that it was more about genuine connections. 
     "I struggle with school and what stuck out to me is the academic importance they had within the fraternity. We're encouraged to motivate each other," Gomez said.
     This stuck out to me because I never associated fraternities with motivation for self betterment, rather motivation to party harder.
     "I don't think you should always assume a stigma is reality. You have to get in there and see for yourself if it's true or not, and I really haven't seen any of the behavior people associate Greek life with," Gomez said. 
     By the end of our conversation, my opinion on Greek life, specifically fraternities, was less solid. It really is up to the individual person to decide what is a good fit for them. With that being said, my opinion towards the overall mentality perpetuated by the culture of fraternities is extremely outdated and should not be tolerated any longer in this day and age.
Golden Girls Win Nationals
Congratulations to our Kickapoo Golden Girls on their placements at virtual nationals this year. They placed 11th in two categories and another dance placed 17th. The girls were so excited and we are incredibly proud of them. All of their dances placed higher than last year. We look forward to seeing all that they accomplish next year.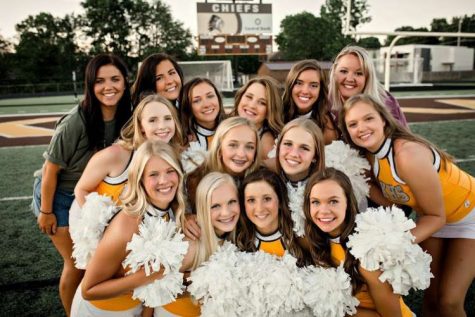 End of Year Busy Work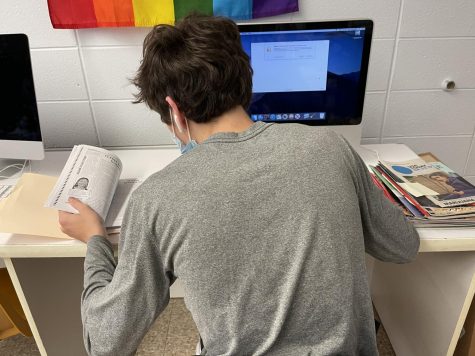 As the year draws closer towards its end many students now face a new problem. Teachers have reached the end of their required curriculum, and now many have decided to give them work with no purpose other than to keep them busy. This can be incredibly frustrating for students.
Often, the work is not actually helpful for the real world or knowledge we would need to have. In my personal experience, I have done countless essays and presentations at the end of the year and this year it has been especially bad.
This is the first year of my high school career where I have had a job during school, so it hits much harder now. For the past few weeks, I've noticed times I am doing homework at 11:00 P.M. instead of sleeping after a shift and start to think "Why am I doing this?"
In my personal opinion as this year draws closer to its end teachers should take more consideration towards their student's time and the other things they have going on in their lives outside of school such as sports or a part-time job. Upon this consideration, they should work to limit their busy work given. In its replacement, I feel that short assignments that are helpful and relevant to what students need to know In real life would be a much better use of time than a presentation or essay this time of year after the main curriculum has already been taught.
4 Siblings Overnight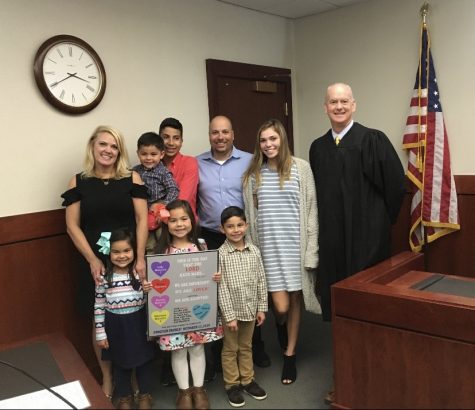 Sophomore Vanessa Maturey went from one to five siblings overnight. In 2018 her life changed forever.
   Maturey grew up in a picture perfect family. A mother, father, and two kids, her and her older brother, Grant.
   "My family was at a funeral and my dad noticed his cousin wasn't there," Maturey said.
   They asked around and found out her father's cousin and wife had been arrested, leaving his four kids in foster care. The kids were separated into two different  foster homes.
   "The night I found out, my parent's called Grant and I into the living room. They said we were family and we had to help them, even though we are distant, family takes care of each other," Maturey said.
   She and Grant were left speechless. Soon after, reality set in.
   "I met the kids at a McDonalds two months later in Wichita, Kansas. They were too young to really know what was going on other than the fact that they were meeting distant family members, but they were excited to see us," she explained.
   They engaged in small talk and got to know one another a little better. It was awkward at first, but they settled in.
   "That same day we met they called my parents mom and dad," she said.
   Their new siblings are Lily 9, Bryce 8, Peyton 7, Matthew 4. With the new additions difficulties arose.
   "We began fostering them, and I began resenting them," Maturey said.
   She talked of being upset about not being the youngest anymore and feelings of having her parents taken away. Suddenly her parents were busy changing diapers, reading bedtime stories, and driving four kids to school, instead of listening to her talk about events with her friends, or what was going on at school. Maturey had immense feelings of jealousy and being forgotten.
   "We fostered them for over a year before we could make it official. It started getting easier," she said.
   Routines started coming together. Her father would take the kids to and from school on his way to work, Grant and Vanessa drove together to school, and whoever was available when people needed to be places would volunteer. It truly takes a village to raise a family that big.
   "There are plenty of times I feel like a family, and then other times I get frustrated and feel disconnected," Maturey said.
   There are eight people living in a house which once held four. Peyton and Lily share a room, Bryce and Matthew share a room, and Vanessa and Grant each have their own. This makes it moderately comfortable. 
   The frustration comes when the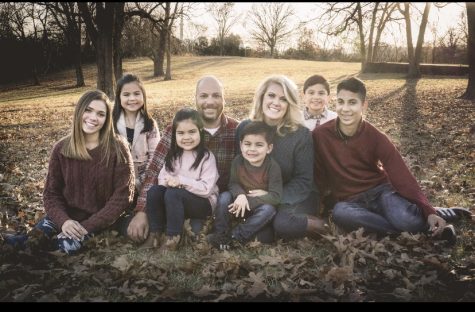 kids disobey and her parents get in a bad mood, or when no one can take Vanessa where she needs to go because the kids have a prior commitment.
   "The moment that stands out most of feeling like one big family, was at the courthouse when the adoption became official on October 11, 2019," Maturey said.
   The time it took was well worth it.
   "I've bonded with all of them, but probably the girls a little more," Maturey said.
   Maturey told stories of doing the girl's hair and teaching the boys how to play soccer.
   "I have learned a lot about the foster care system and I've found out how many kids need help," she said.
   "Adoption is too often overlooked and so many kids like the ones we adopted need a home," Maturey said.
   "I have so much love for them. I wouldn't change a thing," Maturey concluded.
Golden Girls Tryouts
Information regarding upcoming tryouts and deadlines.
Tryouts for Golden Girls are March 27. Pick up an informational/application packet in the front office or from club sponsor, Amy Barron (room 105).
Forms are due March 8th to Amy Barron or brought to the parent/participant meeting that will be held Monday March 8th at 5:30 p.m. The meeting will be held in the Library at Kickapoo.
Tryouts are March 28th from 9:00 a.m. to 3:00 p.m. The results will be posted March 27th on the Golden Girls social media by 9:00 p.m.
You do not need a current physical to try-out, but if you make the team you will need a physical by April 2021.
Dancers will be judges on appearance, cooperation determination, skills, how quickly they retain the routine, overall performance and their enthusiasm, interviews, teacher/coach recommendations.
Please come prepared with a 1-1:30 minute solo.
The booster club has fundraising activities that help pay if cost is an issue.
"Tryouts are always exciting we love to see returning people come back and new people wanting to come up and be a part of the team," club sponsor Amy Barron said.
Questionable Quarantine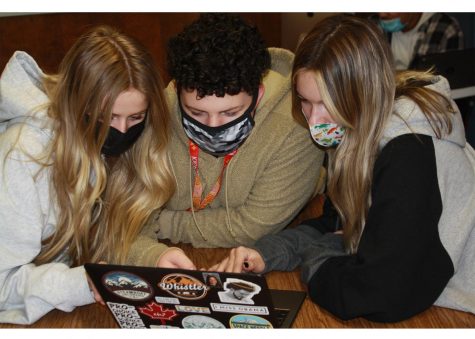 SPS new guidelines shows they do not care about students, staff, or families.
We need to return to the quarantine guidelines that were enforced at the beginning of the year in interest of everyone's safety.
Previous guidelines were if a student was seated next to a COVID-19 positive person they would have to quarantine.
On November 12, 2020 SPS changed their quarantine guidelines. Now anyone directly exposed to COVID-19 is no longer required to quarantine, as long as both parties were wearing masks.
Countless times I have seen students improperly wearing their masks, which makes them ineffective. However, SPS will still consider that student as wearing masks. Teachers are busy and do not have a lot of time to tell the students repeatedly to wear the masks properly.
Masks when worn properly still aren't always 100% effective. This furthermore shows why quarantine should be mandatory for anyone directly exposed to COVID-19 masked or not. According to UCDAVIS wearing a mask only decreases your chance of getting COVID by 65%,
SPS is abiding by these new rules in hopes of keeping students and staff in school.
Are people's lives really less important than attending school? SPS thinks so.
COVID-19 case numbers are not decreasing. In this time our school has decided to loosen restrictions instead of cracking down on them.
We all have family and elders in our lives that we care for. Our school, a place of work to many, does not care about their staff or students safety and well-being.
The president of the local education union spoke out against these new rules and called them a "dangerous choice."
The school district changed a system that wasn't broken for their own greed. I believe, the less teachers that are quarantined, the less money they have to pay for substitutes. The teachers are not paid during COVID-19 sick leave. We have to stand up for what is right. It could literally be life and death.
Our own state governor, Mike Parsons, who first allowed these new quarantine guidelines said, "These kids have got to get back to school. They're at the lowest risk possible. And if they do get COVID-19, which they will — and they will when they go to school — they're not going to the hospitals. They're not going to have to sit in doctor's offices. They're going to go home and they're going to get over it. We've got to move on. We can't just let this thing stop in our tracks."
Some might agree with Parsons. Those who do are out of touch, and do not understand what it is like for those of us experiencing these new guidelines. If he won't care about us and our families someone needs to.