More Than Material and Music
Answers to why we stand in front of the American Flag during the Pledge of Allegiance and the National Anthem.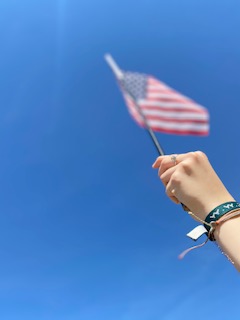 I remember when I was young repeating over and over the Pledge of Allegiance with my mom because it was mandatory for all the kindergarteners to have it memorized. Ten years later, and schools around the nation are still reciting it. Now that I'm older and understand the basic meaning and reason behind the American flag, the National Anthem, and the Pledge, I sometimes find it frustrating to look around in my first period class on an early Monday morning and seeing my peers purposely disrespect what members of our past generation have worked extremely hard for. In my opinion, standing to put your right hand over your heart and listen silently to the speaker over the old intercom, the singer at the windy football game, and much more is the least we can do as citizens of the United States of America.
Over the last couple years of my high school life, I've noticed when the announcements came on over the speaker, dreadful groans and eye rolls come from at least a few students every time they have to stand through the Pledge and the National Anthem. As annoying as some people may think it is, a lot of us have forgotten the meaning most of us learned as young students or never had the opportunity to have a lesson over it. So, it's time to look back and remember the purpose behind the Pledge and the National Anthem and why we stand for them in front of our beloved American flag.
Sophomore, Gabby Burgess, holds an American flag proudly under a scenery of a blue sky.
What does the American flag represent?
  Created in June of 1775, the first "official" American flag was established. Two years went by when the Second Continental Congress realized that the American flag needed to look more different compared to the British one. On June 14th, 1777, congress decided on a flag with red and white stripes and 13 stars in a circle of a blue field,  inspired by the design of Elizabeth "Betsy" Ross.
  The American flag means a lot of things to different people. Some think that it shows a symbol of our freedom, history, and government, while others believe it's just a piece of material.
"The U.S. flag stands for our nation and the shared history, pride, principles, and commitments of its people. When we properly display this powerful symbol, we signal our respect for everything it represents." -USAGov
  No matter what you may believe, there is hard evidence on what the colors, stars, and stripes truly represent. The flag's alternating red and white stripes represent the 13 original colonies. The 50 white stars in the uppermost left blue rectangle represent the current 50 states and that make up America. USAGov says that even the colors have specific representations:
Red: valor and bravery
White: purity and innocence
Blue: vigilance, perseverance, and justice
  The American flag even has a section of code in the United States law books dedicated to the American flag, called the flag code. It was affective as June 14th, 1923,  by the National Flag Conference where U.S Navy and Army representatives were present. Title 4, chapter 1, section 9 states,
"All other persons present should face the flag and stand at attention with their right hand over the heart, or if applicable, remove their headdress with their right hand and hold it at the left shoulder, the hand being over the heart."
  Though there are no official consequences for refusing and violating the codes, it does display disrespect to the American flag and the United States of America.
What does the Pledge of Allegiance represent?
  Written by Francis Bellamy and created as early as 1892, the Pledge wasn't officially certified by congress until 1942. Though laws have now been emplaced that specifically say students are not required to stand and recite it, it is encouraged, and specifically Kickapoo starts every Monday with it following by the National Anthem.
  Most of the time, the Pledge is learned from straight memorization without understanding the true verses in context. Historyplex broke down the Pledge phrase by phrase to interpret it's true meaning:
I pledge allegiance – I promise my loyalty
to the Flag of the United States of America – to the flag symbolizing the USA, and all of its 50 states
and to the republic for which it stands – a country where people have the right to choose their representatives to form the government
one nation – a united nation
under God – God willing/ having faith in God
indivisible – a country that cannot be divided
with liberty – personal freedom
and justice – fair treatment from the law
for all – for each and every citizen of the country
  Of course, there are exceptions that I agree with for religious reason. Jehovah's Witnesses sees saluting and pledging loyalty to a flag unbiblical, the phrase "under God" has created backlash from atheists and polytheists. Personally, I absolutely respect their beliefs as long as they can show the same respect in return with silence during the standing of the Pledge.
What does the National Anthem represent?
  September 14th, 1814, Francis Scott Key wrote the National Anthem one early morning after watching the British invasion of Ford McHenry during the War of 1812. Over 100 years later, President Herbert Hoover officially made the Star Spangled Banner the National Anthem for the United States on March 3rd, 1931. Some think of the National Anthem as just another song, but it has much more meaning behind it.
  One of the main reasons we stand for the National Anthem, (along with the Pledge) is to show respect for those who sacrificed their lives for others and to honor those who made it home after putting their life on the front line to protect current and future generations of America. Over 1.1 million Americans have died in U.S wars, and no matter what political view they might have, all military members are fighting for the same reason: to serve and protect their country. Another reason we stand for the National Anthem is to unite citizens as a whole. Everyone has their differences in opinions, beliefs, heritage, and so on and so forth, but at the end of the day we are all Americans who can proudly call America their home. Considering the United States is one of the most powerful, fortunate, and free countries in the world, everyone who takes residency among our lands can be classified as lucky.
  In conclusion, we stand during the Pledge and the National Anthem before the American flag because it represents a sign of respect. Purposely being disrespectful not only reflects on the type of person you are, but how you value our country, and how unthankful you are for what the brave and hard-working veterans fought for. The National Anthem and Pledge bring together people from different backgrounds and unites us as a whole, because notwithstanding our cultural, political, and religious variances, the fact that we are all Americans united is stronger and more powerful than any enemy that attempts to tear our nation apart. So next time you have to stand up and say the Pledge or listen to the Star Spangled Banner in front of the flying flag, remember the background, meaning, and people that make up the history of them and proudly put your right hand over your heart with a smile on your face. After all, it is much more than material and music.
The Upcoming Lady Chiefs Soccer Season
COVID-19 ruined the girls soccer team season in 2020. As the Spring season is approaching, so is a new season of soccer!
COVID-19 seemed to destroy and cancel a lot of major events last year. Though things are slowly beginning to improve with social distancing, mask wearing, and constant sanitizing, a lot of us are still missing out on events that we haven't enjoyed since 2019. Fortunately, the girls soccer team has received their schedules and after a year of not playing due to a ruined season in 2020, the girls are eager and itching to get back out on the field.
"Because of COVID we did not get a season last year at all. So, we are hoping that this year we can get a full season and be able to play in as many games as possible," said sophomore Abby Bilbao.
"I chose to play for Kickapoo because I loved the competition when I played for Cherokee Middle School and wanted to continue. There's also a certain pride that goes with competing for your school that I enjoy. My favorite part is the games themselves, especially against our rivals," said senior Jenna Biser.
"We find out our teams today [March 4th, 2021] and I'm excited to see how well we do this year, we have a lot of competition but I think we'll stick it out," said junior Maggie Miller.
"The girls on the team have worked really hard to be ready for the season so come support," said senior Emma Sansom.
As the girls seem to be excited for their upcoming season, practices to prepare them for it seem to be rough.
"We haven't been able to have many preseason practices to avoid getting anyone sick," said senior Emma Sansom.
Jenna also commented on practices, "Right now practices are every Tuesday and Thursday when the weather permits it."
Even with limited practices the girls have been flexible. Luckily, the team will not have to be waiting much longer to play and the fans won't have to wait to watch. Within a few days, the girls will be having their first taste of a game since 2019.
"We [the girls soccer team] have our jamboree here at Kickapoo, March 11th, at 5:00 p.m. Which is like a mini tournament where the varsity team for us, Glendale, and Nixa play only halves," said Jenna Biser.
While the jamboree will be a fun event to attend to, the girls first official game isn't until March 29th against Harrison. If you're looking to attend then it's located at Kickapoo at 6:00 p.m.
UPDATE (3/5/21)- Due the current quarantine of the girls soccer team, it is currently unknown if the Lady Chiefs will be participating in the jamboree scheduled for Thursday, March 11th, at 6:00 p.m. If the team does unfortunately miss the jamboree, they are still scheduled to play on March 29th.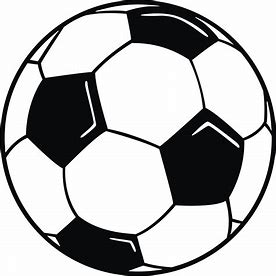 Go Chiefs!
Year Since Quarantine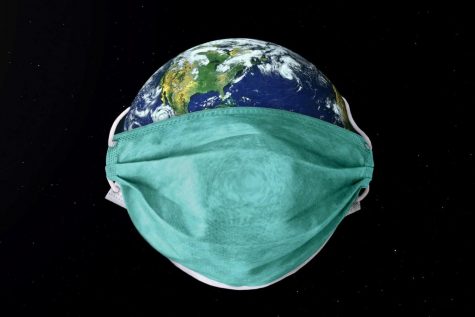 March of 2021 marks one year since everyone's lives changed forever. Now it's time to visit upon the details to see what unfortunately hasn't changed and answer misconceptions about this pandemic.
Thinking back to March 2020, students around the world were excited to have a couple extra weeks of Spring Break, sleeping in, and staying home. Somehow that period of time turned into a never ending cycle of sanitizing, mask wearing, and social distancing. March of 2021 is quickly approaching and the cycle is still continuous. It's going to officially been one year since everyone's lives changed forever, one year since the world as we knew it vanished, and one year since countries across the globe have been living in a state of quarantine.
WHAT HASN'T CHANGED:
Virtual learning: At the beginning of the new school year, Kickapoo students and others across the nation got the opportunity to learn virtually from home. Since March of 2020 to March of 2021, students are still learning from the comfort of their own homes.
In class schedule: If learning from home just wasn't for you, then high school students were flexibly learning with the new in class schedule. Until February 1st, students were broken up alphabetically and attended school two days a week, allowing a three day period for online learning and a day for cleaning the school. As of February 1st, the hybrid schedule changed and students are now attending four days a week. Currently, all SPS students are attending school four days a week with the exception on Wednesdays.
Sanitation: With the new COVID-19 school year, students are required to use hand sanitizer before entering and exiting the classroom. Before leaving each period tables need to be wiped down by a sanitizing solution that the school provides before leaving to the next class. To promote cleanliness, odd number classrooms leave one minute after the bell, water fountains are currently unavailable to students, assigned seating is mandatory at lunch, and school releases are organized by grade.
Safety: Students are still required to be masked at all times, with the exception of lunch. Students have to wear a mask that covers their mouth and nose. Everyone is still following social distancing guidelines by social distancing when possible.
Half capacity: Places around the world are only allowing people into their building at half capacity. Most restaurants have opened up for dining in but masks are required when you're not seated. Shopping centers still count how many people are currently in the store and half capacity signs are hung on the outside of walls and windows of many places.
COVID-19: Obviously and unfortunately, COVID-19 is still very much existing. Though as a nation we are slowly taking steps forwards such as dropping stay at home orders, going out with friends, worshipping at church, and other activities everyone enjoyed before the world shut down. The mask mandate is still in effect and most are doing what they can to be safe while in the public eye and likely will be for much longer.
While we are continuing to live our lives to what we consider the new normal, we are finding out much more about COVID-19 than we ever have before. Hopefully with the future months, we can say goodbye to 2020's continuous pandemic. Finally we could step out and breathe fresh air, hug our friends, and gather with others. For now, everyone's just adjusting to the new normal, which doesn't seem to be very new anymore.
Over the course of the COVID-19 pandemic the media has been responsible for all different types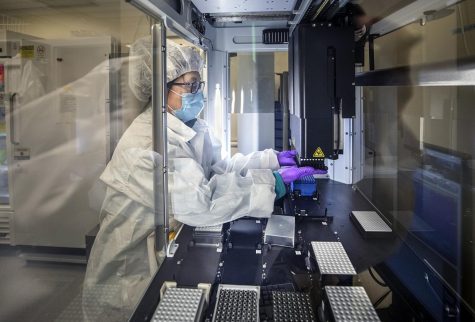 of rumors. Down below are some of the most common misconceptions of the virus and the correct and appropriate answers to them.
Myth #1: COVID-19 was purposefully created by people.
Truth: Viruses change over the course of time. Animals such as pigs and birds carry viruses that can pass to humans. Scientists say that COVID-19 originated from bats which passed to humans and from that point, spread across the world.
Myth #2: Children will be forced to receive the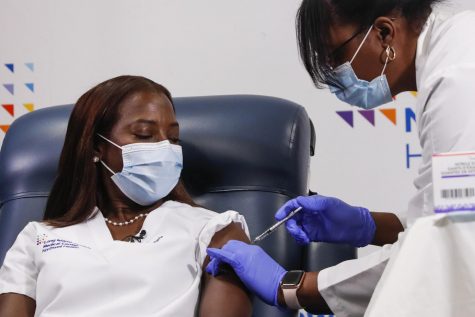 COVID-19 vaccine.
Truth: Currently the Pfizer-BioNTech vaccine is for people 16 and older and the Moderna vaccine for people 18 and older.
Myth #3: The purpose of wearing a mask is to protect myself from getting sick.
Truth: No mask can keep all of an infected droplet out, but more importantly, the mask keeps in the infected droplets to protect others around.
Myth #4: The COVID-19 vaccine contains a microchip.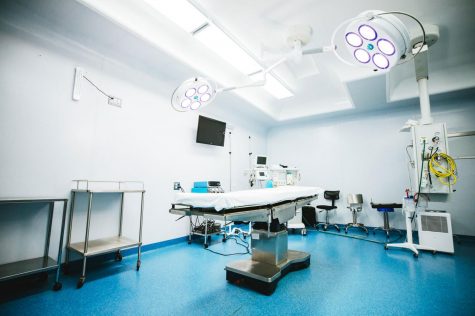 Truth: No injections, COVID-19 related or not, contains microchips, nanochips, or a tracking device. Similar to the way shipments and deliveries are tracked, shipments of the injection will
be closely monitored as they are sent and given to citizens across the country.
Myth #5: You have to be elderly or have an underlying
health condition to become seriously sick or be admitted into the hospital.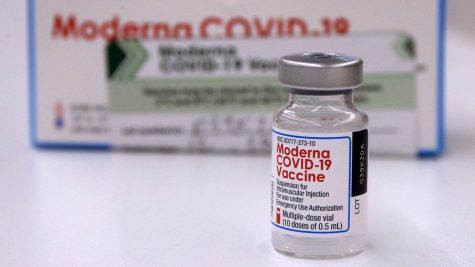 Truth: No matter what age, people all over are becoming sick from COVID-19. The risk of catching the virus can increase with age, underlying diseases, diabetes, severe obesity, and more, but COVID-19 affects everyone; from infants to the elderly.
Myth #6: Wearing a mask will make me sick from breathing in my own carbon
dioxide.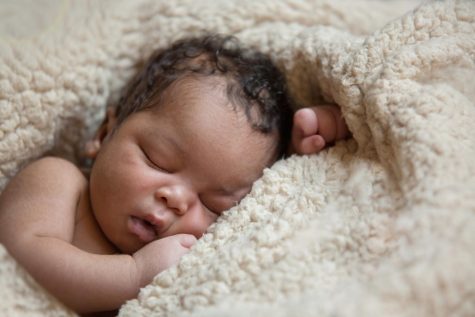 Truth: Before COVID-19, health care workers have worn masks without any side effects. The CDC recommends cloth masks since they are more breathable. Wearing masks does not increase your risk for hypoxia, which is when your oxygen levels drop. Also, the carbon dioxide will move throughout your mask as you inhale and exhale.
Myth #7: The virus will disappear when the summer season arises.
Truth: Some viruses, like the cold and flu, spread easier within the colder months. Scientists are not completely sure, but evidence suggests that COVID-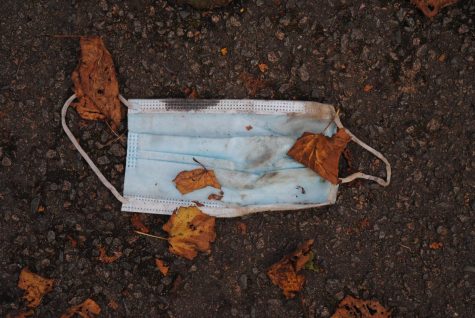 19 can be transmitted no matter what temperature.
Myth #8: Once a person gets the vaccine, they do not have to wear a mask or social distance.
Truth: When you get your first dose of the vaccine, a person doesn't not become immediately immune to the virus. "It takes at least a week to 10 days for your body to begin to develop antibodies and then those antibodies continue to increase over the next several weeks," says Chairman
of the Department of Inflammation and Immunity at Cleveland Clinic's Lerner Research Institute,  Dr. Thaddeus Stappenbeck.
Myth #9: Now that people are starting to get the vaccines, the pandemic will be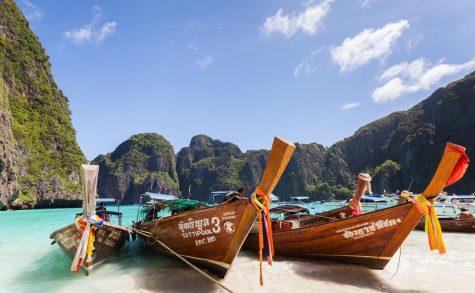 over quickly.
Truth: When the disease is no longer likely to spread, which is called herd
immunity, 70% of the population will need to have been
vaccinated.
Myth #10: Once you catch COVID-19 one time, you're automatically immune.
Truth: It is rare, but the CDC has reported cases of
reinfection throughout the span of the COVID-19 outbreak. Scientists theorize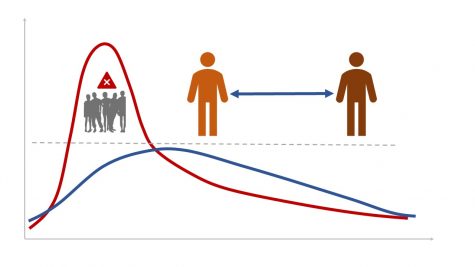 that similar to other viruses, you can catch COVID-19 more than once.
"In addition, we do not know for certain how long the antibodies will last and if they will prevent future
infection," says Dr. Segal- Maurer, director of the Dr. James J. Rahal. Jr. Division of Infection Diseases at New York Presbyterian Queens.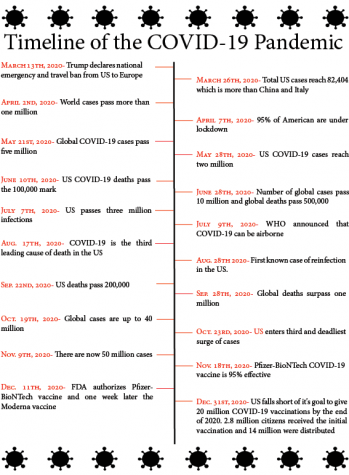 The Future of Kickapoo's Baseball
These current eighth graders are the possible future of Kickapoo's baseball team. All of these players were on Kickapoo's Tribe traveling team over the Summer of 2020 and some are preparing for freshman tryouts in March.
Happy Holiday Facts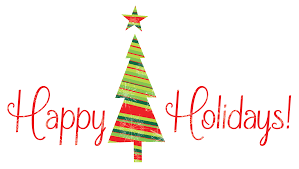 After the chaos that 2020 has brought us all this year, lighten the mood with these holiday fun facts!
American's usually spend around $1,500 on gifts each year.
The song Jingle Bells was the first song ever to be played in space.
 The NORAD, also known as the North American Aerospace Defense Command has been tracking Santa's journey around the globe since the year 1958.
Spiders are usually unwanted animals but in Ukraine, they are considered symbols of good luck at Christmas.
There is a Christmas tree in Canada that is worth $15 million.
 In November of 2013, a house in Texas was 42 feet wide and 10.1 feet tall… it was all made of gingerbread!
Americans spend around $2 billion on holiday goodies each year.
8.5 million lights are involved to decorate Disney World during the holiday seasons.
 The popular tradition of putting up a Christmas tree is more than 500 years old.
In Arizona, there is a 30 foot Christmas tree composed of tumbleweeds.
*All photo credits courtesy of MCT Direct*
More Than a Game of Pitch and Catch
  Under the brightness of the stadium lights, the pitcher can make out her catcher's hand signal.
  The bases are loaded, it's the last inning, and there's a full count.
  The Kickapoo Chiefs are up by one.
  The catcher positions herself and the pitcher takes a deep breath, then starts her stride.
  She extends her leg and brings around her arm to throw her change-up. As the ball moves throughout the air, the catcher's eyes carefully watch it.
  The batter swings too early and the softball lands into the webbing of catchers mitt. The Lady Chiefs run together as the crowd erupts into cheer. They won the game.
  The relationship between a pitcher and a catcher is like no other on a team.
  The pitcher relies on their catcher to receive their pitches and make the key plays in a game, including throwing down, retrieving most of the bunts, and tagging people out at home plate.
  The catcher relies on their pitcher to trust her throughout the season, throw the pitches according to her hand signal, and be there to back her up when a runner is coming home.
  When softball pitchers seniors, Ellie Facklam and Jaden LaBarge teamed up with catchers, junior, Kate Pierce and sophomore, Callie Muldoon, it made for a pretty great game of "This or That." Team number one was Ellie and Kate facing off against team number two,  Jaden and Callie.
  The rules were simple. When given a "This or That" question, Kate and Callie had to match the answers to what they think their pitchers were going to say. In round two, Ellie and Jaden had to match what they thought their catchers were going to say.
  Some questions were softball related and some were just for fun and good laughs.
  In round one, catchers Kate and Callie are trying to match their answers to Ellie and Jaden's.
  In round two, pitchers Ellie and Jaden are trying to match their answers to Kate and Callie.
  Here were the questions and which team got them right:
Round One-
Ellie's Answers:
Batting or fielding?
Ellie: Batting
Day or night?
Ellie: Night
Dogs or cats?
Ellie: Dogs
Home or away games?
Ellie: Home
Bunting or swinging?
Ellie: Swinging
Kate's Answers:
Batting or fielding?
Kate: Batting
Day or night?
Kate: Day
Dogs or cats?
Kate: Dogs
Home or away games?
Kate: Home
Bunting or swinging?
Kate: Swinging
Callie's Answers:
Batting or fielding?
Callie: Batting
Day or night?
Callie: Night
Dogs or cats?
Callie: Dogs
Home or away games?
Callie: Away
Bunting or swinging?
Callie: Swinging
Jaden's Answers:
Batting or fielding?
Jaden: Batting
Day or night?
Jaden: Night
Dogs or cats?
Jaden: Dogs
Home or away games?
Jaden: Home
Bunting or swinging?
Jaden: Swinging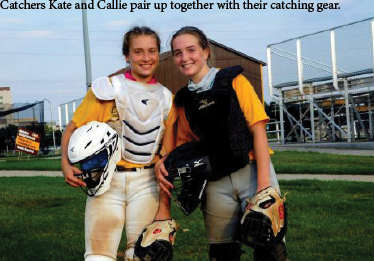 Round Two-
Ellie's Answers:
Fruits or vegetables?
Ellie: Fruits
Pop or country music?
Ellie: Pop
Fly or ground balls?
Ellie: Fly
Math or English?
Ellie: Math
Coffee or Soda?
Ellie: Coffee
Kate's Answers:
Fruits or vegetables?
Kate: Fruits
Pop or country music?
Kate: Country
Fly or ground balls?
Kate: Fly
Math or English?
Kate: Math
Coffee or Soda?
Kate: Coffee
Callie's Answers:
Fruits or vegetables?
Callie: Vegetables
Pop or country music?
Callie: Country
Fly or ground balls?
Callie: Fly
Math or English?
Callie: Math
Coffee or Soda?
Callie: Coffee
Jaden's Answers:
Fruits or vegetables?
Jaden: Fruits
Pop or country music?
Jaden: Country
Fly or ground balls?
Jaden: Fly
Math or English?
Jaden: English
Coffee or Soda?
Jaden: Coffee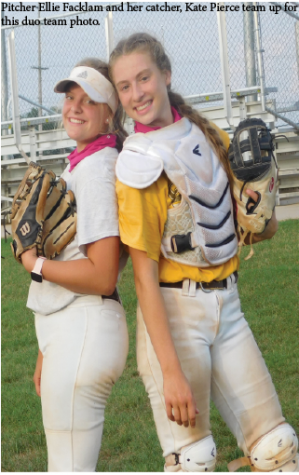 After playing the game, all four softball girls had a small interview, and here is what they had to say:
 Ellie Facklam: Softball Pitcher
  How long have you been playing for Kickapoo's softball team?
  "This is my fourth year playing for Kickapoo."
  What are your opinions on Kate?
  "The team would not be the same without Kate. She is the team comedian and one of the hardest workers on the team."
  Out of all the positions, why do you pitch?
  "I pitch because I like to be in control of the game and it is a high action position."
  What has been your favorite part of playing for Kickapoo?
  "My favorite part about Kickapoo is getting the opportunity to compete and play alongside my best friends."
  What are your thoughts on this season so far?
  "We have started the season off very well, and we hope to continue our success for the rest of the season."
Jaden LaBarge: Softball Pitcher
  How long have you been playing for Kickapoo's softball team?
  "This is my second year playing at Kickapoo."
  What are your opinions on Callie?
  "Callie is one of my best friends and I love having her behind the plate because she knows me, and we connect so well."
  Out of all the positions, why do you pitch?
  "I started pitching from a coach telling me I would be a good pitcher. I just stuck with it until now because I am not one to quit things, and I also love being a part of every play."
  What has been your favorite part of playing for Kickapoo?
  "My favorite part of playing for Kickapoo is playing with my great teammates and playing for amazing coaches who have pushed me and made me the player I am today"
  What are your thoughts on this season so far?
  "So far this season is going really well. I am kinda sad that because of COVID a couple of our really good tournaments got cancelled, but I am just glad we have a season as of right now."
Kate Pierce: Softball Catcher
  How long have you been playing for Kickapoo's softball team?
  "I have been playing Kickapoo Softball for 3 years."
  What are your opinions on Ellie?
  "Ellie is one of the best pitchers/players that I know. Ellie always keeps me laughing and having a good time during practices and games. She is my best friend and I can't imagine softball and life without her."
  Out of all the positions, why do you catch?
  "I catch because I love getting the opportunity to be involved in every play on the field. Catching allows me to be the coach on the field and I love getting to be a leader for my team."
  What has been your favorite part of playing for Kickapoo?
  "My favorite part about playing for Kicapoo is getting able to play with the most amazing coaches and teammates. My teammates are truly my best friends and we always have so much fun together when we play."
    What are your thoughts on this season so far?
  "So far, we are having a really great season, and I can't wait to see where our season takes us."
Callie Muldoon: Softball Catcher
  How long have you been playing for Kickapoo's softball team?
  "I have been playing at Kickapoo for 2 years now."
  What are your opinions on Jaden?
  I think that Jaden is such a hard worker, loves to win, and is in love with the game. She always has fun when she's playing and makes the most out of every game, and I'm proud to call her one of my best friends."
  Out of all the positions, why do you catch?
  "I was put into catching when I was 12 because my coach thought I would be good at it, and I've loved it ever since!"
  What has been your favorite part of playing for Kickapoo?
  "My favorite part about playing for Kickapoo has been being able to meet some of my best friends on the team and having such amazing coaches that help me become a better player and person everyday."
  What are your thoughts on this season so far?
  "I think that this season we are gonna go to state! We have such an amazing group of girls that are so talented and I think that if all of us set our minds on winning each game at night, we are going to be unstoppable! We have two amazing pitchers and great seniors that will lead us there!"
  A pitcher and catcher's relationship is what completes the team. Ellie, Jaden, Kate, and Callie clearly support each other extremely well.
  They all have a deep bond and a close friendship. Along with the other girls who play their positions, Kickapoo's softball team is a close family.  
  If you want to support these girls plus the rest of Kickapoo's softball team, go show them some love at their games.
  Go Chiefs!
Beverage Breakdown
   Starbucks. We all know it, most of us have had it, and the majority knows how popular it is. From the trends of posting each of your favorite drinks on Instagram, to visiting the mall just to get a caffeinated fix with your friends, Starbucks has become a major cultural influence. 
  However, it's time that we all had a new perspective of this mermaid mascotted café. 
  Now that it's the midst of pumpkin-spice everything season, here are some widely popular fall drinks that Starbucks has to offer. 
  These well-known autumn beverages consist of pumpkin-spice lattes, pumpkin cream cold brews, pumpkin-spice caramel macchiatos, and pumpkin-spice cremes. 
  One 16 ounce (medium) pumpkin-spice latte with whipped cream contains 280 calories.  
  A grande (medium) pumpkin-spice cold brew contains 380 calories. A medium pumpkin-spice caramel macchiato is 370 calories. Finally, a pumpkin creme has 310 calories. 
  If you're not interested in these fall drinks, then maybe the foods and their fall flavors might be more appealing.
  Starbucks ' seasonal menu offers pumpkin scones, pumpkin cream cheese muffins, and pumpkin bread. 
  Their pumpkin scone topped with sugary icing. The pumpkin cream cheese muffin is topped with pumpkin seeds. 
  However, the pumpkin bread is not a seasonal item and is available all year round.
  If pumpkin spice just isn't your cup of tea but you are still craving that fall feeling, then here are some alternative drinks. A few examples are the cinnamon dolce latte, caramel apple spice, a salted caramel mocha, and a toasted graham latte. 
  One 16 ounce sized cinnamon dolce latte holds 170 calories. A medium-sized caramel apple spice and the salted caramel mocha are both 290 calories.
  Now the cost of a few drinks. The prices for all drinks will be based on a grande (medium) size. 
  A pumpkin-spice latte a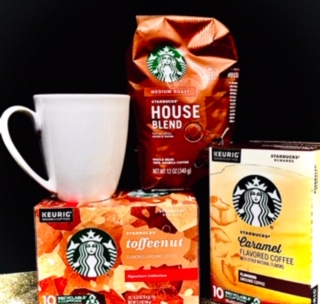 nd the salted caramel mocha are $4.95, a cinnamon dolce latte is $4.25, and a caramel apple spice is $3.45.
  If you're not interested in leaving the comfort of your own home for a Starbucks coffee, there are recipes that can use to make your favorite coffee in your kitchen. 
  If you want to make your own pumpkin-spice latte, then follow this recipe:
  Ingredients:
  ½ tablespoons of sugar
  2 tablespoons of pumpkin puree
  ½ tablespoons of pumpkin pie spice
  ½ cup of brewed coffee
  ½ cups of your choice of milk
  Directions:
  Combine all of the ingredients to a pan and mix together
  Turn the stove on medium heat and bring to a simmer
  Turn the stove off and add your beverage to your favorite mug 
  Top it with whipped cream, leftover pumpkin pie spice, and cinnamon
Enjoy
If you're craving the popular iced caramel macchiato, follow these instructions:
 Ingredients:
  1 tablespoon and 1 teaspoon of vanilla syrup
  1 tablespoon and 1 teaspoon of caramel sauce
  1 cup of ice
  1 cup of milk or milk substitute
  2 shots of espresso (or 80 ml of strongly brewed coffee)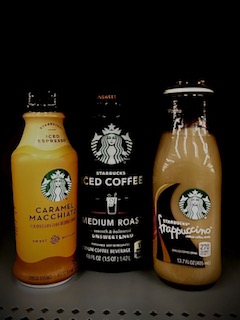 Directions:
  Combine the ice, vanilla syrup, milk, and espresso
  Mix together until it's fully blended
  Drizzle the caramel sauce over the top
  Enjoy
  Then, there is this caramel apple spice recipe:
  Ingredients:
  64 ounces of apple juice
  ½ cup of white sugar
  ½ cup of packed brown sugar
  2 tablespoons of flour
  ½ a teaspoon of cinnamon
  1 cup of water
  1 teaspoon of vanilla extract
  1 cup of heavy whipping cream
  5 tablespoons of powdered sugar
  ½ teaspoon of vanilla extract
  Dash of cinnamon 
  Caramel sauce 
  Directions:
  Add the apple juice to a large pot to warm over medium heat, but do not bring to a boil
  In a smaller pot mix the sugars, flour, and cinnamon together
  Stir in the water and bring to a light boil for 2 minutes
  Remove from heat and allow syrup to thicken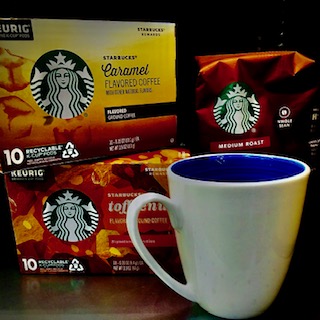 Add in the vanilla extract
  Pour the syrup into the steamed apple juice 
  Serve immediately and top with whipped cream
  Homemade whipped cream:
  Combine whipping cream and powdered sugar in a cold bowl
  Beat together with a cool mixer for 2-3 minutes on high speed until it is light and fluffy
  Be careful not to overmix
  *If desired then top the whipped cream with a drizzle of caramel sauce
Enjoy
  Starbucks seems like it's always been super popular. Whether it's the wrongly spelled names on the cups to the trendy seasonal drinks, these cafés sell just over 8,000,000 cups a day. 
  Some think that Starbucks is overpriced or it just doesn't taste good. To others, Starbucks is a passion and they couldn't imagine life without their morning cup of joe. 
  Now that nutrition facts, prices, and some DIY recipes are being revealed, it's up to the people to decide if they want to outgrow this cultural trend of Starbucks.